Remembering . . .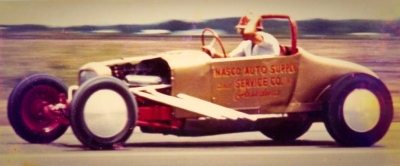 Freeway Drag Strip, Houston, 1958. Photographer unknown.
Academy
Temple Drag Strip, 1959-70
Back in 1959, I was drag racing up there in Little River. There was a guy by the name of Jimmy Robinson. He was the one that had the drag strip. Actually the land belonged to Jerry Tomastik. Jimmy rented it from Jerry and started the drag strip. Jimmy did a real good job of promoting  and drew real big crowds. Jerry saw how much money that he was making and he actually run him off. When Jerry ran him off, Jimmy Robinson went to Harker Heights and bought some land over there and built a drag strip. When Jerry took over the Temple drag strip in about '60, he was a good promoter, too, and did real well. He widened the track a little bit in 1960. There was a concrete abutment from an old bridge, but he couldn't take that out. In 1961 he kept on improving it, put on new blacktop and moved the starting line north about a hundred feet. The plywood announcer's stand was about three feet high with a rail around the top. Jerry ran cows in there on the drag strip when they weren't racing to keep the weeds down. I won a lot at Temple Drag Strip. They gave trophies to the winners. In fact, I had 75 trophies that I won at Temple.  I raced that '56 until about 1964. After that, I bought a '38 Willys and I raced it. And about that time, I started working there at Temple, classifying the cars. I didn't race that much any more after I started working there. When I first heard about the drag strip at Little River, I was working in Taylor. This was like in '59. I heard about it and I drove up there with a '56 Chevrolet. It had a 265 and a 3-speed on the top. And I raced on Sundays and I was beating everybody. They were using flags. The starter had a flag and there was one guy at the finish with a flag. When the starter raised the flag, he started a stop watch. When he saw the flag man at the finish raise his flag, he stopped the stop watch. That's how they timed the race. The flag man at the finish would walk to whichever side of the strip to tell who won the race and raise his flag in that lane. Sometimes it was a tie. They didn't get lights there until about in the early '70s. Temple Drag Strip was actually the old highway. They built the new highway to the east of it. They built it up high and left the old highway down along the river there. And I actually saw that drag strip under water. The whole thing was under water in probably '61. In 1961 it flooded over there in Belton. That was the first time that the water went across the spillway, I think. The water was probably four foot up over the drag strip. Actually it got so bad that it ran across the main highway up there by the old store. There was a little beer joint there on the corner where the highway went, next to the railroad tracks. You went in behind the beer joint to get to the drag strip. The old beer joint is still there.
Jesse Schrader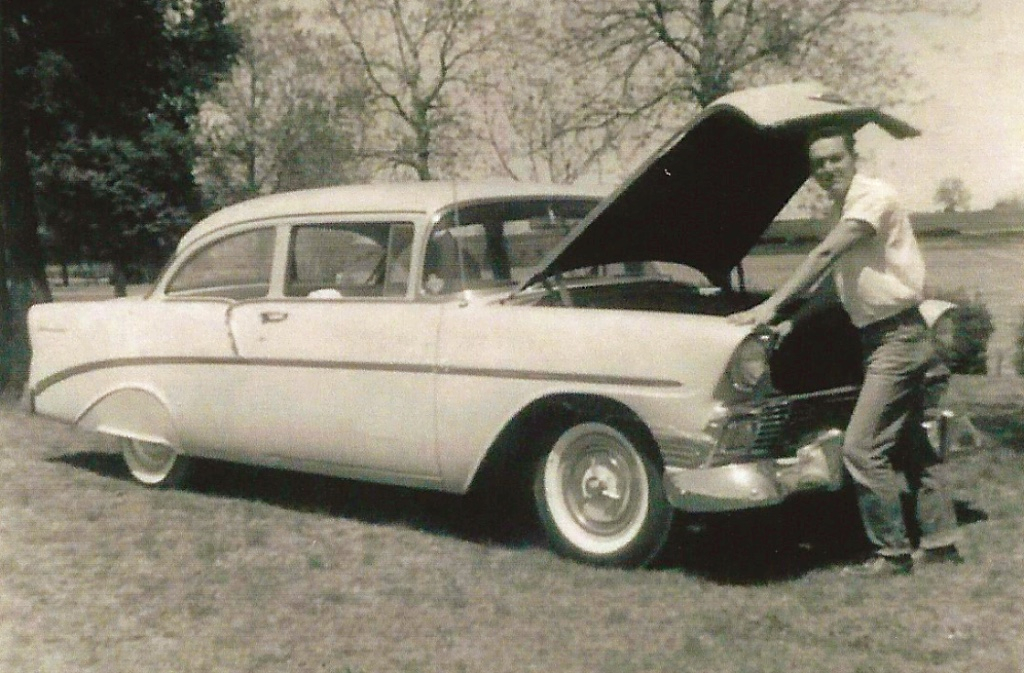 Jesse Schrader and his 1956 Chevy. Courtesy of Jesse Schrader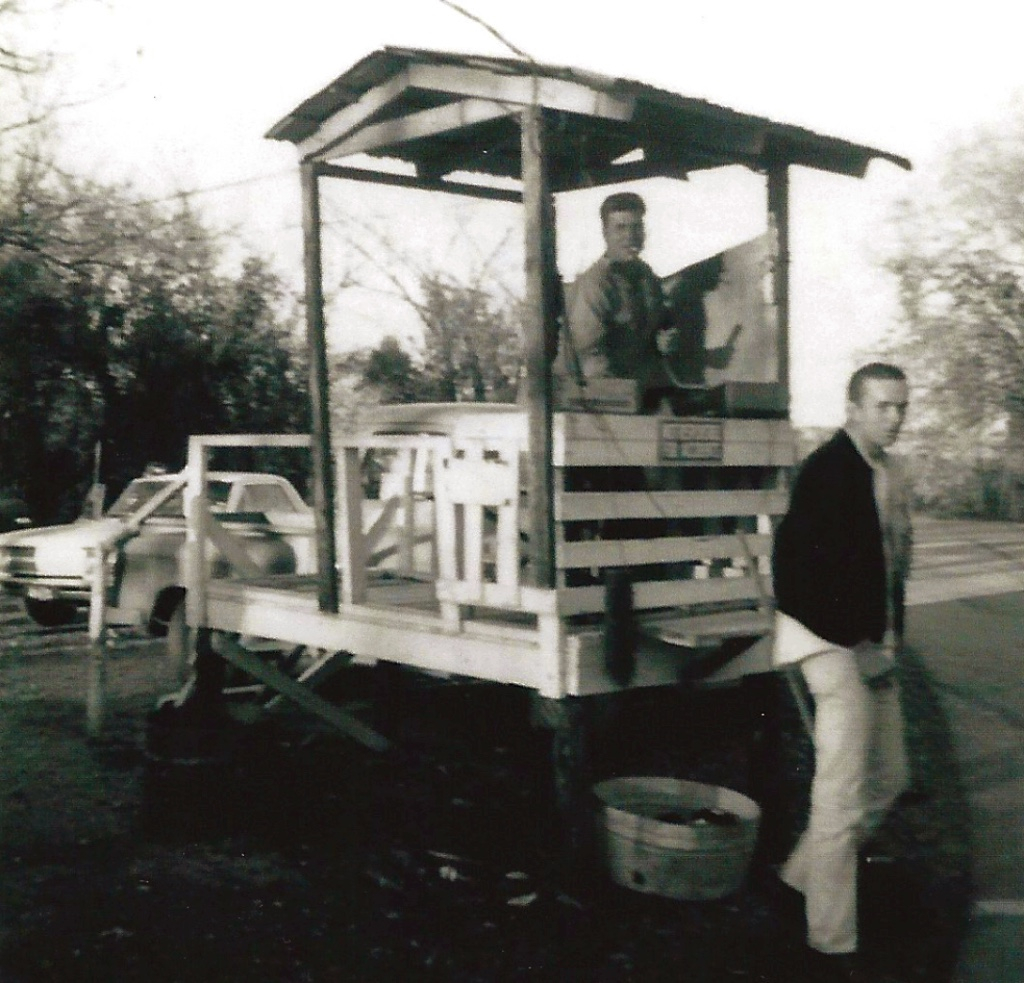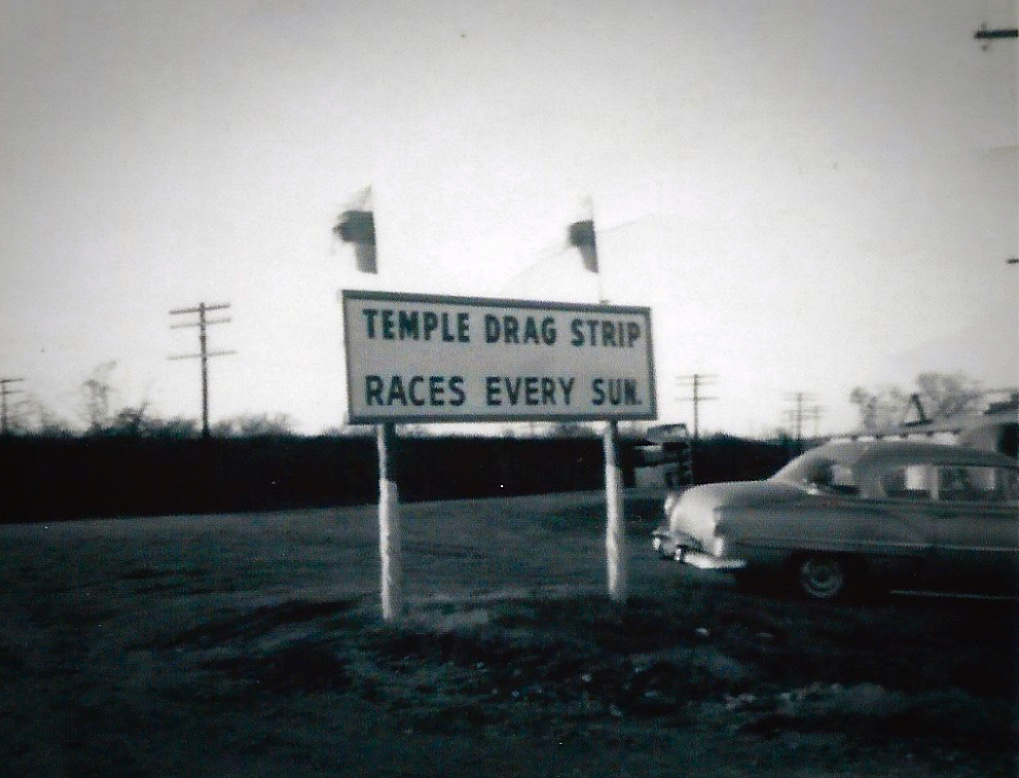 Temple Drag Strip, entrance sign by highway, circa early 1960s. Courtesy of Jesse Schrader

Tom Harrison, Temple Drag Strip's announcer in the announcer's stand, circa early 1960s. Courtesy of Jesse Schrader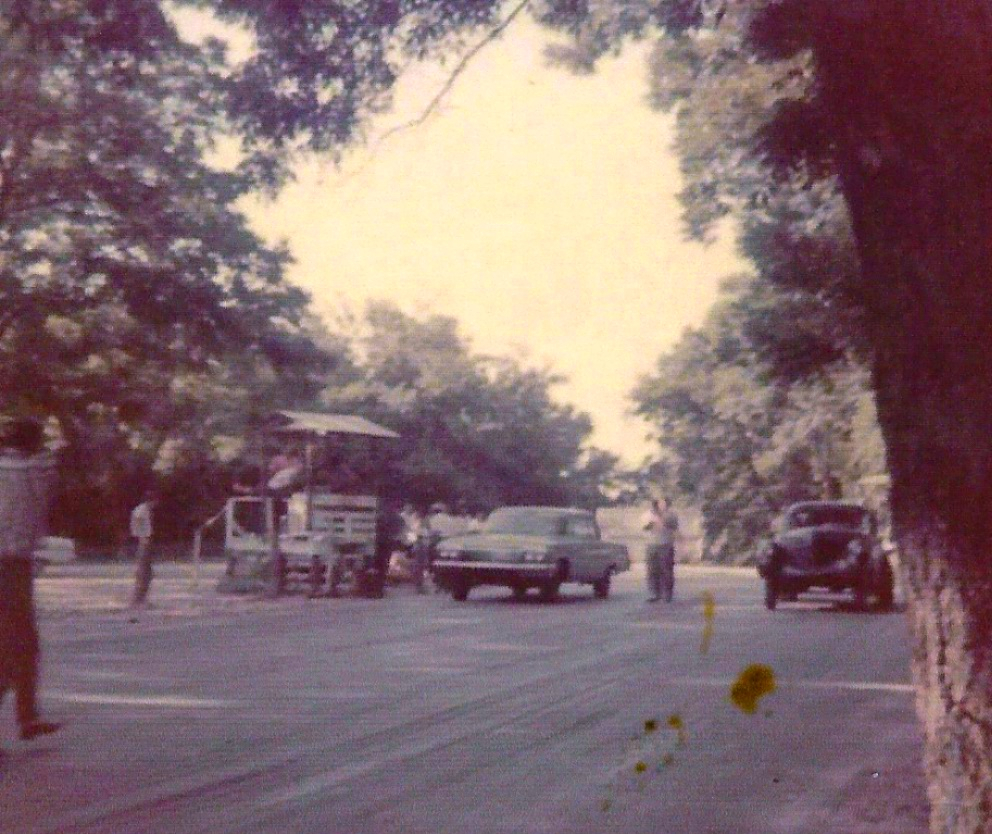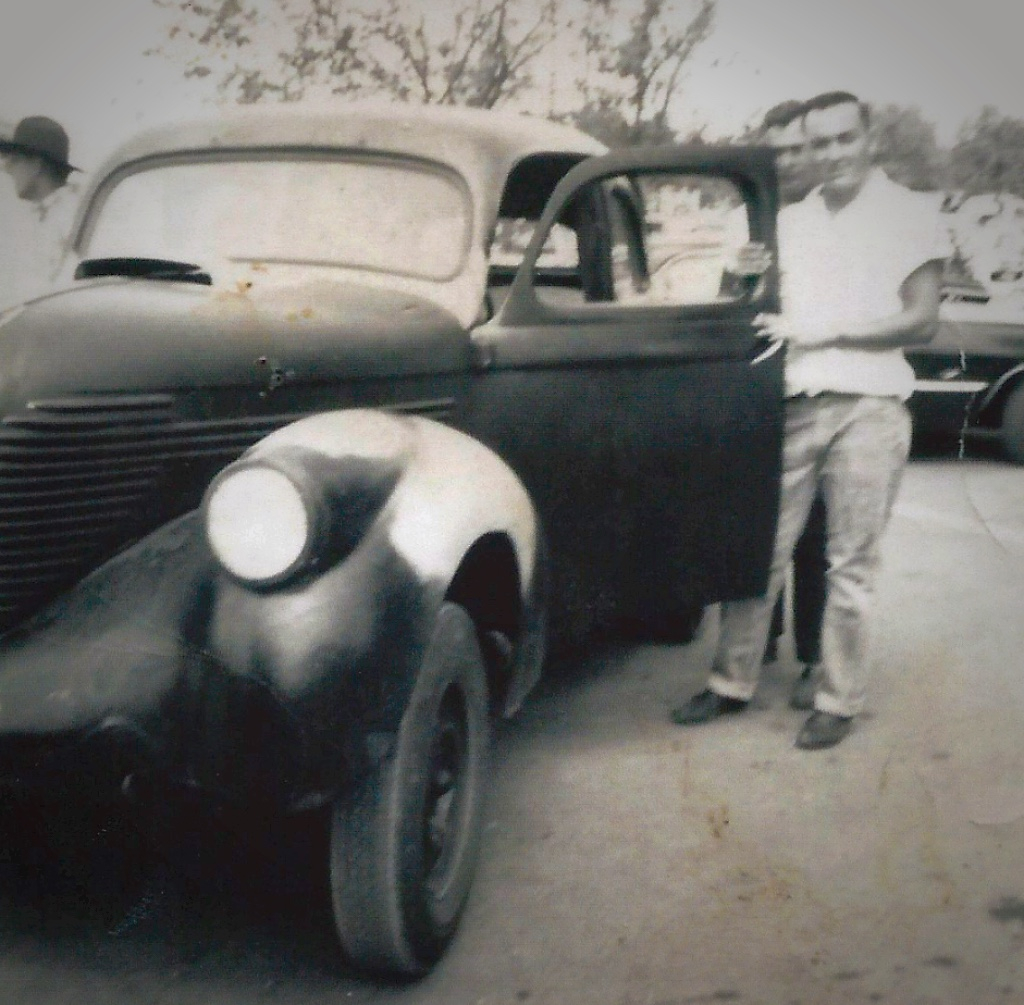 Temple Drag Strip, Jesse Schrader's '38 Willys on starting line, mid-60s. Courtesy of Jesse Schrader

Jesse Schrader standing next to his 1938 Willys. Courtesy of Jesse Schrader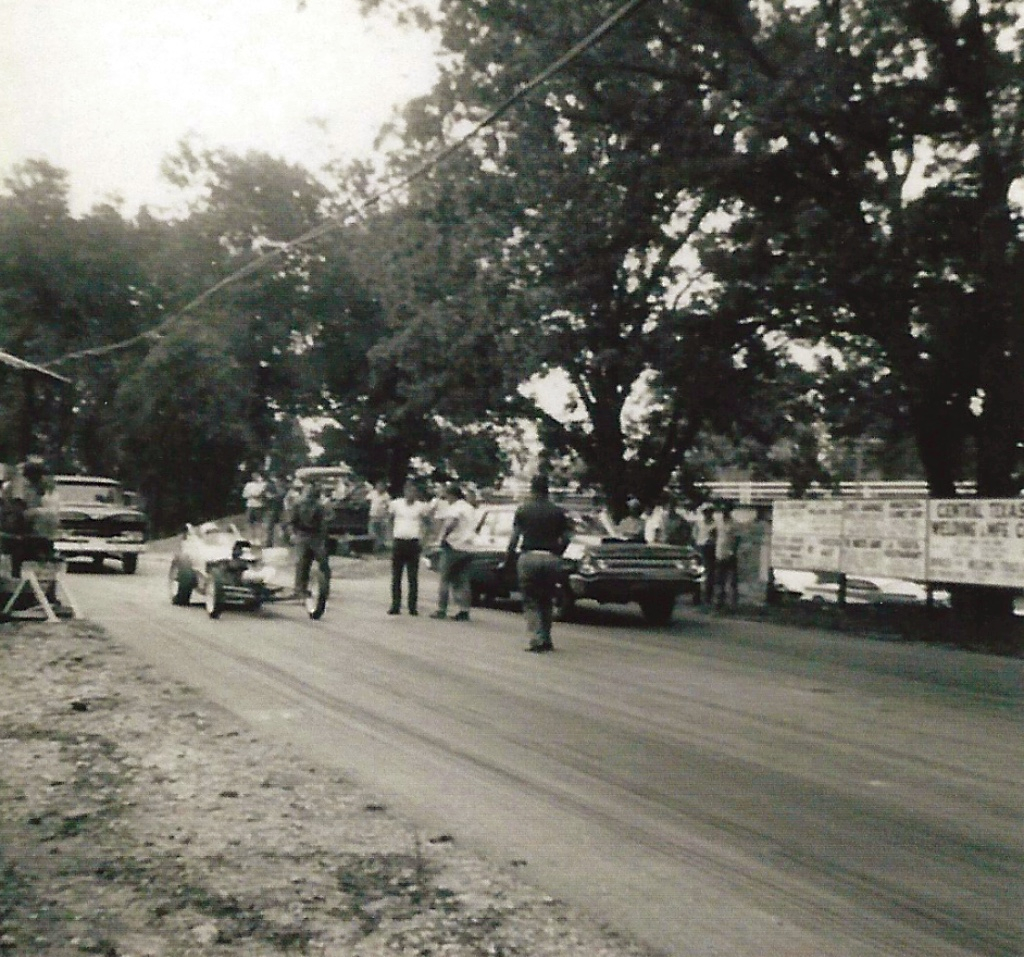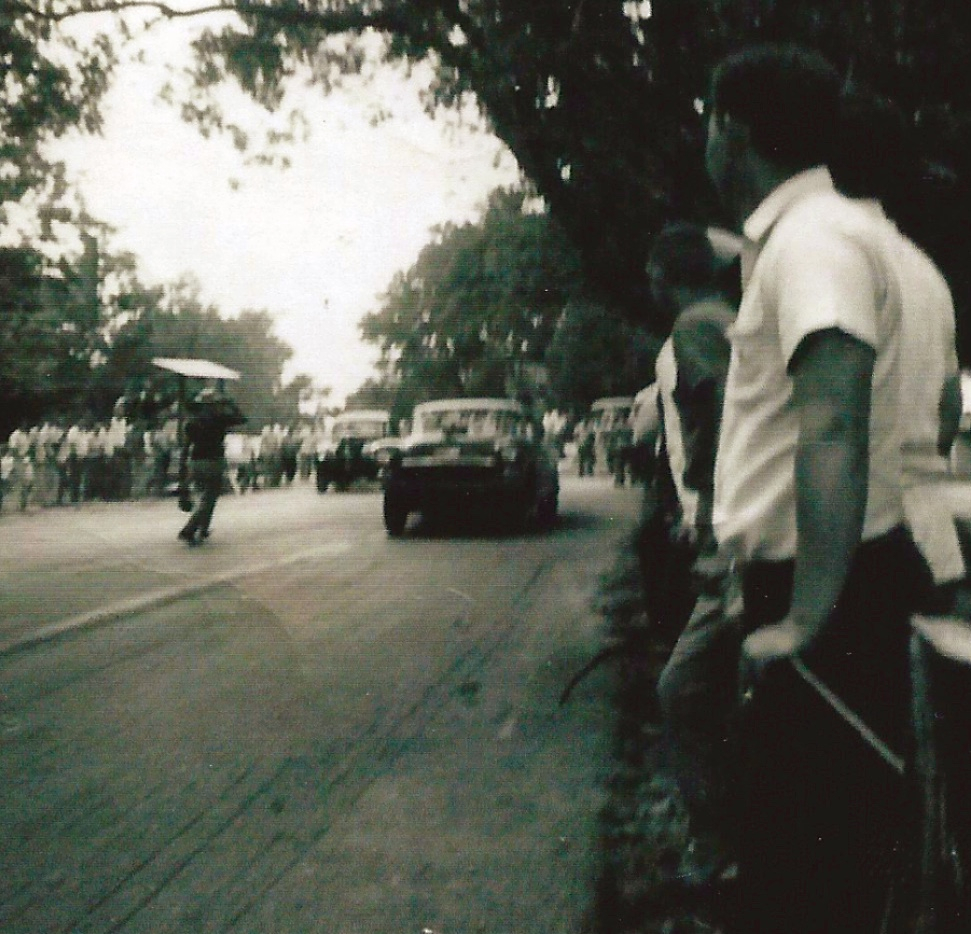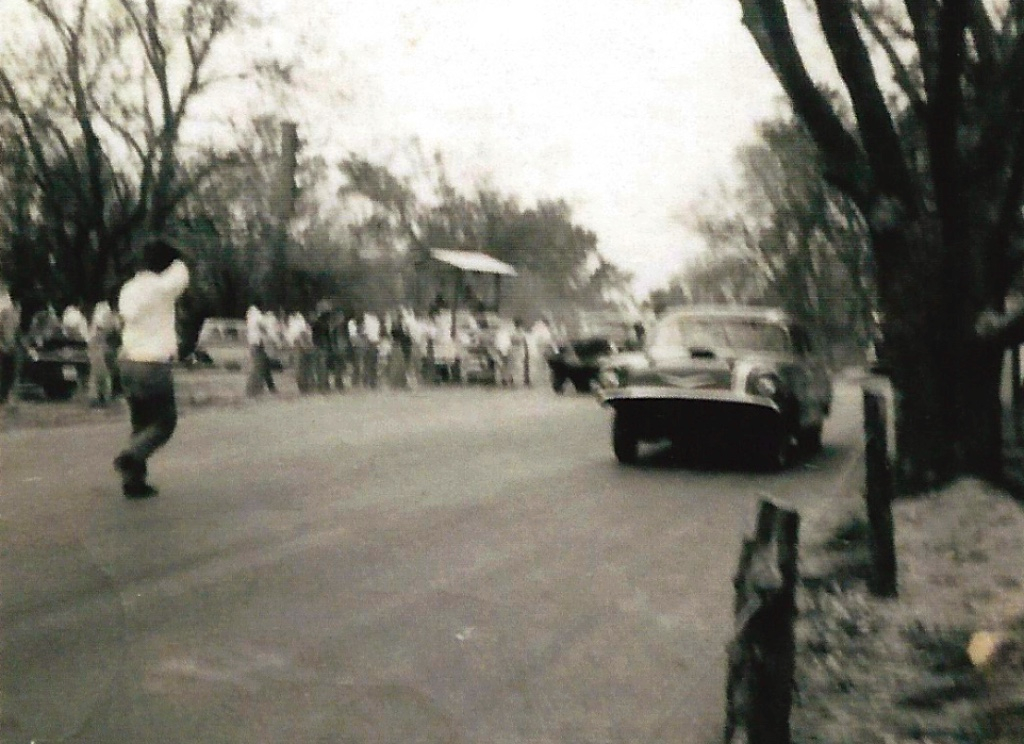 Temple Drag Strip, starting line action. Courtesy of Jesse Schrader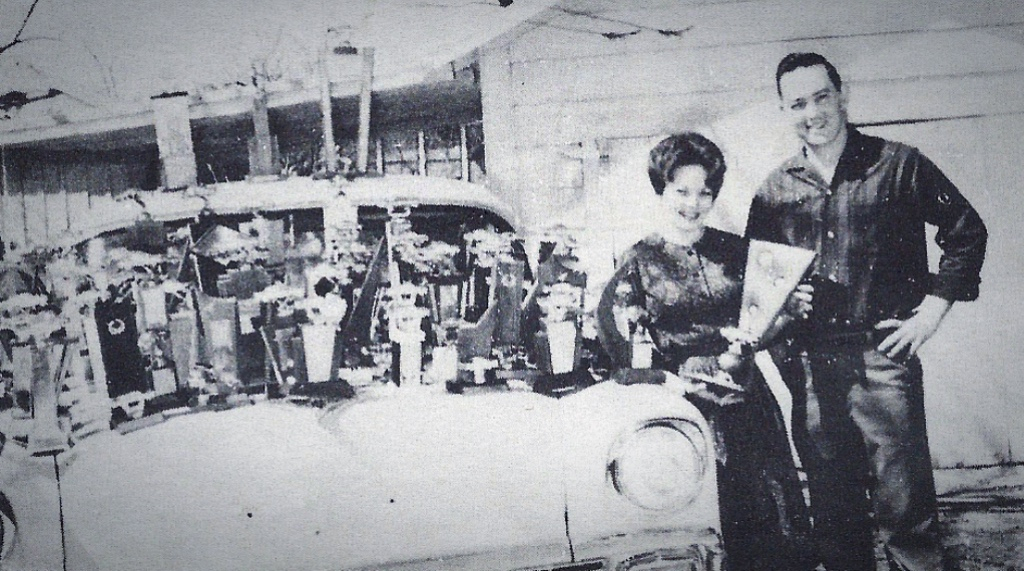 Trophies won by Jesse Schrader in his 1956 Chevy. Courtesy of Jesse Schrader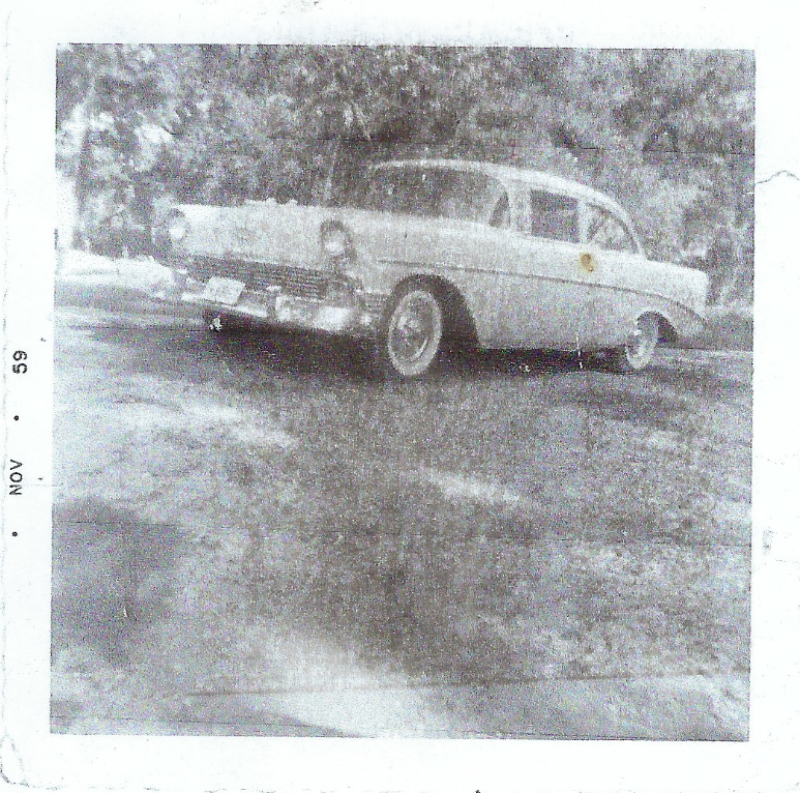 The date of Nov - 1959 on the border of this snapshot of  Jesse Schrader's 1956 Chevy at Temple Drag Strip confirms that he raced there in 1959. Courtesy of Jesse Schrader

I didn't race at Temple/Little River much, but I remember one incident in my VW at Little River when the back of my water pump blew out. I told you that some of us kids ran all junk back then! It happened just before the infamous pedestrian walkover bridge that used to be across the track. The water from the pump got under the tire and I distinctly remember looking out both of the side windows directly down the strip as the car swerved side to side.  You almost sat in the back seat of my bug. That "hole" comprised of the strip, the bridge, and those narrow guardrails sure looked little at about 75! I got it straightened out without hitting the wall or putting it on the roof, but it was exciting for a 19 year old! I heard an interesting story about that track from one of the early guys who ran an Anglia gasser there back in the day. He told me that once they got the piece of old Farm to Market road for the races, they needed guardrails, so they would offer a free entry fee to anyone that brought a guardrail section! He said they stole them all over the county and brought them to the track. He said each week the managers would add a few new ones, but since they started at the starting line, they were overlapped the wrong way! Apparently, either insurance inspectors, or a mishap made them unbolt and correct the rails. A couple of years after talking to him [about 2010], I happened by and the gate was open so I drove in and had a look. Sure enough, to this day, the guardrails are a hodge-podge group of mismatched rails!
Randy Young
Randy Young launching off the line at Little River in his modified VW. Courtesy of Randy Young
Amarillo
Amarillo Dragway, 1971 NHRA World Finals
I remember the  first NHRA World Finals in Amarillo, Texas.  I vividly remember this as  we stayed in a Holiday Inn and in true Texas style, our wake up call was a knock on the door. When we opened the door, a  well-endowed blonde in hot pants and a halter top served us Bloody Mary's and a Amarillo newpaper. The paper was full of drag racing and I think I remember that David Densmore had written a lot of the stories. It was the first NHRA World Finals in Texas. Dale and Glenanna Ham and Ernie Walker did a bang-up job of fixing up Amarilllo Dragway.  We even had a fuel check stand in the middle of the return road.  Dr Dean Hill and I were there, but I don't remember who else. I do remember that the Division 6 Tech Director Jerry Valentine rode his new Honda 750 motorcycle down from the state of  Washington. I had taken my electric mini-bike to the race.  It was a mini-bike frame with a Ford starter motor mounted under the seat. The battery sat where the normal mini-bike motor sat. The battery was made for racing by Willard Battery Company. It was called a Juice Box. It had a thousand cranking amps. It had an on–off switch to a Ford starter solenoid. It was on or off,  instant torque. Quite a few skinned knees and chins. When you hit the on switch, you better be leaning forward over the handle bars and pushing it forward with your legs or it would go over backwards.  I could race a Honda 50 to a spot down the return road and be back  before they got there. Anyway Jerry Valentine wanted to ride it. I tried to warn him, but he had a Honda 750. When he hit the on-switch, he was tall enough to hold onto the handle bars as it ran circles around him on the back wheel. He could not shut it off as it was running away from him and it had to be turned forward like a motorcycle to shut it off.  A short time later, he let go of it and the spring on the return shut it off.  It had a heavy spring!!! We all got a laugh out of it except Jerry. He never did think it was funny.   Bill Engle might have worked that race, but I am not sure. I will ask him. That was my first world finals in Texas after two NHRA World Finals in Tulsa, Oklahoma.     
Dale Schafer,
NHRA fuel check official
Amarillo Dragway, 1972 NHRA World Finals
The thing I remember most that happened at that race was the Saturday night party. Saturday morning I put 10 cases of Budweiser in the bath tub and covered it with ice. I then told all the people I saw at the races that Saturday, that there was a party in my room that evening put on by Albuquerque Dragway.  I was rooming with Jr. Kaiser from Denver.  Our room was on the first floor with the elevator right at our room front door. On the other side of our room was a sliding glass patio door. We had booth doors open and people were drinking in the room, hallway and on the back patio of our room.  Grant Harvey had two English bulldogs. The male was Senor and the female was Peaches.  Senor liked beer and you could tip a can and he would lap it up before it hit the floor. People would come by the front of the room for the elevator and when the door opened a drunk Bulldog would get in and go up with them. When he got thirsty, he would get out of the elevator when people came down. Some time before the end of the party some of the guys got in an ice cube-throwing battle with John McClintic and some of his guys on the third floor balcony. Ice cubes were flying up and ice cubes were flying down. The end of the battle was when SOMEONE got one of the large white trash cans from the hallway on the third floor and dropped it to the patio. It looked like a large white bomb coming down.  During the evening Karl Samuelson asked if he could keep his Harley Sportster on our patio. We said yes. After a few beers they decided to push it through our room and took it upstairs on the elevator.  After a few more beers they decided they were going to town to dance and find some girls. They brought the motorcycle down and rode off as the bath tub was about empty. After everyone left we closed the sliding glass patio door and closed the curtain. We turned in for the night. About a half hour later, Karl and his friend pulled up on our patio. They chained the bike and then went around to the entrance and stood waiting for the elevator outside our room door. They were talking pretty loud about the girls they met and danced with and were going to meet at the races the next day. After the elevator went up, Junior and I got up, opened the curtain and sliding glass door and carried the motorcycle in our room. We closed the patio door and closed the curtain. The next morning we were eating breakfast at the motel when Karl came in and over to our table and said, "Have you seen my motorcycle?" Jr. and I both said no. He said it was not on our patio that morning, so he said it must have been stolen during the night. We told him we were sleeping and had not heard a thing. Karl said he was going to call the police and report it stolen. When he left, we went back to the room and put the motorcycle back on the patio and closed the drapes. When we got to the track everyone was in on it. A little later, Karl came down to fuel check and said you S.O.B. I think he would have whipped me if I had not been working for NHRA.   Ahh, the race s back then.  
Dale Schafer,
NHRA fuel check official
TJ and I went to the IHRA World Nationals at Amarillo in 1976.   
Don Hurst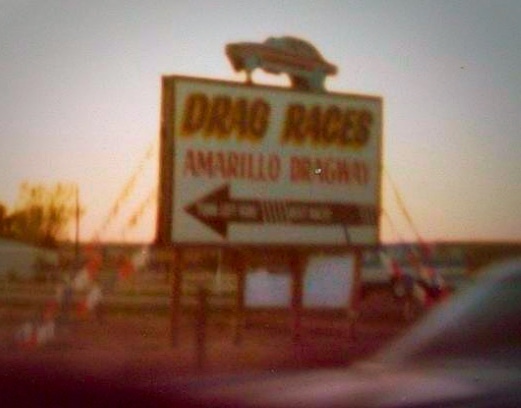 Amarillo Dragway, 1971 NHRA World Finals
I went to the World Finals in Amarillo with my SS/D '69 AMX. I qualified third for the Super Stock eliminations behind Bob Glidden (the number one qualifier) and Lou Downing, who was also driving an AMX. My E.T. was 11.23.  I red-lighted against Judy Lilly in the first round. I could not understand why I red-lighted when I staged and revved the motor. I had only red-lighted once ever before, at Phenix City. And I did that on purpose as a favor to a good friend who wanted to see his name in National Dragster. Mike Moore, my mechanic, and I went and looked at the track to see if there was some reason I red-lighted. We really could not tell if there was something there or not. After Carroll Fink, Jim Johnson, Terry Earwood, Bob Glidden, Dave Wren, Tim Richards, and Judy Lilly all red-lighted, we asked if there was a problem with the track and were told that no problem existed and no corrections would be made. All in all, it turned out good because we picked up several sponsors, including American Motors and Champion Spark Plugs. My partner, Mike Moore, is the best mechanic I've ever known. What we accomplished with the car is due to him.


Les Kinney
Angleton
Angleton Raceway, 2009-10
I raced at Angleton Raceway in Angleton Texas, I was only there one time in 2009 to watch and twice in 2010 when I raced Jr. dragsters. It was built in the middle of a rice field and was actually below sea level. It had a small paved pit area, small bleachers, and could have used more lights in the shutdown. Hurricane ike in 2008 did a number on the track surface. But it was some good ol down home fun, different from the bigger tracks most people in the area are accustomed to. The heliport fell through. It sat dormant for a couple years after its closing in late 2010. Now it's used as a trucking yard, with the track surface being too far gone for repairs.

Andrew Thornton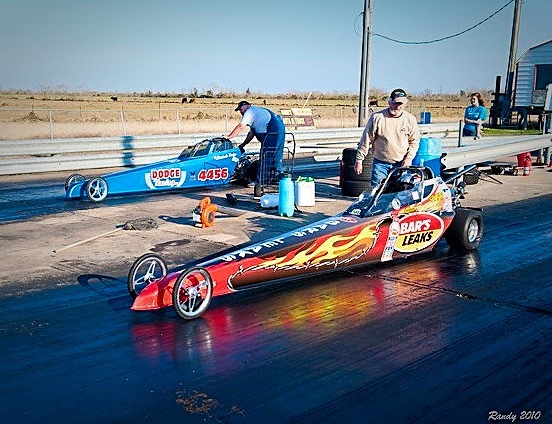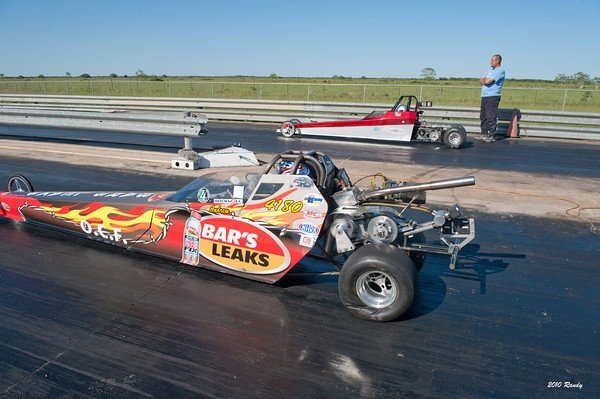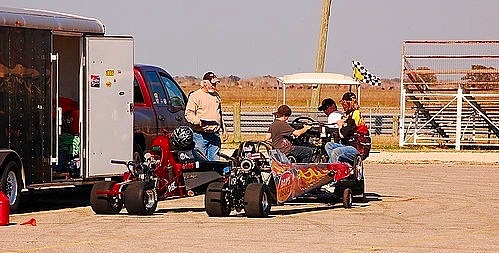 Andrew Thornton's Jr. dragster at Angleton Raceway in 2010. Courtesy of Andrew Thornton
Beaumont
Twin City Drag Strip, 1970-73
We raced at Twin City Drag Strip. It was also known as Golden Triangle, but that was WAY before my time.  We raced there back in the early 70's. GREAT TIMES!! Bob Scadren was the track manager back then. He always wanted to make sure that his "kids" didn't get in trouble street racing so he opened the track on Wednesdays and Fridays. $1.00 to get in, $1.00 to race! My first car EVER! was a 1969 Chevelle SS 396. White with a black vinyl top and black interior.  I also saw some very good racing over the years there! The first funny cars I ever saw were there in '69. They could only let one at a time run. And only 1000 feet! Just great times had there!
Mike Tyler
Caddo Mills
Caddo Mills Drag Strip, ca. 1956-58
My dad, Elwood Douthit, tells me he set a track record for motorcycle on this track and it still stands today. He says it was in about '56 or '58. It was a full-dressed Harley. I think it was like a police cruiser. Black and white.  I think he raced them, stripped it down, and raced again. That's when he set the record.  He said it was posted in Hot Rod magazine.
Todd Douthit
Caddo Mills Drag Strip, 1957
In May 1957, I won the state championship there, on a Harley. I don't remember if I ran in a modified class or stock class, simply because I had pulled weight off of it. The fenders, stuff like that, to lighten it up. But I don't remember what class it was in, but I have the trophy for the state championship. But the trophy just has "May 1957, TTA." It's all it says. They were handing them out that day. It was up to you to get them engraved, I suppose. I don't remember now. It's been so long ago. I know it was the state championship because my dad was just ecstatic over the fact that I had won that. In those days, you didn't get much fanfare. You just showed up and did the best that you could do. I have no picture of that bike. Caddo Mills was an abandoned airstrip. Down toward the end of the track on the right hand side, I think there was just hordes of people down there in their cars watching it. Standing on top of their cars. I don't think there was ever any bleachers there.
Bobby Cox, age 83,
telephone interview with
Mel Bashore, 11/15/2018
Camp Bowie
Camp Bowie Drag Strip, 1950s
My brother had a 1955 Chevrolet and he allowed me to race his car at Camp Bowie dragstrip. Red Jasper made appearances in hic C/Gas 1934 Ford coupe. The Arthur Brothers from Arthur Bros. Chevrolet in Comache, Texas, also raced there with two 1957 Chevrolets. One was 283/283 HP, fuel injected and the other was a 283/270 HP, dual 4-barrel carburetors. The 1957 Chevrolet 283/283 HP with fuel injection, had a dealer installed 4-speed transmission. The 283/270 HP usually won because of tuning problems with the fuel injected Chevrolet. It had to be worked on at a Chevrolet dealer in Fort Worth, Texas, 250 miles away. Camp Bowie dragstrip was closed by the Sherrif's department because of midnight drag racing. The concrete starting pad began to buckle and the dragstrip was closed after Cheapskate Chandler Auto Parts withdrew his sponsorship. I drove my sister's 1957 Ford Custom 2-door sedan, 312 CI, 3-speed OD and I was never beat. It was a former Louisana liquor patrol car.

Jerry Coffee
Corpus Christi
I raced at Rodd Field in Corpus Christi with many dragsters. I  was also the owner of the Paddy Wagon and the Flying Red Baron and the Fugitive--all wheelstanders.  I also ran the dragstrip at Corpus Christi from 1972 to 1978. It was known as Corpus Christi Dragway located at Cuddihay Field.

Gary Watson
Dickinson
I raced my C/A '32 Ford 3-window at Houston. The '58 race at Houston I participated in was the famous Garlits vs. the West Coast boys. I believe it was August 1958.   Garlits ended up winning, but there were some nice cars there.  Gartlits was racing Swamp Rat I and his tow vehicle was a '52 Cadillac sedan.  That race was the first time my coupe turned over 100 mph.  Back in that period, NHRA would not let tracks pay winner's money, but if the track wanted you to come back, they slipped you a few dollars "tow money." I always used it to buy my crew dinner on the way home.

Max Williamson
Houston International Raceway, 1970
This picture was taken in 1970 at Houston International Raceway,  Gulf Freeway, Dickinson, Texas.  This track was also on Gay Pontiac dealership property, which was owned by Don Gay, Sr. and family.
When the car was new in 1961, it ran in the S/SA class.  As time progressed, by 1970, the car ran F1 G/SA (AHRA) and C/SA (NHRA).  F1 means multiple carbs (3X2s) for those who don't remember AHRA classes.
Yep. That's me with the car.  A very young 27 then, but I had been racing for 11 years. Sorry about pic quality.  Time takes its toll.  At least it is in color!
"Texa$ Don" Zielinski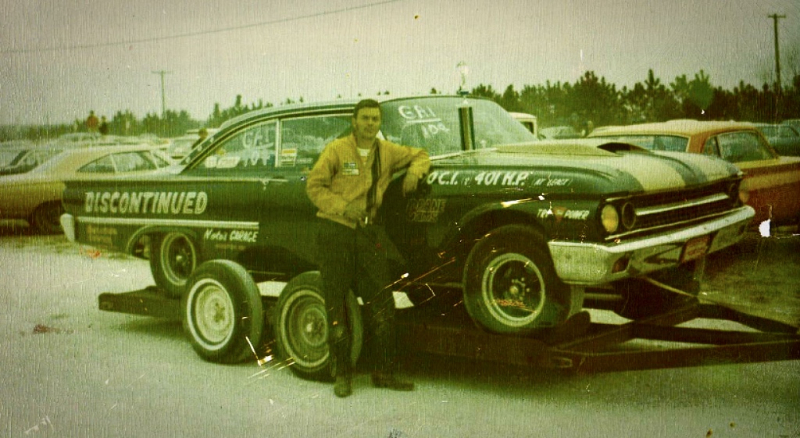 Texas Don's 1961 Ford Starliner, 401 horse 390, C6 automatic. Courtesy of Don Zielinski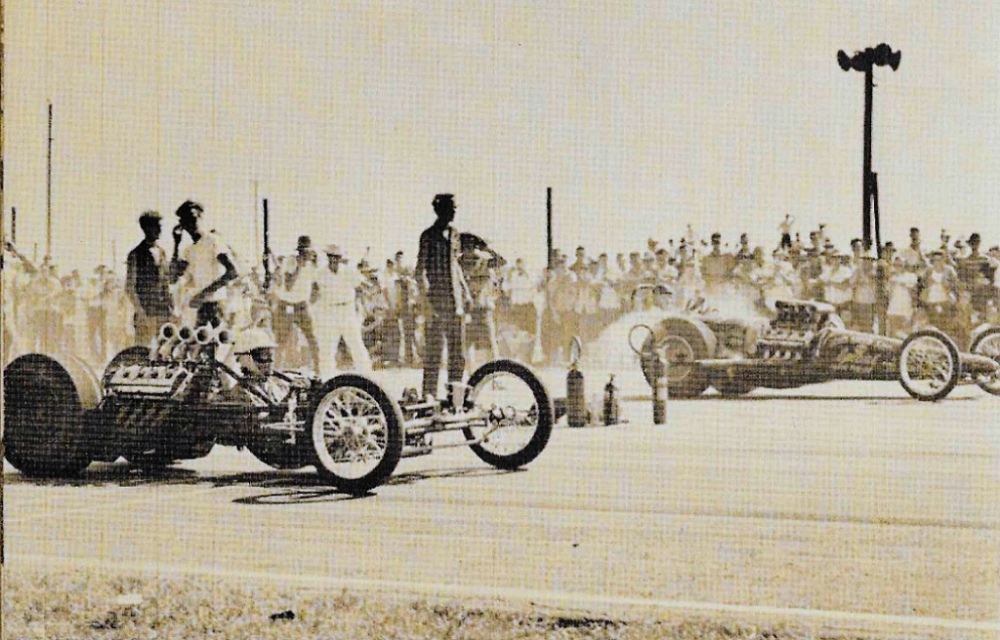 Red Case was one of three California drivers invited to race in the East Coast vs. West Coast meet at Freeway Drag Strip in 1958. In this photo, Case (near lane) is racing against Don Garlits. Garlits beat all the California racers. Courtesy of Don Jensen
Ennis
We raced "The Great Pumpkin" at Texas Motorplex at a Division 4 race on February 14, 1991. Released the trans brake on, BANG!!!  The drive shaft broke. Look carefully at the photo. All four wheels are off the ground. That ended my weekend!

Jerry Lee
"The Great Pumpkin," 1972 Chevy Vega, at Texas Motorplex, February 14, 1991. Courtesy of Jerry Lee
Fort Worth
Forest Hill Drag Strip, 1958
I used to go up there pretty near every Saturday night in the summer. I mainly went there to spectate, but I had a '54 Chevrolet that I raced there once or twice. I broke the transmission in it once. They had a flag starter. Nobody even dreamed of a Christmas tree in '58. Forest Hill was on the south side of Fort Worth. They didn't have Interstate 35 then. It was on Highway 81.I was seventeen when I first went to a drag race at Forest Hill. The strip run east and west and the road that came up to it, it run north and south. You came in and they had a little place where you paid. It had grandstands on the south side of the strip that probably hold maybe a couple hundred people. On the north side of the strip, that's where the pits were. The end of the track, once ;you went across the finish line, the strip went down a hill. You had to be on it to get stopped or you ran off into the woods. In fact, there was a black guy [L. A. Cornelius]. He towed his car to the races with a tow bar. I wasn't up there when this happened. I was probably at Green Valley. He just took the tow bar and tilted it up and just kind of tied it to the post. When he went down the strip, when he crossed the finish line, that tow bar fell down and he went end over end and killed himself.  If you had a 413 Dodge, Plymouth, or 409 Chevrolet, most of those guys would race up at Green Valley. Forest Hill was mainly '55, '56, or '57 Chevrolets, the 283s or 348s. There was one guy there that had a '57 Plymouth. He was hard to beat. It would take a fast Chevrolet to outrun that Plymouth. They probably had a beam that you broke at the starting line and one that you broke at the finish line. It was a pretty crude drag strip. It was basically for the low-buck racers out there. But if you won, and somebody contested it, you had to tear your engine down and check the bore and the stroke. I don't think they had a timing tower. They just had the flagman out there. I don't even remember if they had a concession stand or not. I really don't think they did. It wasn't a classy drag strip like Green Valley was. It was mainly city boys and country boys bringing what they drove every day and seeing who was the fastest. They had different classes

Roy Melton, 
telephone interview with
Mel Bashore, August 24, 2017
Forest Hill Drag Strip, 1962-63
I raced here in 1962 and 1963. I raced a Super Stock Chevy. Tech inspection was not very thorough. The shut down area was very short. One night a car crashed in the shut down area and a police officer had the car towed out to a road so the guy's insurance would pay for it. I still have several Forest Hill trophies in my work shop. [Editor's note: See also photos of trophies won at Green Valley (see North Richland Hills entry) and Kennedale sent to DSL by Randy.]

Randy Tingdale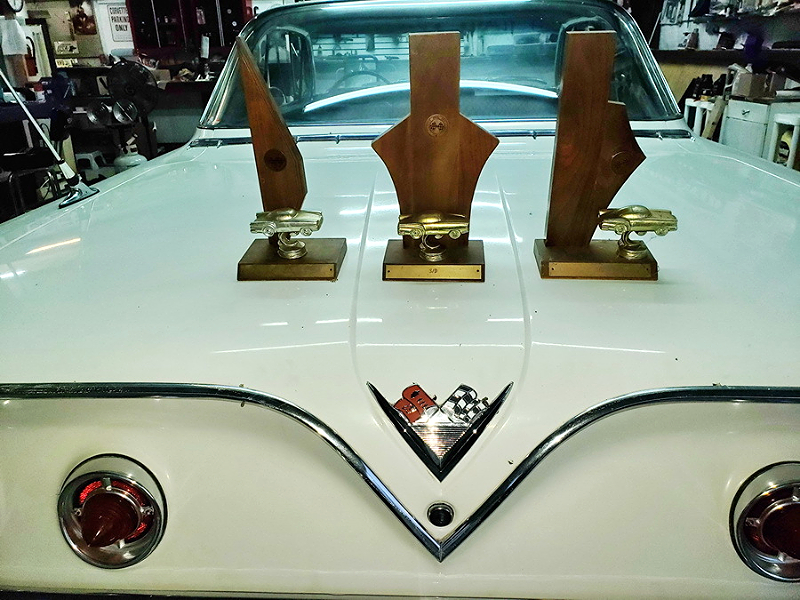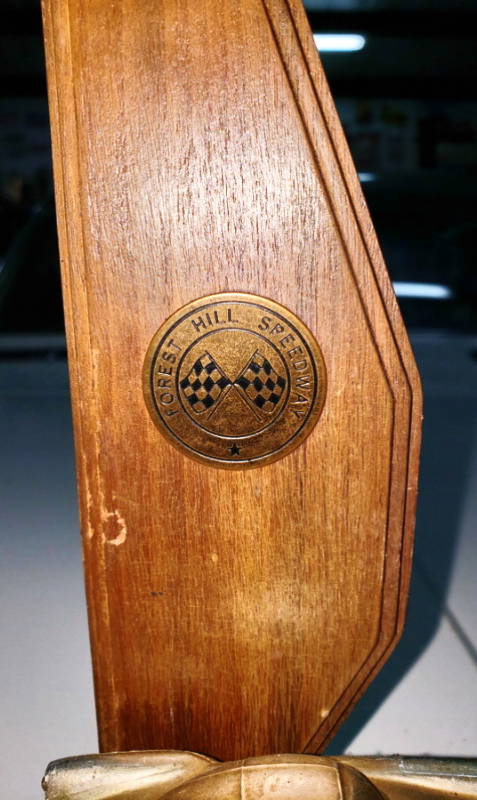 Three trophies won by Randy Tingdale at Forest Hill Speedway in the 1960s are displayed in his shop. Below are seen close-ups of the emblems on these beautiful trophies. Courtesy of Randy Tingdale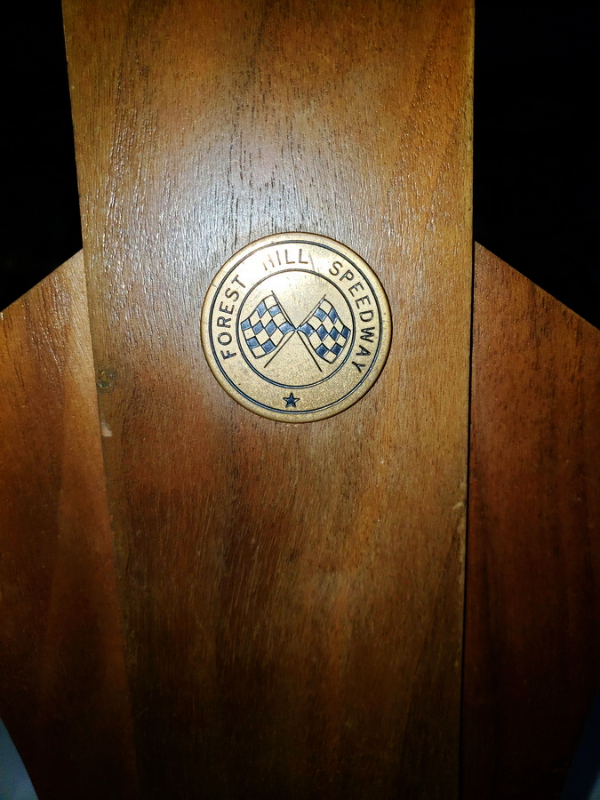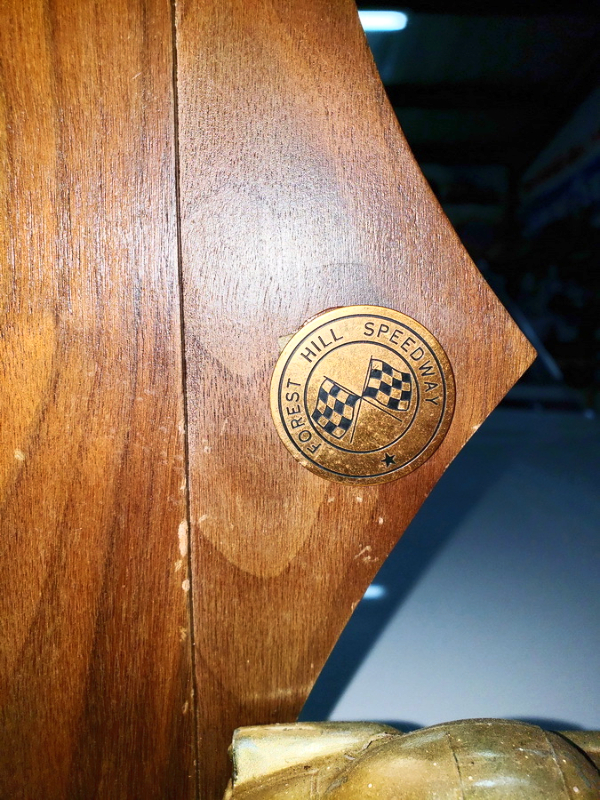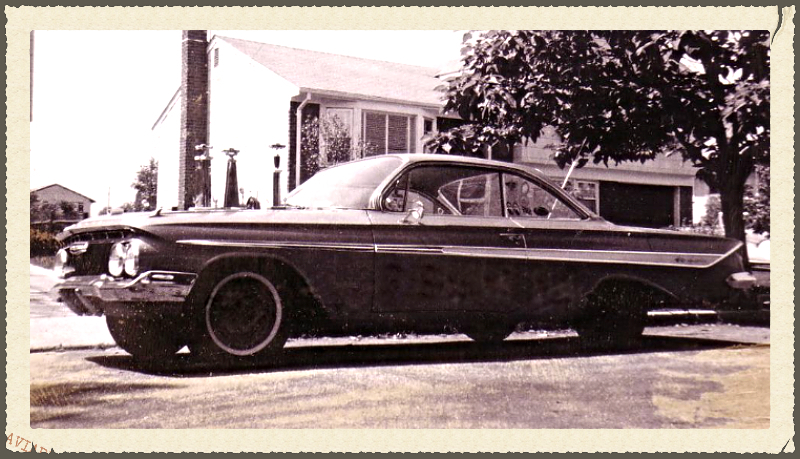 Randy Tingdale's 1961 Chevy that he racd at Forest Hill and other Texas drag strips in the early 1960s. Courtesy of Randy Tingdale
Grand Prairie
This was an old flathead track. It had a crowned surface with a 90-degree left at the end of a short shut- down area. If you did not make the turn, you were off in an old gravel pit which was filled with water most of the time. The track is still in operation.

Glenn Wooley
Yello Belly Drag Strip, 1957
Later on in 1957, I blew that Harley bike at the Yello Belly Drag Strip in Grand Prairie. It just separated, the cases. I just exploded that engine. I won several trophies there at the Yello Belly. At the end of that track was a ravine. You run down through there at 100 miles an hour, you better be able to stop or you'd wind up in that ravine down there. There again, that was back in the '50s. My parents lived in Grand Prairie. I had come back from up north at that time where I'd been going to school and brought my Harley back. I had a lot of tid bits in it that were factory stuff. I was never beaten there. I don't recall any grandstands or bleachers there. It was just a strip out in the lower swamp area. It was right there by the river bed. It's on the highway there between Oak Hills, I think it was, and Grand Prairie. I'm doing the best that I can do to even remember that I had a Harley at that time. After I blew that engine at Yello Belly, I retired the bike. At the time there in Grand Prairie, we had a car club. For the life of me, I can't remember what the name of that car club was now. But we had a little shop there in town. I got the bright idea that I was going to put a Chevy V8 in it because I wanted to run at the Oklahoma Nationals with it. I had wrote in, as best as I can remember, to get a classification for it with a little 265 Chevy in it. They said, no. There is no classification for that. You can't run it. I was halfway through that when the club kind of disbanded. Internal problems with all the members. Parking where they shouldn't be parking. It turned into being a cluster screw-up. I was the sergeant of arms. Every time I tried to get the guys to follow the rules, it become an argument. So I said, well, I guess I don't need this. One of my other buddies went on to run a Buick, with an export cam and kit in it in the '56 and '57. I was pretty much out of it by that time. I ran the Bonneville Salt Flats in '63 and '64. I won my class in '63 in C Gas Production. Car number 165. I had beat Carrol Miller's record, who had the record in that class. I believe at 139 at the time. From Texas, Carroll Miller, in a Ford. He didn't show that year, but I beat his record, but I couldn't back it up. I leaned out on the way down. I finally wound up at 154.63. In the back of my mind, I'm thinking that I had an invitation to Yello Belly down there, but I'm not sure. I'm not sure what they did back in those years. I mean, it was all haphazard. Just put anything together that you could do. It was just entertainment was all it was. Hell, there was never any money involved in it. No fame or fortune, just something to do. I don't remember any bleachers there in the late '50s, at all. I remember nothing about that.
Bobby Cox, age 83,
telephone interview with
Mel Bashore, 11/15/2018
Hallsville
Hallsville Drag Strip, late 1970s-early 1980s
My name is Wesley Cates from Shreveport, Louisiana. I raced this '64 Dodge Dart GT in the late '70s and early '80s. I ran mostly at Hallsville Raceway in Hallsville, Texas, and Prescott Raceway in Prescott, Arkansas.  It was a w
hite car. Ran mid-11s. It was a 340 with a 4-speed.
Wesley Cates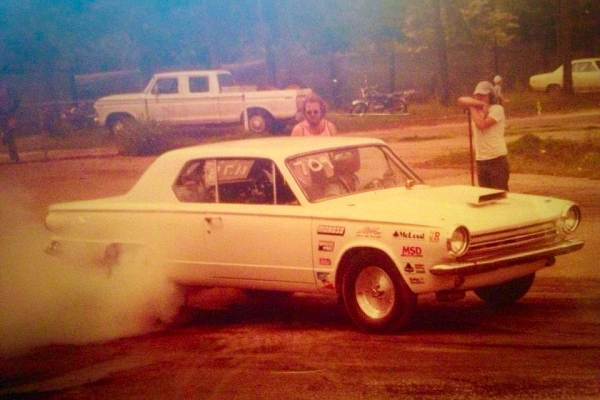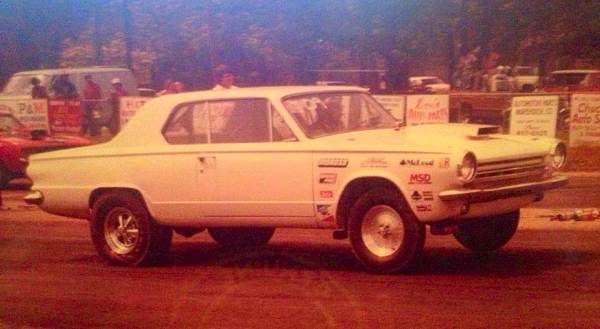 Wesley Cates's 1964 Dodge Dart GT, Hallsville Drag Strip. Photographer unknown, courtesy of Wesley Cates

Harker Heights
Harker Heights Dragway, 1964
Jimmy Robinson went to Harker Heights and bought some land over there and built a drag strip. It was a half mile of asphalt with a few small bleachers on the right side. There was an announcer stand behind the starting line. It only ran about two or three years. I raced down there, too. I won top eliminator two different times with my 1938 Willys. I was the fastest car there. I had put the motor from my '56 Chevrolet into the Willys in about 1964. It had four deuces and ran 11.90s. It had home-made spindles and I towed it to the track using towing hubs that I made.
Jesse Schrader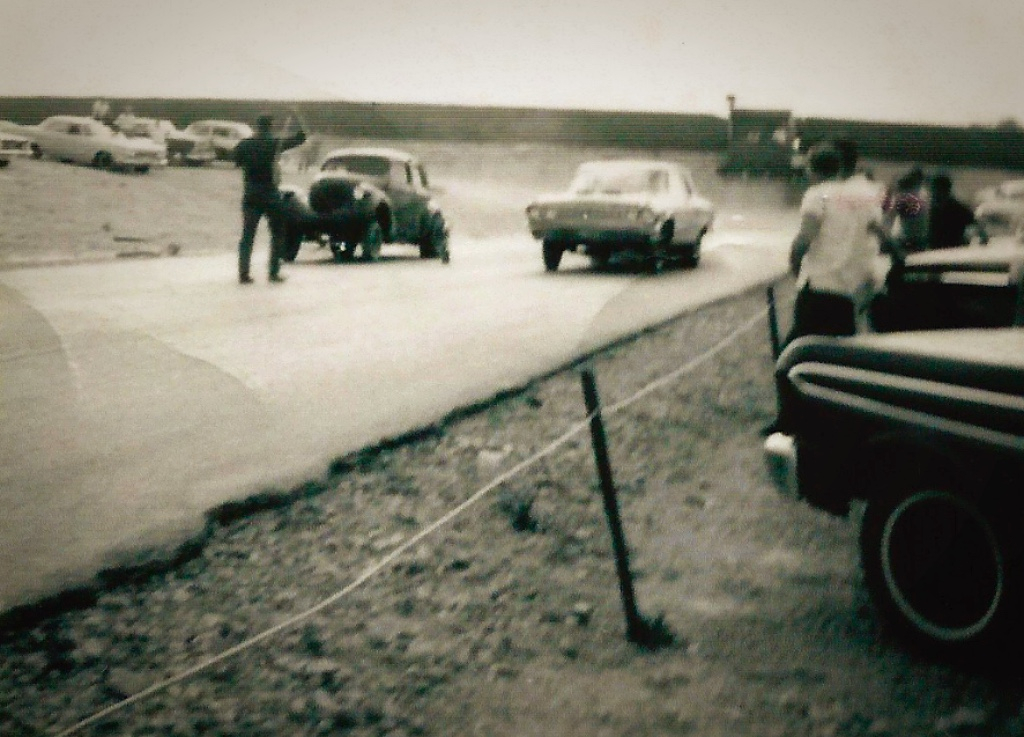 This trio of photos show Jesse Schrader racing his 1938 Willys at Harker Heights Dragway, circa 1962. Courtesy of Jesse Schrader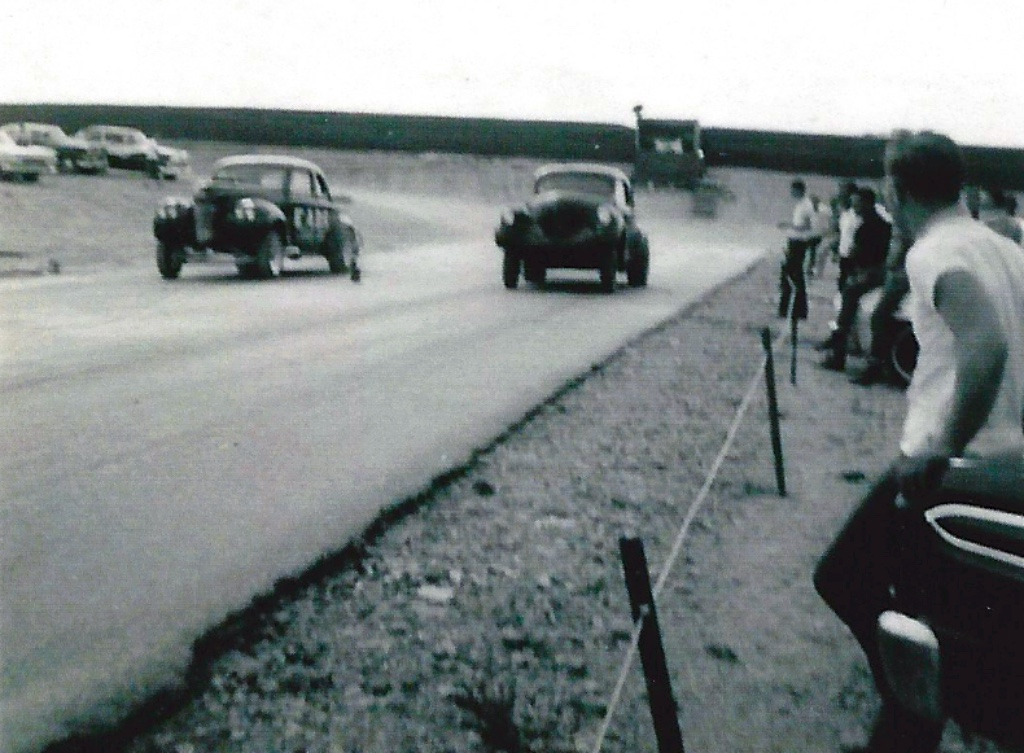 Jesse Schrader's 1938 Willys (left) racing against (probably) Bill Whisenhunt's 1963 Dodge. Courtesy of Jesse Schrader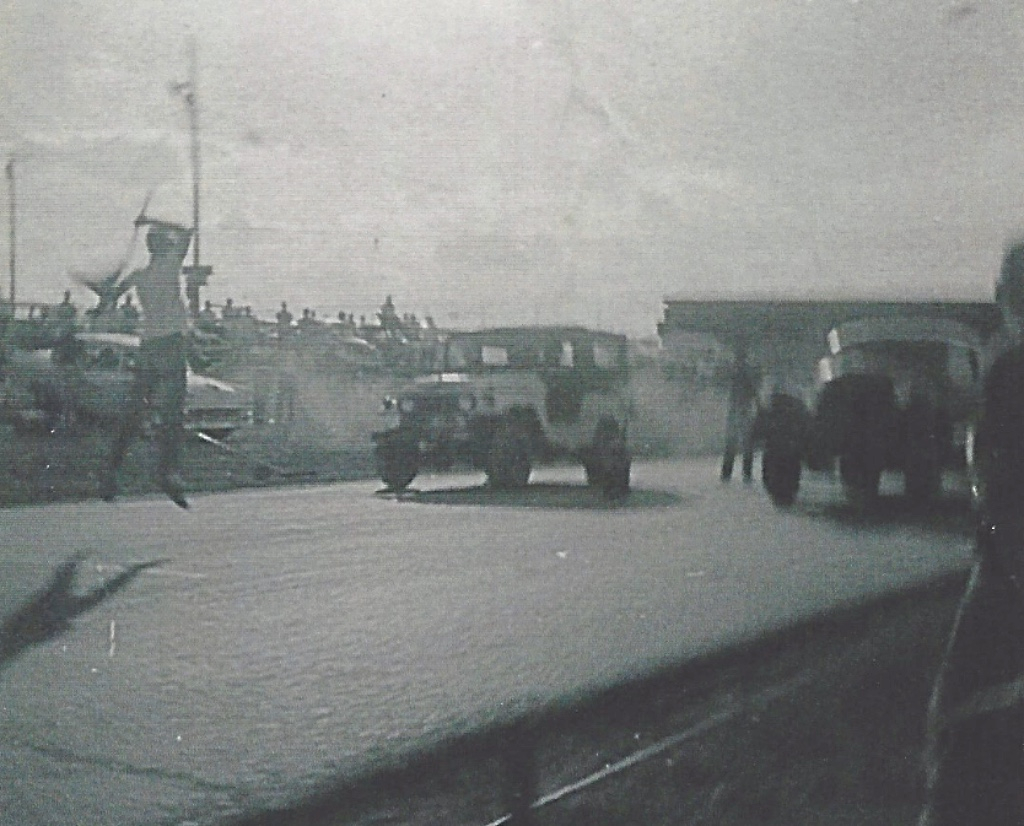 Jesse Schrader's 1938 Willys (right) racing against John Eebs in his 1940 Ford. Courtesy of Jesse Schrader

Harlingen
In 1965 we raced at Harlingen Raceway with our AA/FD.
George Rodriguez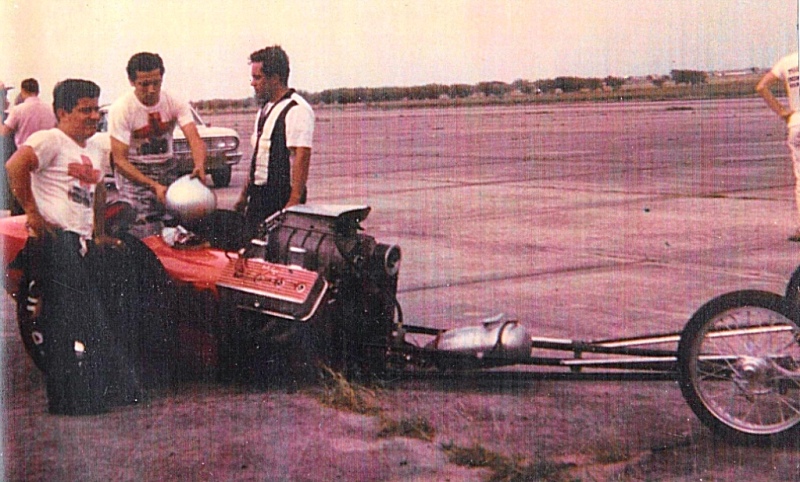 Courtesy of George Rodriguez
Kennedale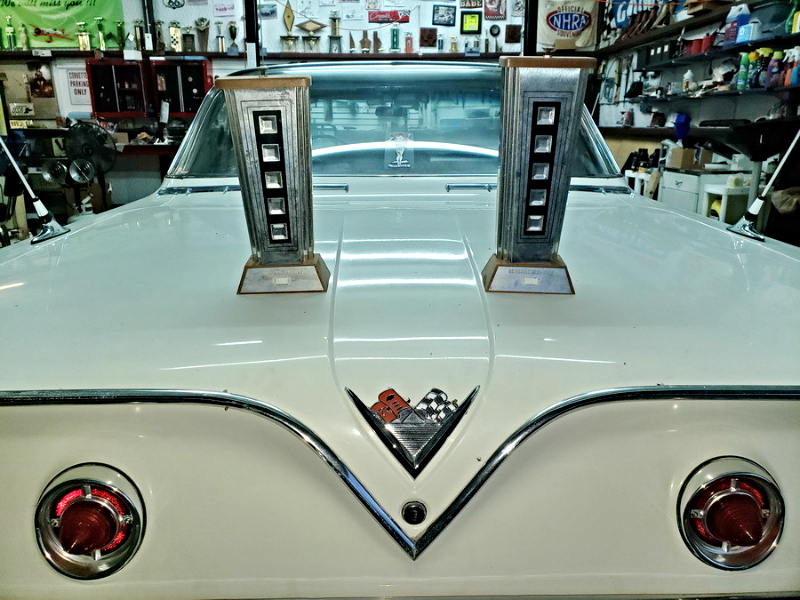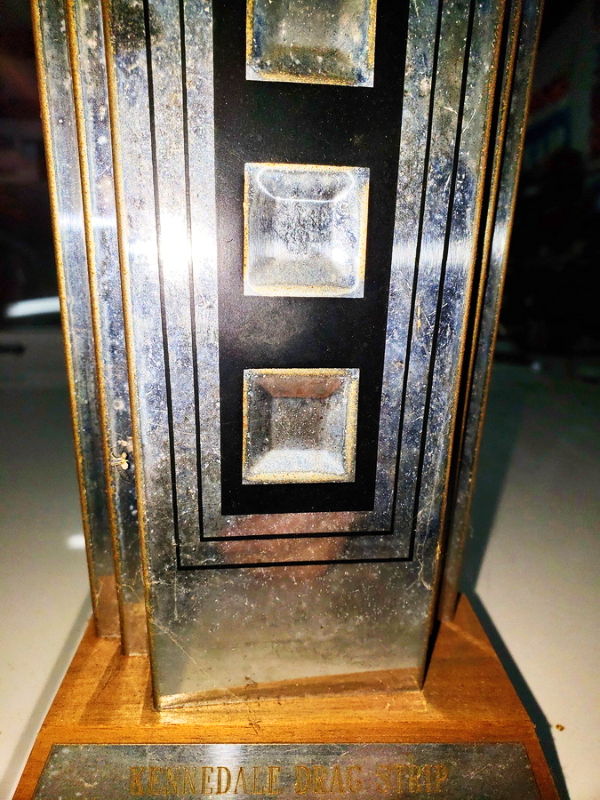 A couple of trophies won by Randy Tingdale at Kennedale Drag Strip are displayed in his shop. Courtesy of Randy Tingdale
Killeen
Fort Hood Dragway, 1987-90
I was stationed at Fort Hood from 1987 to early 1990 and we were allowed to race at the railhead.
Clifton Rogers
Kirby
San Antonio Drag Raceway, 1964-67
Our home track was San Antonio Drag Raceway. I started by driving in the fastest class not knowing really all the adventures I would be facing. I drove our AA/fuel dragster sitting behind the engine with my head in the open running nito. In the early days with the protection I had, it was hard to keep from choking.  In the sixties at a major meet it was not unusual to qualify 64 dragsters. Somehow it seemed every race my brother and others found a way to go faster. It was so much fun since there werre so many of us that could afford to race back then. We all got along loaning out parts and helping each other that we all became good friends. As the crowds got bigger we became more professional and our cars got better looking. Trailers and tow trucks were custom. Our pit crew shirts matched and for us racing was bitchin. We started doing match races in between big meets to offset our cost. After awhile we realized even if we won at the track, in our pocket book we lost. In 1970 we couldn't afford to race any more. The sport we loved so much became a business. I stopped racing just before the rear engine dragsters took over. I can't imagine driving without oil on my lenses and not having to look around a blower.  It's been over 50 years now. I have truly missed the thrill. The thought of getting hurt or killed was always in back of our minds. But it was always gone once behind the wheel. The only thing that mattered was being first to the finish line. Our only regret is not doing enough to be recognized in the history of this sport. We truly tried our best and gave it our best shot. We just came up a little short. Those years of racing was one of the highlights of my life and I will always cherish those memories. Yes, we fell short, but to have been part of this sport and doing it beside my brother means the world to me.
George Rodriguez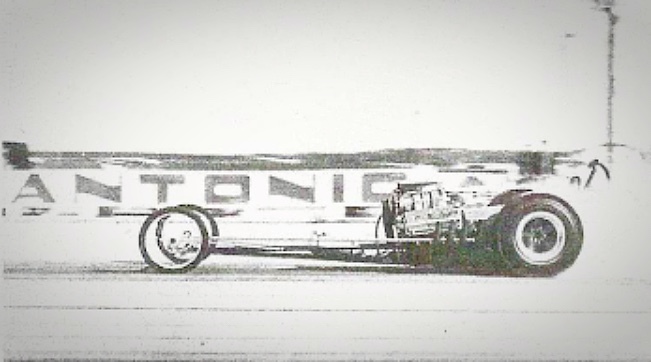 The Rodriguez Brothers' first AA/FD, taking top eliminator at San Antonio Drag Raceway on its first time out, December 13, 1964. Courtesy of George Rodriguez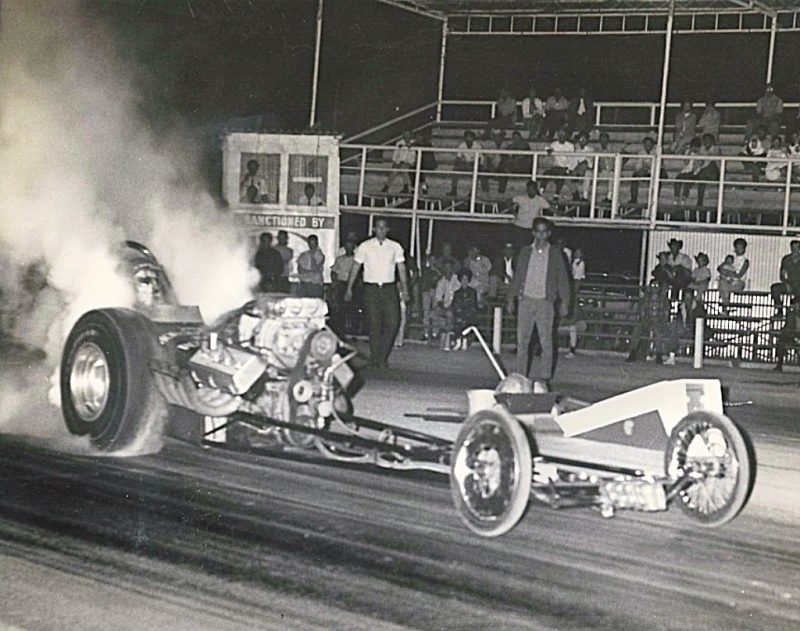 The Rodriguez Brothers' second AA/FD at San Antonio Drag Raceway in 1967. Courtesy of George Rodriguez
Double Eagle Drag Strip, 1959
In 1959 my older brother and I would take my dad's family Studebaker 4-door sedan to Double Eagle on Sunday and take turns driving it.  We both won one trophy. His was lost, but mine sits proudly among others that I won later in life. It is a square block of wood painted black with a little pedestal and car on top, with brass plate on the front with the medallion reading "Double Eagle Drags Class Winner." I thought the fire that destroyed the timing and start tower was in 1969.
Jimmie Roan
Double Eagle Drag Strip, 1959
My dad, Clarence Lucas, raced at Double Eagle Drag Strip on October 12, 1959, and won a trophy from there. I'm his oldest son and have the trophy and it is very special to me. He passed away July15, 2010, and I miss him.
Steve Lucas
Lewisville
Dallas International Motor Speedway, 1971-73

This is a photo I took of the final pass at DIMS, a rerun of the Top Fuel  final of the Longhorn Nationals on April 29, 1973.  The final was between Vic Brown and Leroy Goldstein. But the tree had a
handicap start programed in it, so IHRA decided a rerun was in order.  Brown elected to forfeit. Goldstein/Candies & Hughes came back for the final. That is why the stands are empty and why I as a young kid was standing along the starting line to get the shot.

I was also at the race held on September 19, 1971. DIMS management had changed sanctioning bodies at this point, from NHRA to IHRA in efforts to save the financially struggling racetrack.  IHRA takes less of the gate money than NHRA, so the thinking is to run the same two national events each year, and keep more money for the track to pay the debt.  In addition, IHRA was looking to be a serious contender to NHRA as the lead drag racing sanctioning body, and what better move than to take away the finest track NHRA had at the time.  This is the first IHRA event at DIMS, a booked-in Funny Car match race between California and Texas.  Gene Snow and Jake Johnston (Texas) vs Don Prudomme and Tom McEwen (California) along with all other IHRA classes.  It was unusually cold and misty, and the cars did get one round in before the rains brought the action to  a halt for the day.  I got this shot of the Hot Wheels cars as they came to the line and the drizzle started, eventually turning to rain.

David Graves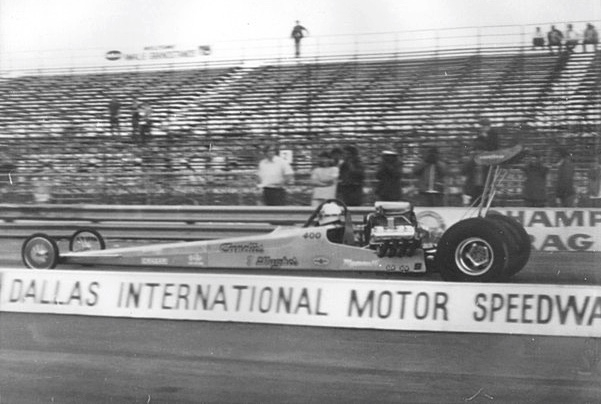 Leroy Goldstein in Candies & Hughes T/F dragster, Dallas International Motor Speedway, April 29, 1973. Courtesy of David Graves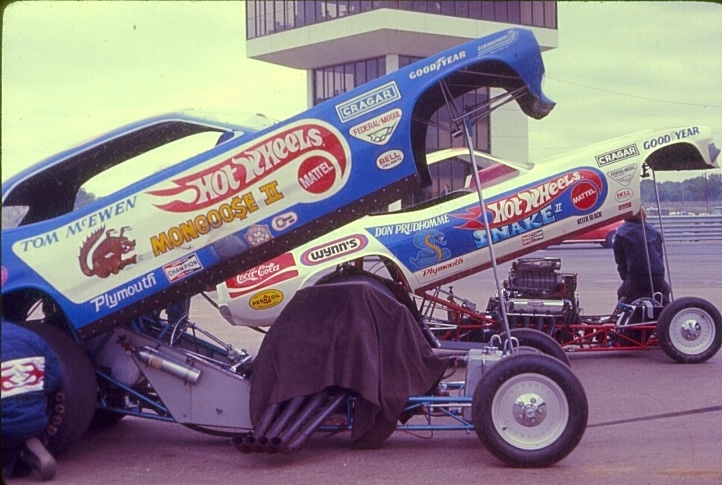 Tom McEwen and Don Prudhomme's funny cars, Dallas International Motor Speedway, September 19, 1971. Courtesy of David Graves
Dallas International Motor Speedway, circa 1959-60
I worked fuel check for NHRA starting at the Winternationals in 1964 with Dr Dean Hill. He left and started H&H racing fuels. I continued working for NHRA until 2014. I turned in my retirement letter at the 2014 Division 4 banquet in 2014. I was inducted into the Division 4 Hall of Fane in 2007. I Think the DIMS race was between Tulsa World Finals and the Amarillo Finals. I got a photographer's pass for my track photographer. Before he passed away he gave me four Kodak circle slide trays.
Dale Schafer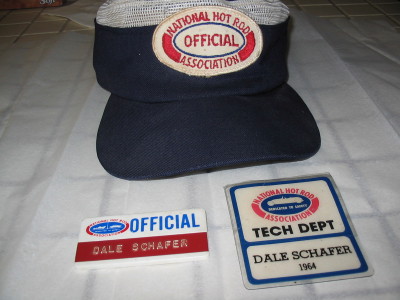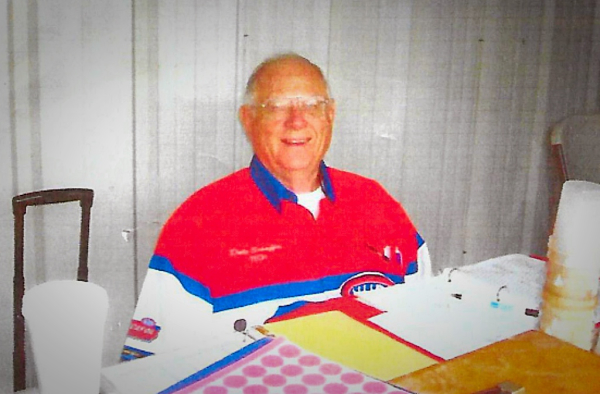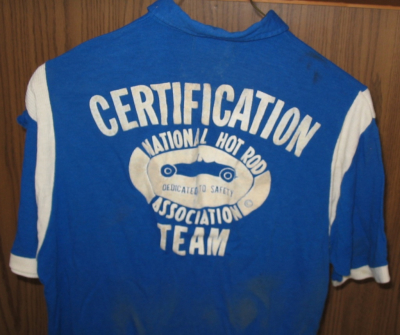 Dale Schafer, photo taken in his 51st and final year working for NHRA, at Lucas race in Noble Oklahoma, 2015
Some momentos of Dale's years as a tech official with NHRA: hat, name badge, late 1950's certification shirt, etc.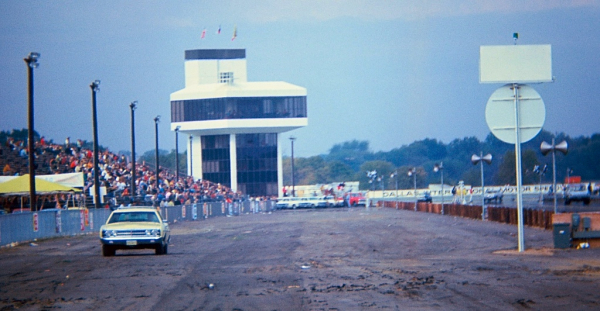 NHRA World Finals, circa 1969-70, Dallas International Motor Speedway. Courtesy of Dale Schafer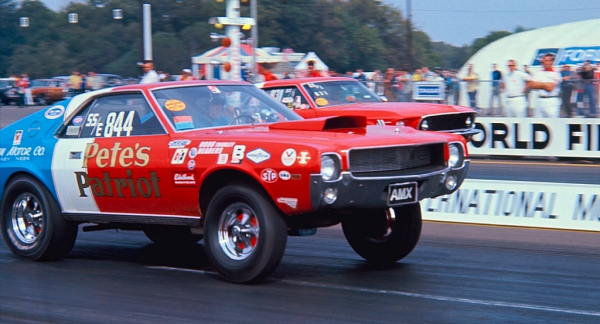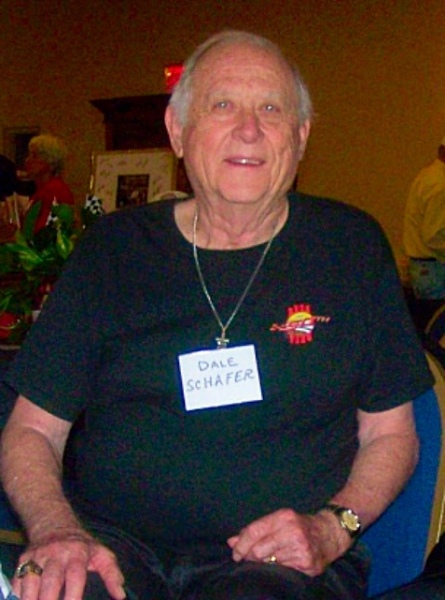 Dale, at his 2017 induction at the Amarillo Motorsports Hall of Fame. Courtesy of Dale Schafer
Dallas International Motor Speedway, 1969-73
It was annexed by the city of Lewisvlle. Track owners planned a Woodstock-type of event there, but planning and logistical support was in short supply and the event was a disaster. The Lewisville City Council decided that any event or race could only be held through the issue of permits only, most of which were denied. This ended any chance of the track's chance for success.

Glenn Wooley
Lubbock
I raced a '66 Chevelle in NHRA Stock Eliminator at several Division 4 Points races in the 1973-1976 timeframe.

Jim Mitchell
McKinney
McKinney
Scorpion Drag Strip, 1950s-60s
I raced at Scorpion every Sunday for about two years. I had a '56 Ford, red and black. Sometimes I won a race in G Gas class. The same for Circle. It was Saturday night. I also raced at Caddo Mills and went to Green Valley and Yellow Belly in the late '50s and early '60s. I worked at a gas station full time and on my car all week so I could race on the weekend. I loved drag racing and all the memories from it.

George Echols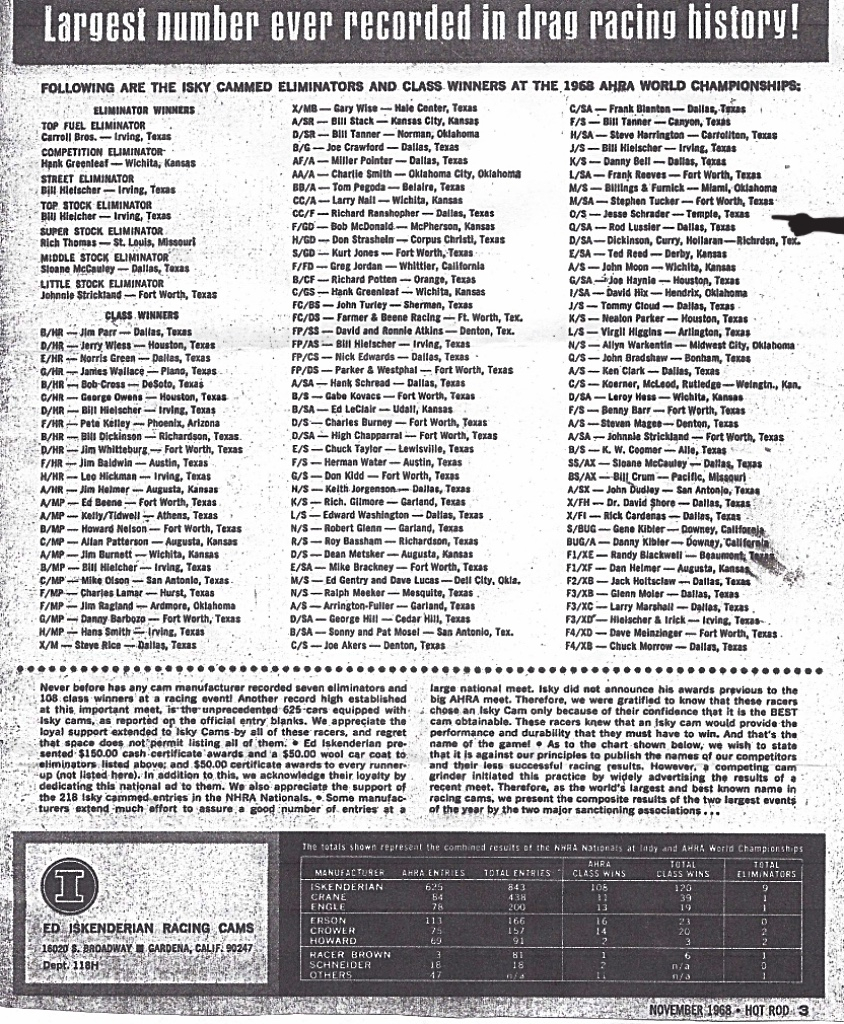 North Richland Hills
Green Valley Raceway, 1968
I raced my 1960 Chevrolet at the 1968 AHRA World Championships at Green Valley. I won the O Stock class and was runner-up in Middle Eliminator.  I took home $400. I also got paid $50 for permission to include me in an Isky Cams ad that got printed in Hot Rod magazine. In the Middle Eliminator finals, my reaction time was too slow and I got beat.

Jesse Schrader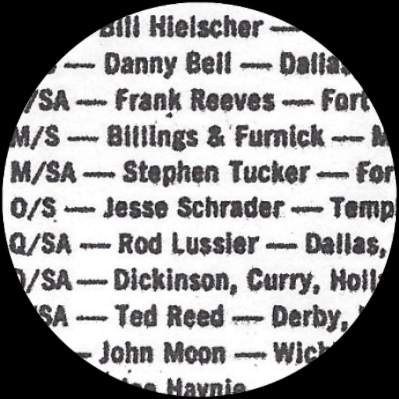 List of 1968 AHRA World Championship winners, Hot Rod magazine Isky racing cams ad, November 1968; finger pointing to Jesse Schrader's name as the O/S winner. Courtesy of Jesse Schrader
Close-up of Jesse Schrader's name as the O/S winner at 1968 AHRA World Championships in Hot Rod magazine ad. Courtesy of Jesse Schrader
Green Valley Raceway, 1981-82
I raced at Green Valley around 1981 or '82.  Running in comp, my A/ED qualified with an 8.02 e.t. @173 MPH.  One of the funniest pictures you will ever see. My motorhome lined up against my dually and dragster trailer in a drag race.  We spent the night at the track after a divisional race there one weekend.  When we got up the next morning, me and my crew were locked inside the race track and could not get out.  We figured out that we could lift the gate at the far end of the track off of it's hinges and we got out that way, so we had a race to the far end!

Doug Waggoner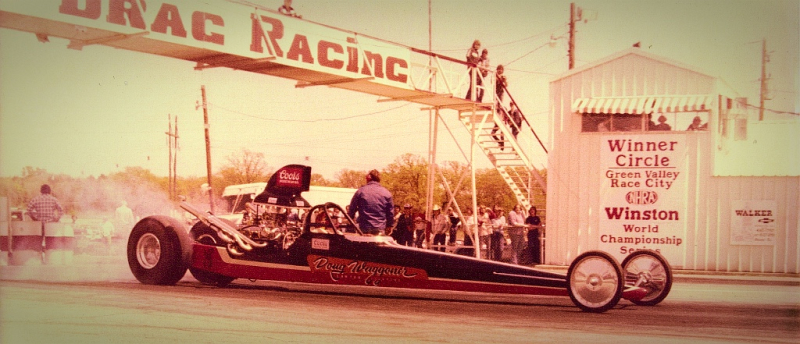 Doug Waggoner's A/ED, Green Valley Raceway. Courtesy of Doug Waggoner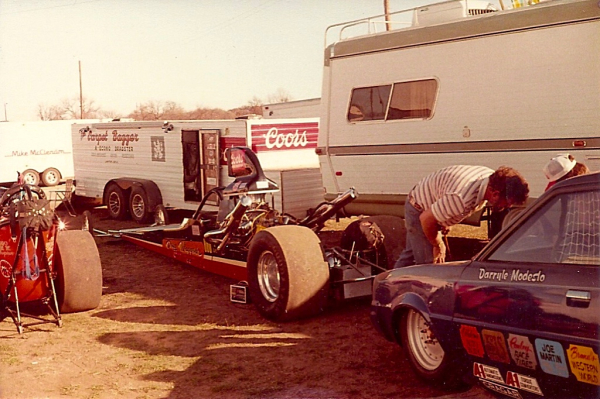 Waggoner in the pits with Darryle Modesto and Ken Dotson, Green Valley Raceway. Courtesy of Doug Waggoner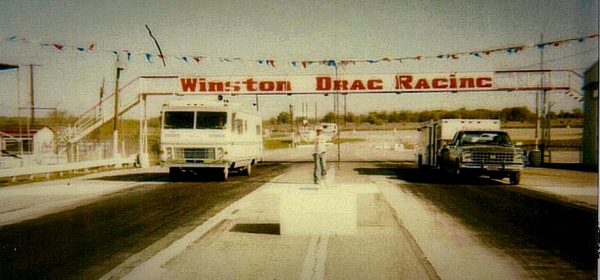 The Big Race between Waggoner's motor home and his truck/race trailer, Green Valley Raceway. Courtesy of Doug Waggoner
Green Valley Drag Raceway, 1965
We raced our dragster at Green Valley Raceway. We were one of the first in Texas to go over 200 miles per hour. Back in our day it was unbelievable. We were making over 2000 horsepower. The fastest we ever went was 238 miles per hour in a quarter mile. 

George Rodriguez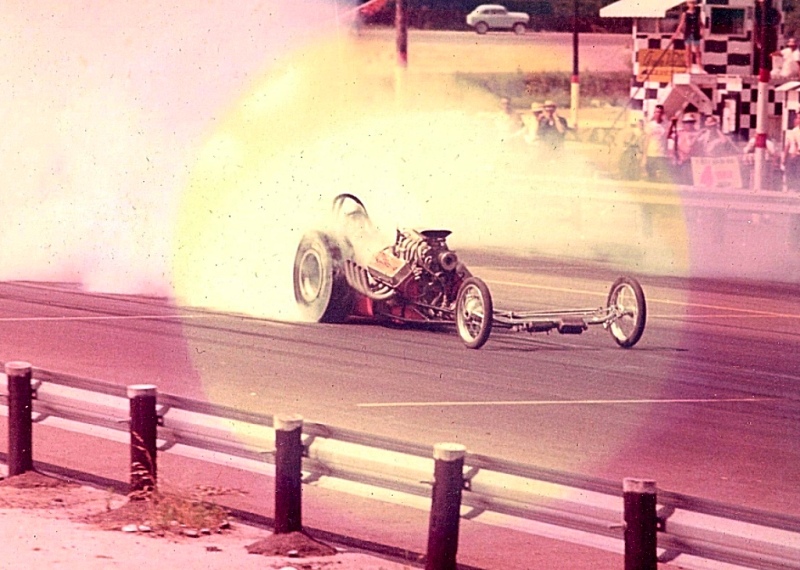 Courtesy of George Rodriguez
Green Valley Raceway, 1977
TJ and I raced at Green Valley in 1977.

Don Hurst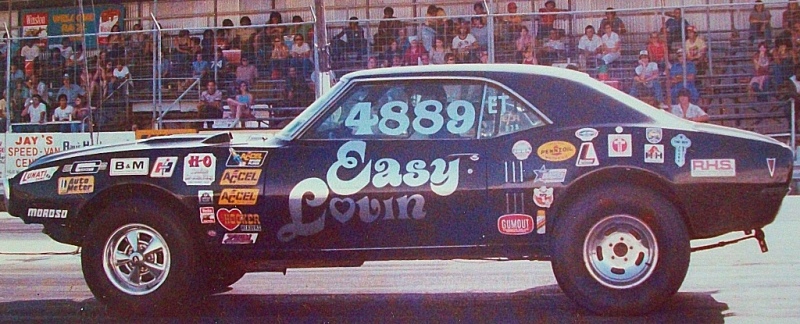 TJ racing her "Easy Lovin" '68 Firebird at Green Valley in 1977.  Courtesy of Don Hurst
Green Valley Drag Raceway, 1961-63
My dad used to go with me some.  He loved to go to Green Valley and watch the big fuel dragsters run. I had a friend from New Mexico and he drag raced out there. He'd come down there and stay with me for a couple of weeks, maybe three weeks, or whatever. We'd all go up there. Green Valley raced on Thursday nights in the summertime because of the heat. My dad, he got a kick out of drag racing. My buddy and I, we always got pit passes.  Dickie Harrell was from Carlsbad, New Mexico.  He was a machinist there in the potash mines before he became a well-known racer.  I had a friend, he bought a brand new '62 Dodge. It was the first year they come out with a 413 wedge head. He took us for a ride down the strip. That was the fastest I've ever been. When the Dodges and the Plymouths came out with that 413 with the two four-barrel carburetors on them with the cross ram manifold, where they were kind of offset. Green Valley, over in Smithfield, when I started going up there because Forest Hill kind of slacked off a little bit. I went to the 1963 AHRA Nationals. Dickie Harrell won the top eliminator against one of the California Dodges. Don Garlits and Prudhomme and all those guys used to come through there running grudge matches. They'd jsut go across country racing. Hit all the strips they could.  I had a '65 Pontiac. Gene Snow ran there when I started going to Green Valley. He had a partner--Melton was his name. They had Melton & Snow Hot Rod Car Lot there in Fort Worth. They bought and sold 413 Dodges and Plymouths, 409 Chevrolets, and anything makes a hot rod car. He came out with a '63 413 Plymouth. The boys that had been there awhile were eating his lunch. After we left, he was up in the big-time racing. Of course, he got some money he could spend.  I think I ran it one time and found out it wasn't competitive so I just retired it.


Roy Melton, 
telephone interview with
Mel Bashore, August 24, 2017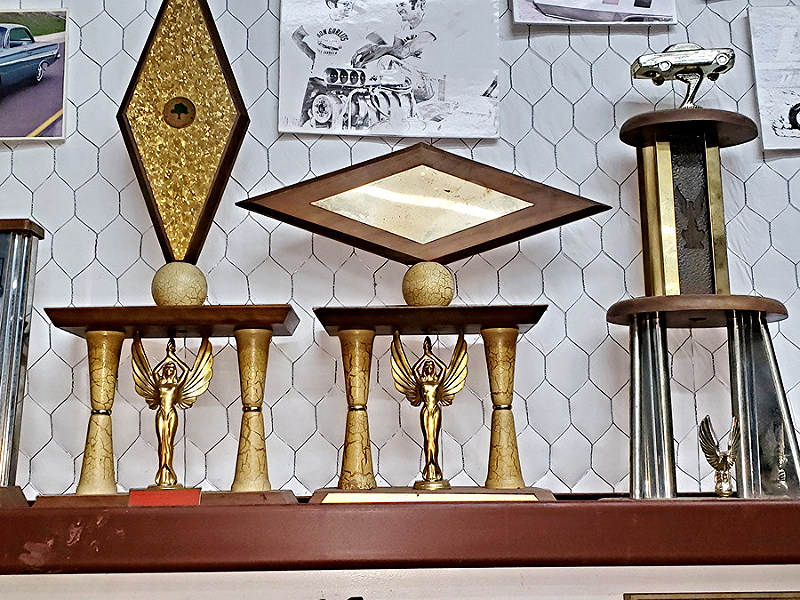 Several trophies won by Randy Tingdale at Green Valley Raceway are displayed in his shop. Courtesy of Randy Tingdale
Penwell
Odessa Raceway Park, 1968
CLAIM TO FAME:  We were racing in 1968 at the second stop on the Texas Pro Circuit in our AA/FD. We had just won top eliminator at Amarillo and we were runner-up at Odessa and were the top points leader at the time. Kenny Bernstein was my age and I showed him how to choke up on his parachute so he could keep his dragster on the strip. A cross wind was really blowing that day.

George Rodriguez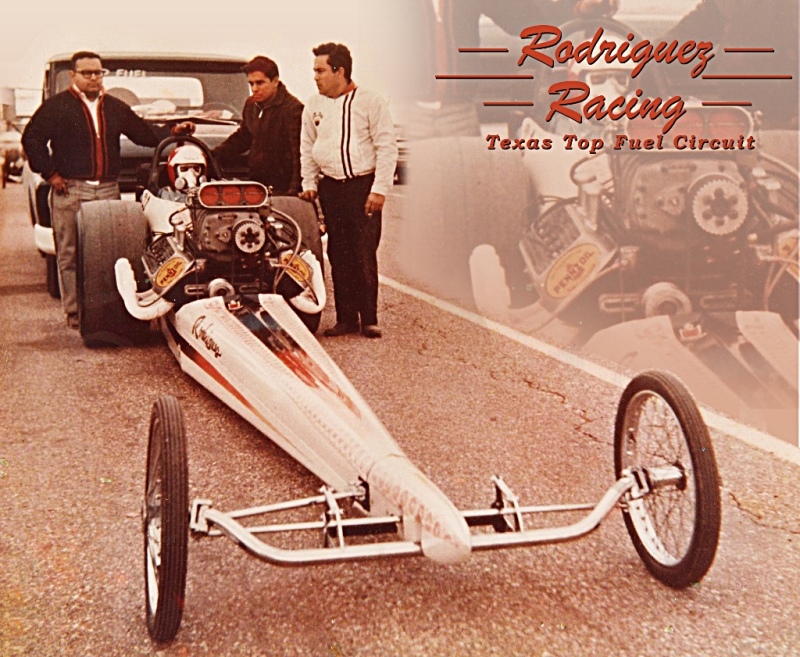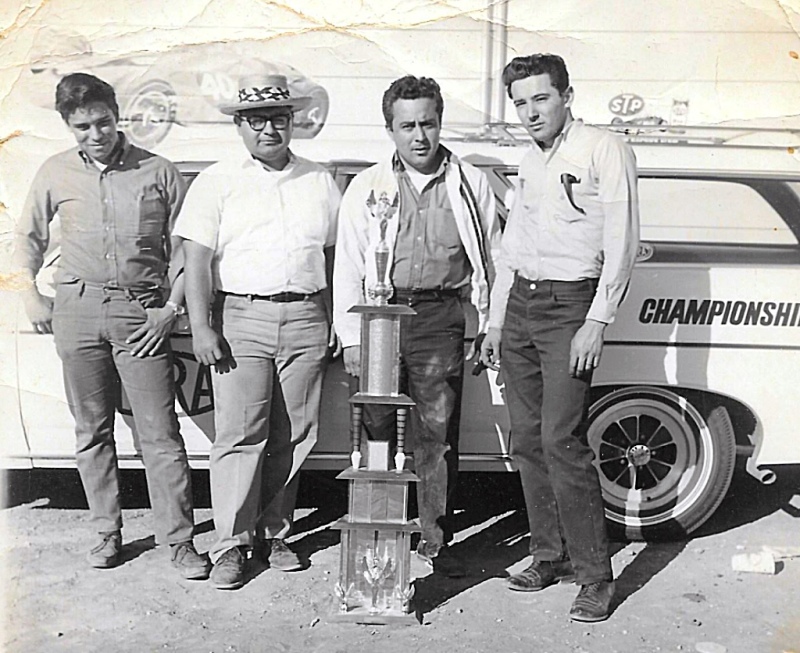 Left to right: Coke Pena, nephew Michael Rodriguez, brother Roland Rodriguez and driver George Rodriguez. Courtesy of George Rodriguez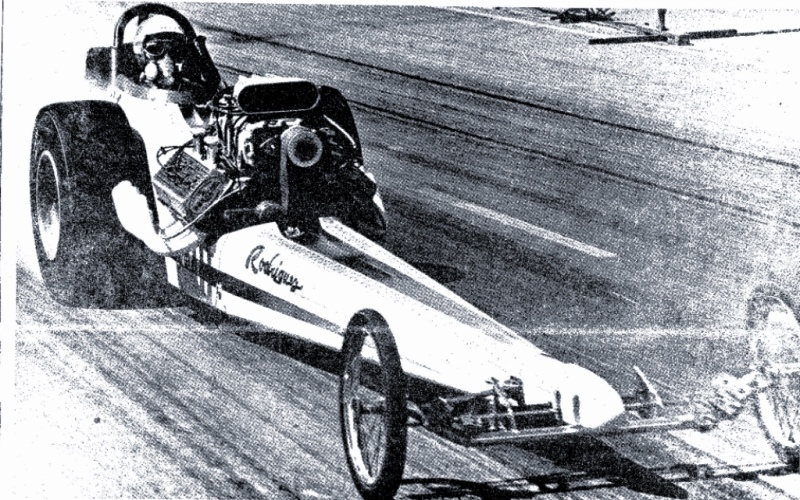 Rodriguez Brothers AA/FD from San Antonio, driven by George Rodriguez, raced from 1964-70. Photos courtesy of George Rodriguez
Odessa Raceway Park, 1967
I raced a '58 Chevrolet Del Ray in the Formula 3 Hot Rod class during the '67 AHRA Spring Nationals.

Jim Mitchell
Odessa Raceway Park, 1967
I raced my 1959 Chevrolet Impala in F1-E/HR in the 1967 AHRA Spring Nationals at Odessa International Raceway at Penwell, Texas. I won my class, but I was eliminated in the first round of eliminations. Spring, my associate, was also a participant in his C/FD. My cousin Marquis Talliaferro was also there in his 1955 Chevrolet "Texas Reamer." Marquis now races in NHRA TAD. He recently survived a crash into the guard rail at Kent, Washington, and completely wiped out his dragster. The pits were so dusty at Penwell, you were afraid to open your hood.

Jerry Coffee
San Angelo
Wall Drag Strip, 1970s-80s
I raced at Wall through the 70's and 80's and some later on. Some track owners/managers I remember were Rodney Rutherford, Benny Gossett, Roy Dale Binyon, and others. It was always unoffically known just as Wall. It seems like it was Sportsman's Park Raceway from about '70 to around '76, then reverted back to Wall Dragway. For a year or two, possibly when Benny had the strip, it was AA Dragway, then possibly Wall Dragstrip. Lots of crazy machinery made passes down that strip as tech was a little "lax," including my homebuilt V8 VW Beetle! Great times with great folks!

Randy Young
Linda Peel Clifton and I were trophy girls at the opening of the Wall Drag Strip. Jimmy Hall from San Angelo built it. It was an old runway. We were in college there and Jim was working on the bleachers at the drag strip and we drove by the construction of San Angelo Central High School. There were steel girders there and Jim said they were for the "trash" so he took one and held it on the side of the pickup. He used it to build the first bleachers at the drag strip. Someone flew in for the opening (I cannot remember who) and landed on the drag strip. Then we got in a limo with him and drove down the strip waving. We were supposed to kiss the winners and give them a trophy, but we decided to skip the kiss.

Kellene Shuffield,
courtesy of Randy Young
Temple
Temple Timers Club Drag Strip, 1956
​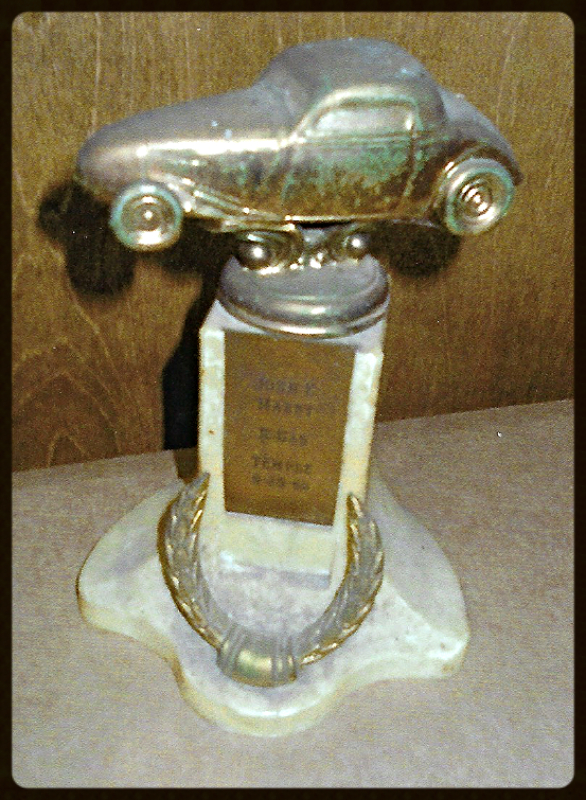 The plaque on this old trophy reads: John E. Mabry, B-Gas, Temple, 9-29-56." Photo courtesy of Jesse Schrader, Thorndale, Texas
Tyler
TJ and I raced at Tyler, Texas, in 1978 for the IHRA points race. She won.

Don Hurst

TJ and Don Hurst's cars at Tyler in 1978. Courtesy of Don Hurst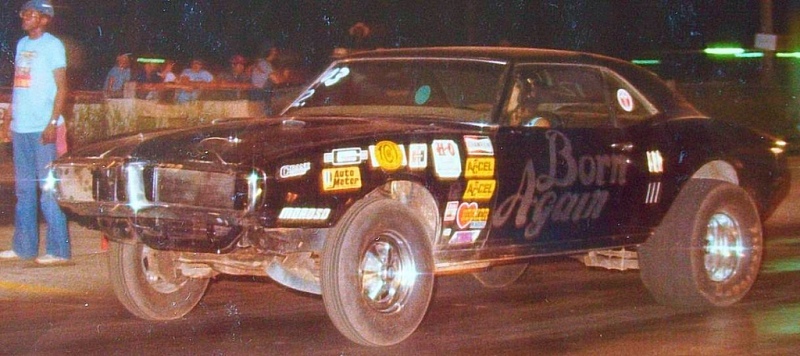 TJ at Tyler in her "Born Again" Firebird. Courtesy of Don Hurst

Don Hurst in his "Gung Ho" GTO launching off the starting line at the Interstate 20 Dragway in 1978. Note the 5-amber light Christmas tree. Courtesy of Don Hurst
Uncertain
Fly-N-Fish Lodge Airport, 1958
The track at Karnack was the runway for a fishing lodge which was very narrow and rough.  I raced my '32 Ford C/A against Eddie Hill at Karnack for Top Eliminator a couple of times.  He always beat me.

Max Williamson
Victoria
Six Flags Drag Raceway, 1968
We raced at the strip in Victoria in 1968.

George Rodriguez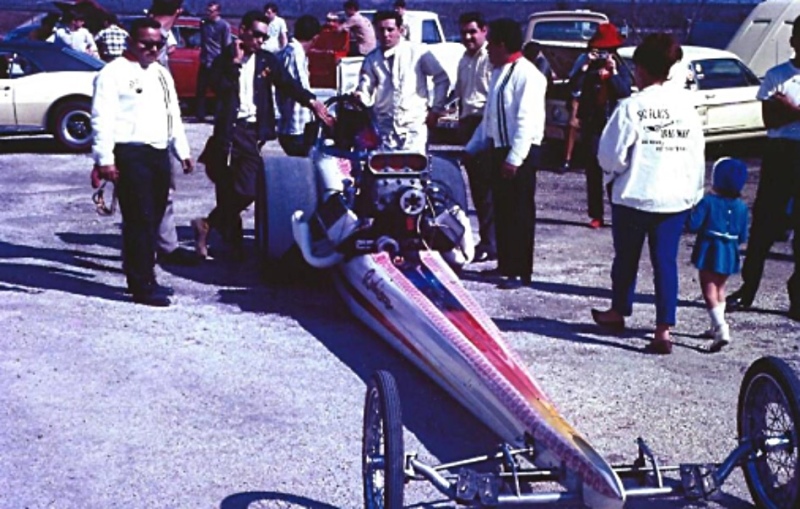 Courtesy of George Rodriguez