Remembering . . .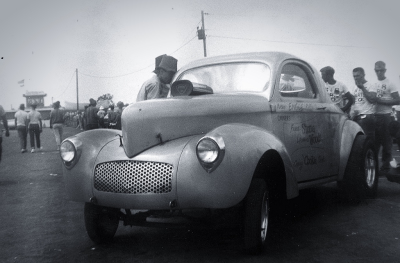 Stone, Woods & Cook A/GS Willys at New York National, 1966. Photographer unknown
Buffalo
In the fall of 1969, after being declared 2A by Uncle Sam due to a life-long perforated eardrum, I landed work in Buffalo, New York. First, I got a job at a gypsy trucking company, but finally I got work with GM at their engine plant in Tonawanda. I got to know a guy, Tim, who was and is a pretty good wrench. We massaged the 325 horse engine in my '66 Chevelle SS 396 over a period of time. We made great money to waste on speed parts. I ended up with a higher lift cam, anti-pump lifters, Hedman headers, a 780 Holley carb, Pete Jackson gear drive timing assembly (with the neat whine) and 3:73 ration rear end. I also began dating a friend's sister-- Bonnie. The Chevelle was much quicker obviously, but no world shaker. I was about done with drag racing anyway, other than an occasional street dual.  And one of the popular areas for that was Sheridan Drive, a long boulevard in Buffalo.  One night Bonnie and I left a popular night spot on Sheridan around midnight. They had an 18 year old drinking age and the old Arrow Lounge did not check ID too closely anyway. So we went cruising up and down Sheridan. At a stop light, a very healthy small-block sound was coming from the 1954 (yes, '54) 4-door Chevy sedan beside me. Four or five young 'gangsta' types were in the car. It was a warm night, windows down, etc. After a few quick show-off takeoffs by  the '54, I decided to smoke those gentlemen at the next light. Bench-seat Chevelle, 4-speed Hurst shifter.  I nudged lovely brunette, 18-year-old Bonnie over so I could do my best 'Grumpy Jenkins imitation explosion shifting.'  The light changed, the automatic transmission '54 brown/primer old Bel Air blew outta there like a rail dragster. He had me by three car lengths before I went to 3rd gear. 1953 and 1954 Chevys were 6-cylinder only cars. Those guys shoehorned something that was 'major league' into the old beater. I never saw them again. And due to layoffs and other 'rather- not-discuss' issues in New York, I returned to Pennsylvania not long into early 1970. I have no idea what it was that they cobbled into the 1954 Chevy, but it was absolutely the ultimate sleeper that I ever encountered.
Dave Thompson
Center Moriches, Long Island
New York National Speedway, 1960s
I raced at National Speedway in the '60s. I ran a '63 Ford AA/SS. I came all the way from Edison, New Jersey, and won many times.
John Mikosz
Dunkirk
Dunkirk Airport Drag Strip, 1960
In 1960, I won the Spring Nationals in E Stock Automatic with a 1950 Oldsmobile. 78 MPH, 17 seconds ET.
Gerry Gismondi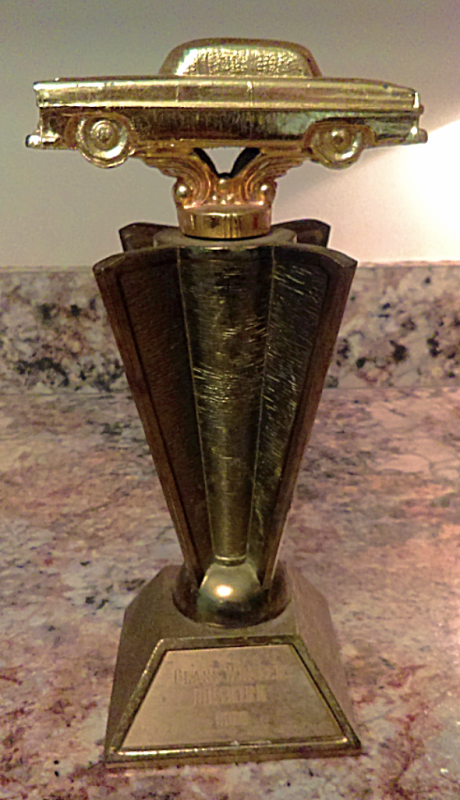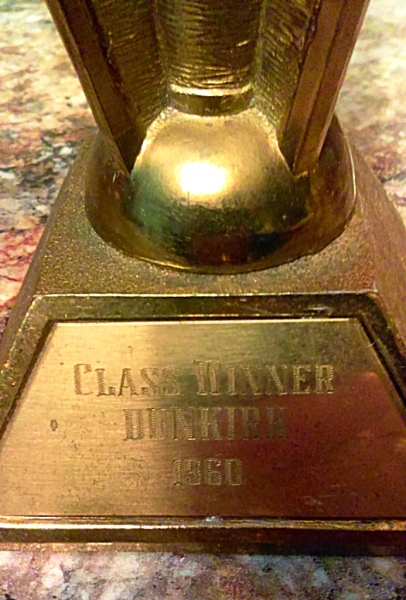 E/SA class winner trophy won by Gerry Gismondi in his 1950 Oldsmobile, Dunkirk Airport Drag Strip, 1960. Courtesy of Gerry Gismondi

Fulton
Fulton Municipal Airport, 1956
Later on they did race at Fulton on the airstrip. That was in the summer of '56. Art Arfons came with the "Green Monster." He did some excellent runs there, being on an airstrip, paved. I was there to see him race, but at that time, I didn't own my old '49 Chevy. I probably had $3,000 in '50s money in that car. When I bought it in the summer of '51, it was a used car. When I got home from Korea, I chopped the top 2 and a half inches. I used a '50 Olds convertible one-piece windshield. The windshield cost me $44, which is not a lot of money. But at the time I was only making $56 a week because I was just doing a production job. This place was making howitzer shells for the army. After a year or so, there was no need for these howitzer shells so everybody was layed off. I ended up getting a job in a body shop, the body shop that initially painted my car after I chopped it. I would do some work on the car, then take it down to them and they'd prime it for me. I chopped the top in the backyard. I entered it in the annual car show that they had at the State Fair in Syracuse, New York. I got the first place trophy for that. I have no idea where that trophy would be today. It was kind of a neat car for its day. I enjoyed the car, chopped, from '53 until January of 1956, when I sold the vehicle. I had approximately $3,000 in it. I worked in this body shop for awhile. I was customizing the front end of the car. One night, the owner of the body shop walked in. "Who's going to pay for all these lights?" I should have asked him if I could work after hours, but I didn't. Two weeks later, he said, "Dick. I got to let you go."  That's a nice way of saying, "You're fired." But that was good because then I came to Rochester and got a production job at Delco, a division of GM. Then I joined Rochester Product, that was also a GM division and became an apprentice tool and die maker. Maybe I should finish up the story about Art Arfons. That day at the Fulton airport, Art Arfons was there with the "Green Monster" with the Allison engine on it. He had dual rear wheels on the back. He put on some very interesting runs for the crowd. He also had another vehicle there that had, I'm not sure of the brand of the engine, but I'll say Franklin. The cylinders pointed toward the ground. The engine was more or less between the two rear wheels. So in other words, the crankshaft was perpendicular to the center line of the vehicle. That vehicle ran that day and we had an opportunity to look it over. I know I have a still picture of that and I may have a still picture of the "Green Monster." That was the early days of drag racing. That second car was much smaller than the "Green Monster."    
Dick Lippert, age 88,
telephone interview with
Mel Bashore, September 12, 2018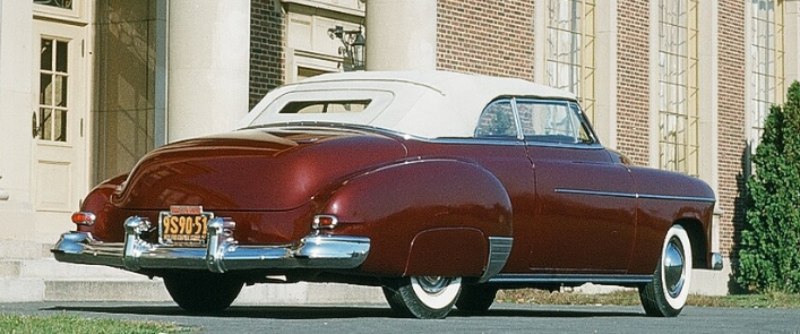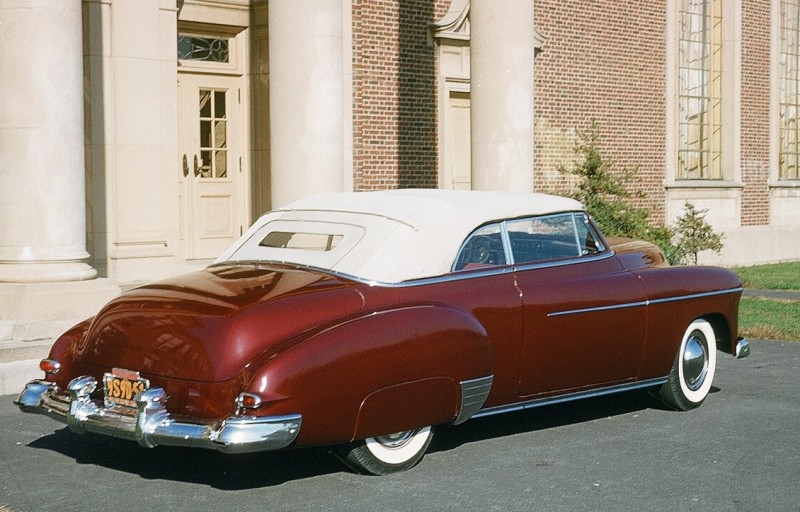 Dick Lippert's chopped-top 1949 Chevy convertible, parked outside East High School in Auburn, New York. Courtesy of Dick Lippert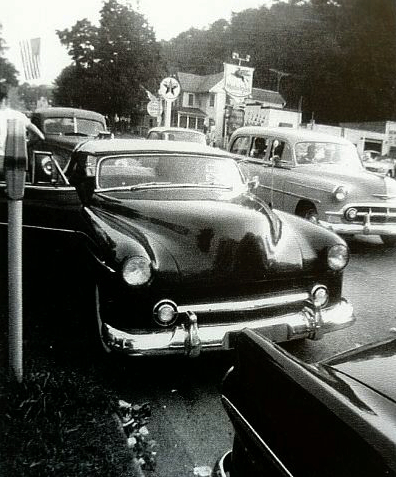 This is the onlly photo Lippert has showing the front of his customized '49 Chevy convertible. This photo was taken in September 1955 on Main Street in Watkins Glen. Lippert customized the front with a '49 Mercury part that he welded to the Chevy hood. He added Olds' bumpers on the front and rear.. Courtesy of Dick Lippert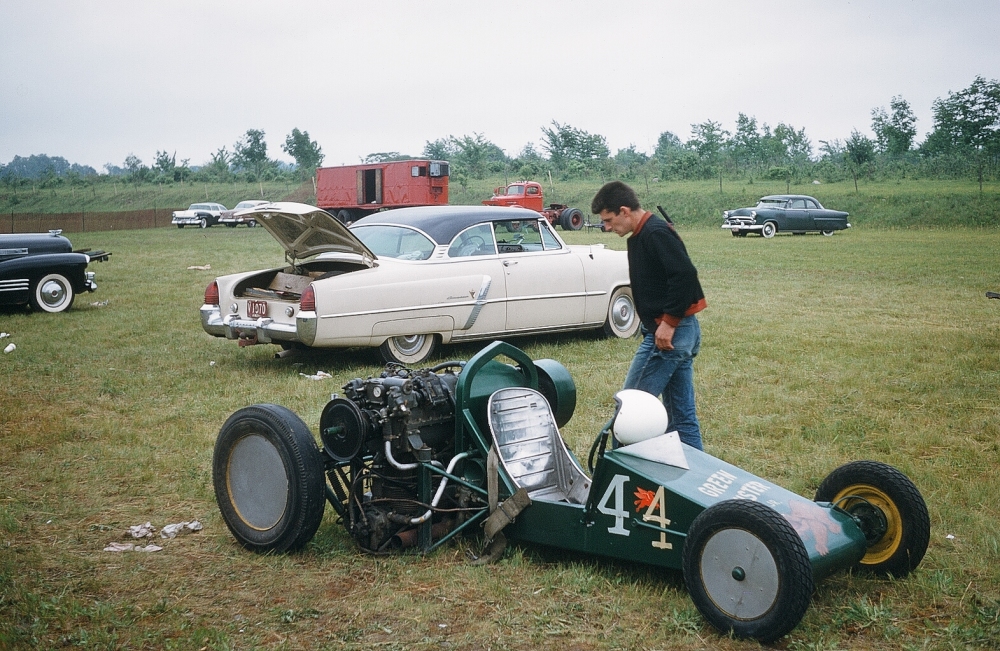 This is Arfons' "Green Monster #4," sometimes called "Green Monster, Jr." Dick took this beautiful picture of it in 1956 at Fulton. It was powered by a Ranger 6-cylinder engine. Courtesy of Dick Lippert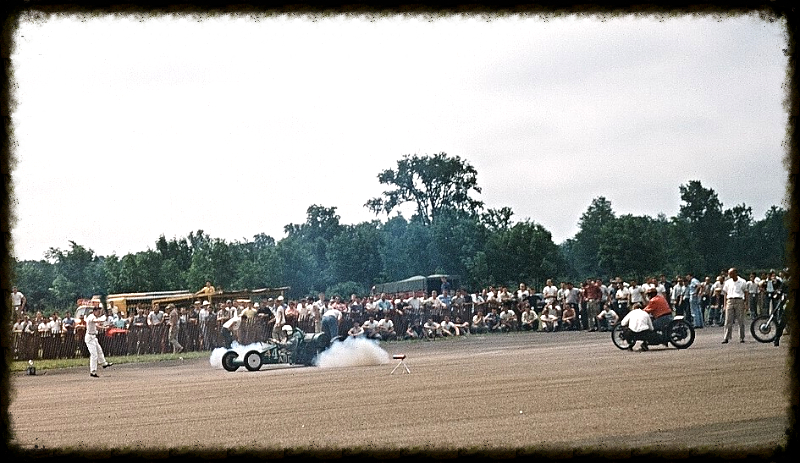 Arfons' "Green Monster #4" bolts off the starting line at Fulton. Dick noted what looks like a timing light on the track in this great picture taken by him in 1956. Courtesy of Dick Lippert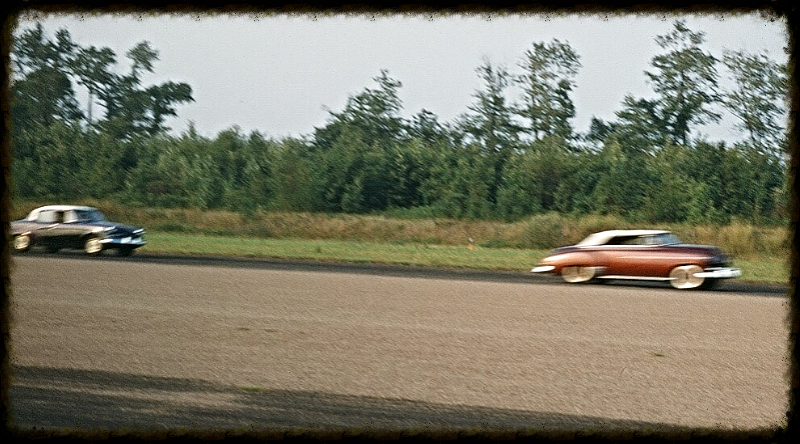 Dick Lippert's 1949 Chevy convertible has the lead in this race in 1955 at Fulton. Courtesy of Dick Lippert

Long Island
Islip Speedway Drag Strip, 1962-64
I raced Islip from 1962-1964. A 1962 Honduras Maroon, 380 hp, 409 Chevy Impala station wagon. I ran A-Stock the first year, then they switched classes around and we ended up running C-Stock. Held the C-Stock class record until the Speedway closed. We never lost at Islip and other tracks. I also won Stock Eliminator twice. Great car, great fun. Something I'll never forget. Raced every Friday & Sunday.
Michael Mattera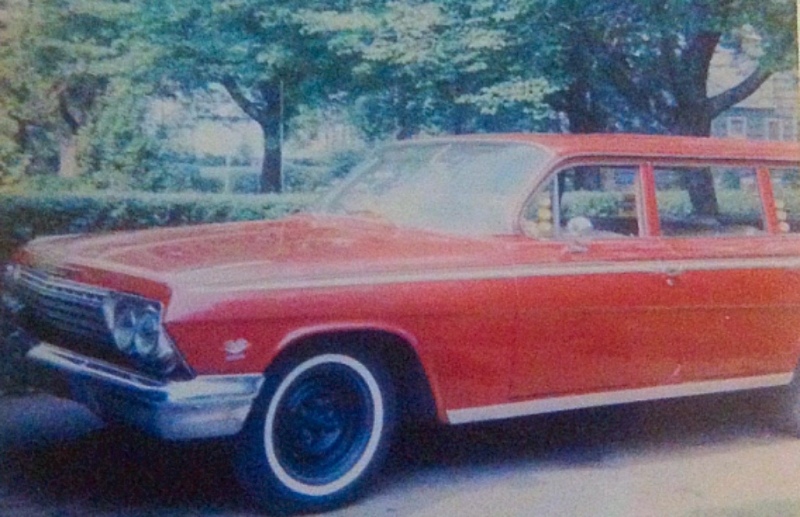 Michael Mattera's 1962 Chevy Impala wagon. Courtesy of Michael Mattera

Niagara Falls
In 1962, my deceased buddy, Mike Sawyer, dragged his '38 channeled Ford coach with a 283 against "Deuces Wild" from Detroit at Niagara dragstrip. I believe it was called Hammans (sounded like that). It was the summer of 1962. We came over from Ontario, Canada. They kicked our assess! Saw Don Prudhomme that day blow up a rail dragster. Great times!
Bob Brockman
In 1965 I beat 442's and GTO's for a trophy winner with my 1965 Corvette. In 1988 I received a call from a professor at UCLA who was writing an article for the Corvette Magazine on how to trace ownership of a Corvette to the original owner. Turns out he owned my 1965 Corvette. I sent him the trophy for which he was very thankful.
Gerry Gismondi
Pennellville
Pennellville Drag Strip, 1954
I have pictures of the Pennellville Drags. My friend, Dick Lippert, who's now in his 80's, raced there in 1954 using his custom chopped '49 Chevy convertible. The track was just a long clay patch in a farmer's field.
Chad Holberton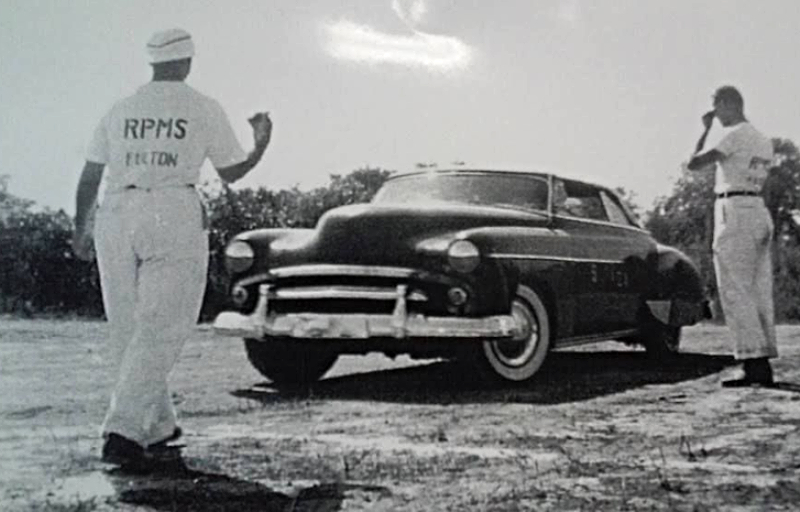 Dick Lippert pulls up to the line at Pennellville in his '49 Chevy. Chad Holberton wrote: "He chopped the top on it and kept it a working convertible, which many said couldn't be done, but he made it work. He's known in the Northeast for punching louvers. He's run his louver press business for over 60 years now. He is a true hot rodder, and still drives his hand-built 1929 "Lippert" Ford  Courtesy of Chad Holberton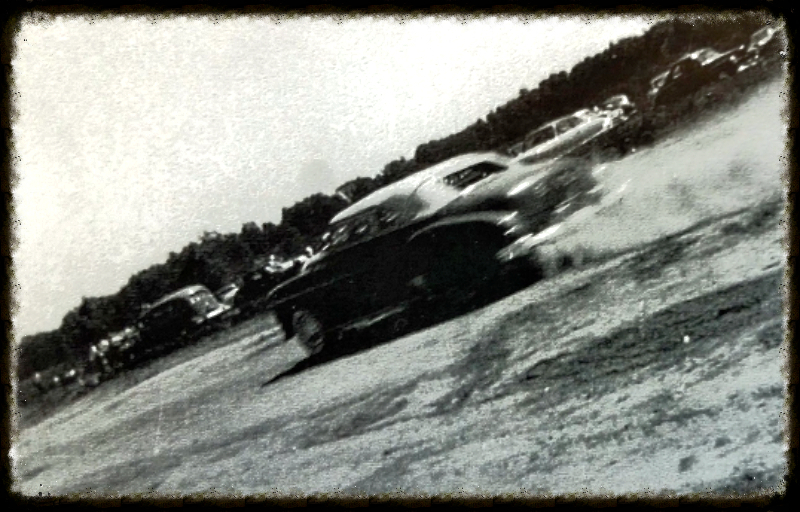 Dick Lippert leaves a cloud of dust as he takes off down the clay track at Pennellville. Courtesy of Chad Holberton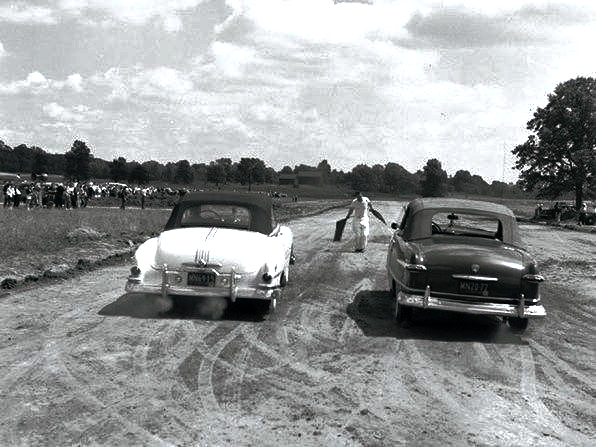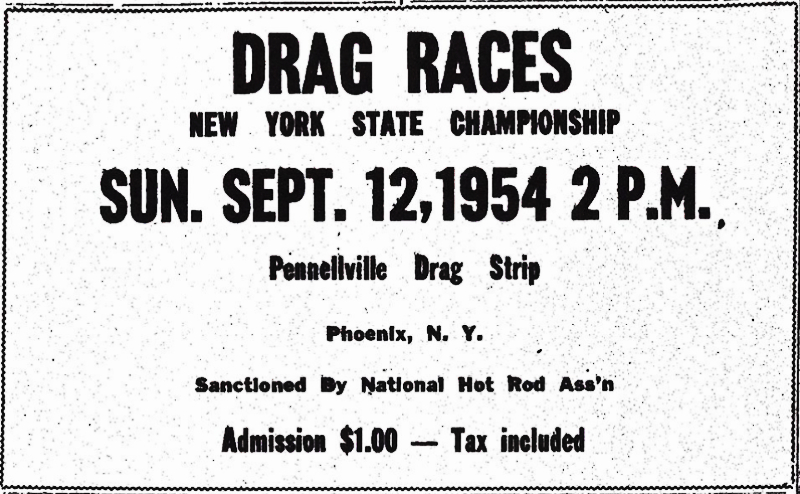 Courtesy of Chad Holberton

Pennellville Drag Strip, 1954
During the winter of '54, January, February, March, along in there, I put a 303 Olds engine in my chopped-top '49 Chevy convertible. The club I belonged to was the Prison City Ramblers in Auburn, New York. The first event that I went to over there, a majority of our club drove their cars to Pennellville. My car, even though it had a 303 Olds engine in it, was not a real powerhouse. Later in years, I discovered that it was only 135 horsepower. Whereas the stock engine was 85 horsepower. During the summer of '54, National Hot Rod Drag Race Safari came there. I always generally took still pictures. However when the NHRA Drag Race Safari was there, I did take movies with a wind-up camera. Eric Rickman walked right in front of me when I was taking the movies. I was down in the pit area and taking movies of some cars leaving the line.  Later that same day, a friend of mine was taking movies of me when it was my turn to go down the strip. I do have a couple of pictures that were taken at the drag strip  I didn't take those pictures. I never took a picture of the NHRA Drag Race Safari car that they came in, a Dodge wagon or the trailer behind it. Anyway, my 303 Olds-powered '49 Chevy convertible, the time I had it weighed, and I did have two welding tanks in the trunk, they probably weighed a hundred pounds a piece. I remember the car weighed 4,040 pounds. So, it wasn't a barn-burner, not with that 303 engine. I needed something with a little more horsepower. What I did was, I made a bell housing out of a Hydra-matic bell housing. Back then, the bell housing was detachable from the rest of the transmission. They are actually adopting that system nowadays so they can attach it to different engines. I took the Hydra-matic bell housing and took it back to my high school machine shop. He was very nice to me and allowed me to come into the high school machine shop and modify things for my car. So one of the items was modifying that bell housing so it would adapt to a Chevy transmission. The transmissions would last approximately six months, then Kapowie!  I'd have to take it apart and repair the gears and whatever, and try again. As I think back today, the engine mount was way up front. It wasn't a side mount, the way you would find in a '55 Chevy. A Chevy V8 would have been a better choice with the side mounts. When I first got that car running, I had to park it on a hill because it didn't have a starter. The starter on an Oldsmobile was on the driver's side and that's great for the steering linkage on a '49 Chevy. I guess that would be called the pitman arm or the pitman shaft, it was inboard of the fram rail. So you could make right-hand turns, but you couldn't make any left hand turns. Otherwise the arm would come back and hit the Oldsmobile starter. So that was another thing that I had to modify was the flywheel housing. On the Oldsmobile, back in the day, it was a cast iron flywheel cover, very heavy of course, and that's where the starter mounted.  That was another thing that I had to machine was to relocate the starter from the diver's side to the passenger side. Because of the weight, I don't ever remember winning any drag races. Back then, you'd never know who you'd be racing. I remember one time, it was a '34 Ford coupe. Much lighter than my car. He left me in the dust. It wasn't a barn-burner by any means. At Pennellville, all they did was take the sod off. It was a clay strip. I mean, bumpy! But it was the only thing we had in 1954. I don't know if it was the first drag strip in New York State or not. It was my belief back then that it was the only one we ever knew of. I sold my '49 Chevy convertible in January of 1956. I guess I was bitten by the '55 Chevy bug. So in January of 1956, I wanted a '55 Chevy, so I ended up buying a demo, whatever that meant. So we took delivery of that as a used car in January of '56. I was trying to sell my custom. Once I moved to Rochester and my wife and I were married, I was making $1.66 an hour in 1955 being a GM tool and die apprentice. There was a couple of times on my way to work, I'd stall the car. It had that tradition hot-start problem that Olds engines had.  You'd go to start it and it just wouldn't turn over fast enough to start. So my wife and I had to get out of the car, push the car, get it rolling, then I'd drop it into high gear, pop the clutch, and boom. Well, we were late getting to work. I don't know. I guess I fell out of love with my car. I can't believe I did that. I couldn't afford to store it. I didn't want to ask my parents for money. I didn't want to ask my in-laws for money even though they were quite well off. I didn't want to do it. The dealership was not interested at all in my '49 Chevy convertible, being chopped and having an Olds engine in it. They couldn't sell it as a used car. I had the For Sale sign in the window. We didn't even have a phone. Even though my wife worked, we had purchased a mobile home. We had payments for that, payments for the '55 Chevy. I ended up selling my car to a person from my hometown for $300! Well, I started louvering in 1958. Just recently in August of 2018, I had a mini-celebration of my 60th year punching louvers. As to my 1929 Lippert/Ford. I made the doors, the body, the chassis, the suspension. I have 132,000 miles on it. And it's still not done. 
Dick Lippert, age 88,
telephone interview with
Mel Bashore, September 12, 2018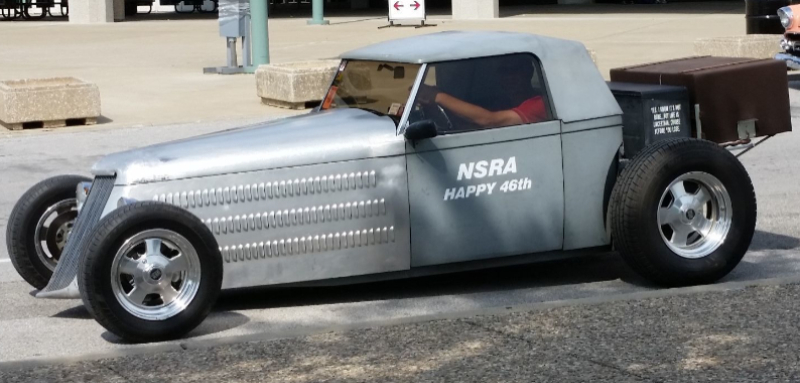 "Here is my 1929 Lippert/Ford all hand-built from flat sheet metal and aluminium  In the cab area it resembles a 1929 Ford roadster pickup. My doors are 8" longer and are one inch shorter in height at the front than the back by the quarter panel, which gives shuttle taper.  The door glass tips in 12 degrees as it nears the end of it's travel.  No Ford parts anywhere. Even the mistakes are mine.  It uses all GM drive train, 60 degree V6 engine, 700 R4 transmission and '82 Corvette rear. 29 MPG."  Courtesy of Dick Lippert

Sampson
Sampson Air Force Base, 1957
I took our then-new '57 Corvette to Sampson Air Force Base on a Saturday for a Test and Tune day. I do remember spending a Saturday afternoon running at Sampson. I even took out the spare tire and jack. It had to have been after July 2, 1957, when the car came into the dealership.
Dick Lippert
West Lebanon
My home track was Lebanon Valley Speedway/Dragway. They brought in  a lot of 6-car funny car shows.  They also on a couple of occasions brought in dragster shows.  I still remember the time that they brought in "Big Daddy" Don Garlits and "TV" Tommy Ivo.  Big Daddy's rig was a small box trailer attached to a Cadillac.  Tommy had the Dodge cab-over with the glass box with two slingshots inside and the Corvette push car on the roof.  What an impressive rig!   Lebanon Valley was also Shirley Muldowney's home track. In her early days she was there almost every Sunday with her dragster.  She also came back for a couple of the Funny Car shows.

Michael Murphy
Wingdale
In 1962 on Mother's Day I raced my street-driven '61 409x409 Impala. I won A/S.
Albert Schaut
Dover Drag Strip, 1962-65
I volunteered at Westchester Automotive, from 1962-65. John [he was eccentric] & Joe [he was placid] were the owners. They ran a B/G, '40 Chevy called "Big Troubles." They ran mainly at Dover Drag Strip in New York.
Jim Scott-Monck
We would race at different locations in New York, but on April 30, 1961, I was at Dover Drag Strip. I had a 1953 Ford flathead with three twos, bored and stroked. My car was put in an F/G class, mine and a VW with a Porsche engine. I believe the only reason that I won is because he had shift or engine problems. But I won. I  have the original trophy. That was long ago. If you remember, they gave you the trophy and you had to get it engraved.
Dennis Stead