IOWA
Davenport Speedway (1952)
Nevada Airport ​​(Ames) (1953)
Sioux City Dragway (1953)
Mason City Municipal Airport (1955)
Dubuque "Drag Strip" (1956)
Ames Drag Strip (1957)
Greater Des Moines Drag Strip/Des Moines Dragway (1957)
Hamburg "Drag Strip" (1957)​

Hawkeye Downs Speedway (Cedar Rapids) (1959)
Sportsman's Park Drag Strip (Keokuk) (1960)
Iowa Dragway/Humboldt County Dragway

 

(Humboldt) (1963)
Neita Raceway/Cedar Falls Raceway

 (1965)
Lee County Dragway (Keokuk) (1969)

Tri State Raceway

(Earlville) (1998)
Iowa Speedway

(Newton) (2007)
Rolling Thunder Drag Strip/Mid-America Motorplex/Midlands I29 Dragway

(Pacific Junction) (?)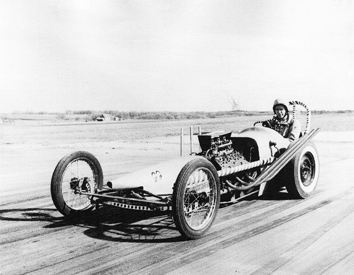 Dragster at Des Moines Dragway. Photographer unknown
Ames Drag Strip
Years of Operation: 1957-58
The opening event of the Ames Drag Strip was held on May 30, 1957. It was sanctioned by the Automobile Timing Association of America and races conducted by the
Nightcrawlers car club
. The strip was located two miles south of Ames just east of Highway 69, across from where Lowes Home Improvement store is now. The 1958 season opened on May 18. On June 15, 1958, Bob Ryan of Madrid turned in the fastest time of the meet with 15.68 seconds in his fuel-injected Corvette. On July 20, 1958, 450 people watched more than 100 cars compete. Lou Bredesky took top eliminator in 14.72 seconds in his Model T roadster.
Read the recollections of a DSL reader who attended the races there in Memories (Iowa)
.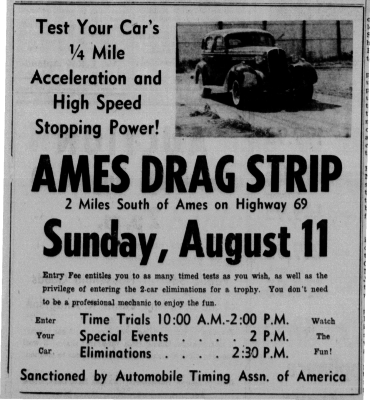 Did you race here? Tell us about it.
CLICK HERE to see location on a map
Davenport Speedway
As a special attraction, drag races were held on the half-mile dirt track located on the grounds of the Danvenport fairgrounds at a couple of races in May-June 1952. Late model stock cars participated in the racing. At the drag races on May 30, 1952, Don Doty won the drag races in his Oldsmobile 88. The track is still operating at the Mississippi Valley Fairgrounds.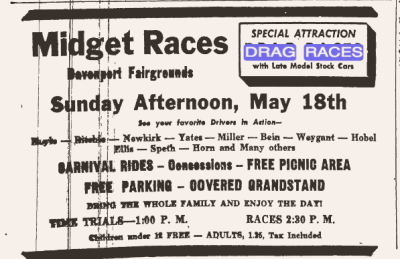 Did you race here? Tell us about it.
CLICK HERE to see location on a map
Dubuque "Drag Strip"
Years of Operation: 1956-57
A drag strip in Dubuque was reportedly 600 feet wide and 3,000 feet long. With these dimensions, it had to have been an airport runway racing strip. The racing likely was conducted at the old WWII airfield, which was eight miles southwest of Dubuque (now Dubuque Regional Airport). More research is needed.
Did you race here? Tell us about it.
CLICK HERE to see location on a map
Eddyville Dragway
Years of Operation: 1965-present
This 1/8th-mile drag strip was built on sixty acres of land, eight miles south of Oskaloosa. John Rempe built and owned this track from when it first opened until 1993, when he sold it to Carl Moyer from Ankeny. Moyer totally rebuilt the facility with a much larger pit area, and modern amenities. The track was purchased in 2006 by Scott Gardner (the owner of Cordova Dragway in Illinois) and Gerald Kramer from Pella. In 2014 Gardner sold his part ownership to Kramer. It operates today, called Eddyville Raceway Park, under IHRA sanction. On Sunday, June 12, 1966, Nile Cornelison was booked to make three exhibition runs in his "Voo Doo" dragster. On Saturday night, August 3, 1969, a record 161 cars  competed in front of a capacity crowd. In 1982, Tommy Ivo raced at the track with his 4-engined dragster.
Did you race here? Tell us about it.
CLICK HERE to see location on a map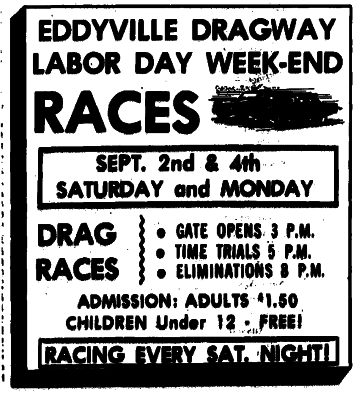 CLICK HERE to see video footage of Eddyville Dragway 2009, 5:45 minutes
Greater Des Moines Drag Strip/Des Moines Dragway
Years of Operation: 1957-67
This drag strip was built on the Ernest Day Farm, located four miles northwest of Des Moines. It was 3,500 feet long by 60 feet wide. Races were sponsored by the Greater Des Moines Council of Automobile and Motorcycle Clubs. They were shooting for a May 30 opener, but more research is needed to determine the exact date of its opening. There were purportedly 3,000 spectators on its opening day. On September 22, 1957, Bob Johnson got top eliminator in his dragster with a clocking of 107.84 MPH and 12.57 ET. Gene Stanley from Omaha took top eliminator on September 29 with a 12.65 ET and 120.00 MPH. From 1961 to its close in 1967 it was called Des Moines Dragway. It was sanctioned by AHRA in 1964. On July 5, 1965, Ed Stoffles of Milwaukee won top fuel eliminator and set a new track record with a 184 MPH clocking in 8.43 seconds. A housing development started in 2000 obliterated the old drag strip.
Did you race here? Tell us about it.
CLICK HERE to see location on a map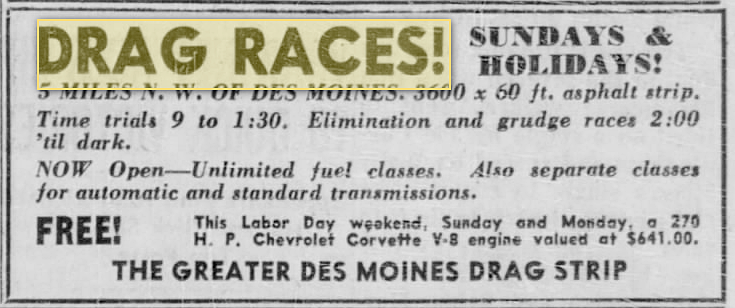 1990 aerial view of Des Moines Dragway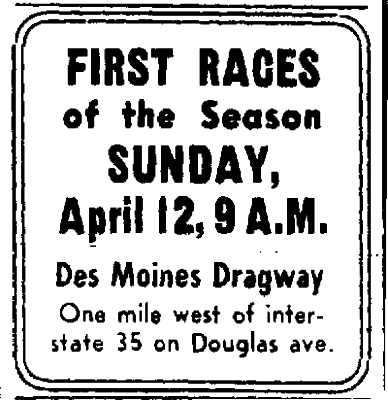 CLICK HERE to see short 8mm video clip of Des Moines Dragway in 1960s, 18 seconds, no sound
Hawkeye Downs Speedway (Cedar Rapids)
In 1959, big-time stock car racing capitalized on the popularity of drag racing. They began holding drag races in conjunction with some of the major stock car races around the country. On May 16, night-time drag races under the lights were run in conjunction with the Hawkeye 300. They employed a 440-foot length on the straight-away for the drag strip. Electronic timers were installed to measure times to 1/100 of a second. They awarded trophies to 20 class winners in categories ranging from stock to gassers, altereds, and roadsters. The event proved successful and they held another drag race after the Sunday afternoon stock car races on July 5. One
old racer
recalled:  "I ran my truck at the Iowa Speedway a few times. It was a bit hairy at the top end, hit the brakes hard and turn left fast. I think that was the demise of the drag racing there.The racing was short lived. It only lasted for two seasons as the interest died quickly. My guess was the shut down and the track managers didn't want to work with the drag racers much. . . . Best I ever ran was 89 m.p.h. and I was all over the place with bias ply Mickey's. Still a blast while it lasted."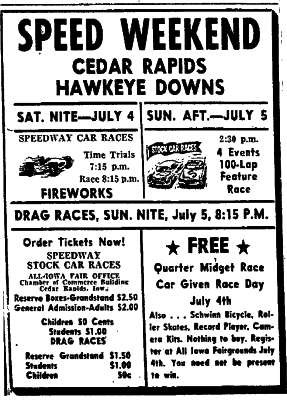 Did you race here? Tell us about it.
CLICK HERE to see location on a map
Iowa Dragway/Humboldt County Dragway (Humboldt)
Years of Operation: 1963-present
Newspaper reports touted this as being the first sanctioned drag strip in Iowa. It's opening day race, under AHRA sanction, occurred on May 26, 1963. It was built on land leased from Denton Myers, located three miles east and a half-mile north of Humboldt. George Drown and Louis Vaudt built and owned the 40-foot wide, half-mile long asphalt track. They operated quarter-mile racing, with a quarter-mile for shutdown. They began with 87 classes of racing. Two thousand people turned out to watch the opening day of racing. A dragster from Fort Dodge won top eliminator, turning a best run of 10.20 seconds at 158 MPH. In April 1968, Hot Rod Magazine listed it as being under NHRA sanction. Bob Johnson was the track manager in 1968. At one time the track was called Western Dragway. On Saturday night, July 29, 1972, Don Prudhomme faced Tom McEwen in a best-of-three match race.
Did you race here? Tell us about it.
CLICK HERE to see location on a map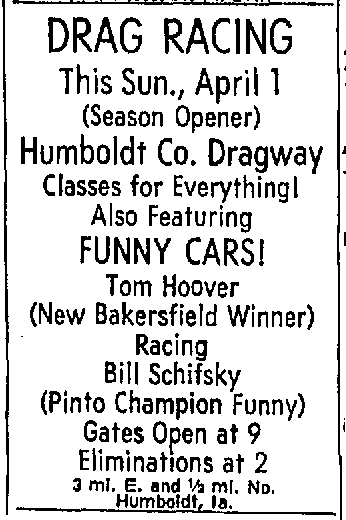 CLICK HERE to see video footage of Humboldt County Dragway, 2007, 2:02 minutes
Lee County Dragway (Keokuk)
Years of Operation: 1969-88
Ron Saar built this 1/8th-mile strip on the site of the old Sportsman Park Drag Strip. It opened for racing on August 23, 1969. Ron, Jerry, and Gayle Saar were owners of a speed shop in Keokuk. In 1970, the track began holding its Spring Festival of Drag Racing, a tradition that would persist every May. At that first event, Jerry Smeltlzly set a track record of 5.15 seconds in a funny car final against Arnie Beswick.  During its years of operation, it was sanctioned first by AHRA, but also came under NHRA sanction at different times. Ron's brother, Jerry Saar, was a staple at the track, racing his funny car. The upper floor of the timing tower was reportedly a refurbished chicken coop. 
Did you race here? Tell us about it.
CLICK HERE to see location on a map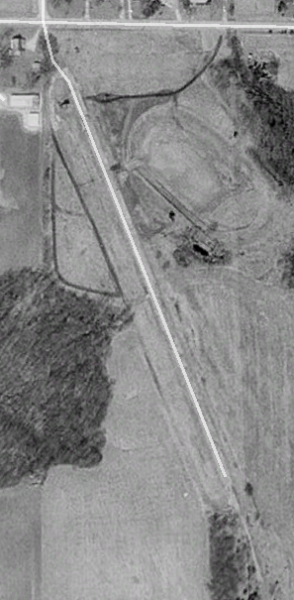 1996 aerial view of Lee County Dragway
CLICK HERE to see 2013 KHQA-TV report about effort to restore Lee County Dragway, 1 minute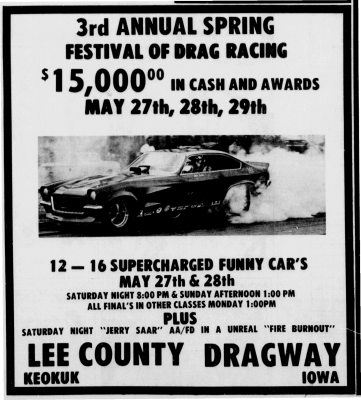 CLICK HERE to see video footage of Lee County Dragway, 5:20 minutes
CLICK HERE to see video footage of Lee County Dragway, 1969-88, 1:23 minutes
Mason City Municipal Airport
The Road Gents car club received preliminary approval in November 1955 to use one of Mason City Airport's runways for drag racing.  They had to abide by certain restrictions. These included obtaining insurance for spectators, changing runways when necessitated by changes in wind direction (for airplane traffic), and orderly entering and exiting the airport in a group.  Further discussions were forthcoming. More research is needed as it is not known if the Road Gents followed through with all the mandated requests and actually raced at the airport.
Did you race here? Tell us about it.
CLICK HERE to see location on a map
Neita Raceway/Cedar Falls Raceway
Years of Operation: 1965-present
This strip was built by Lavern "Red" Droste (president) and Raymond Steward (vice-president). Located four miles north and a quarter mile west of Cedar Falls near Highway 218, construction was scheduled to be finished in time to start racing on May 1, 1965. Sanctioned by NHRA, the strip was 3,900 feet long by 60 feet wide. The first race was held on Sunday, July 11, 1965. The Power-Richley-Mauer AA/FD had the day's fastest time of 8.54 ET and 186 MPH. Jerry Leik took top gas eliminator and Massey-Roth-Saylor took competition eliminator in their A/A roadster. A big 2-day race was held on August 7-8, 1965. The purse of $6,000 was a big draw. Tom Hoover took top fuel eliminator and set the track record with a time of 8.14 and 189.86 MPH. On July 3, 1966, there was a featured 2-out-of-3 funny car match race between Dick Dyke's '65 Dodge Coronet and Gary Ostrich's '65 Plymouth. On August 12-13, 1967, five new NHRA national records were set during a divisional points meet. It currently runs under IHRA sanction (2016).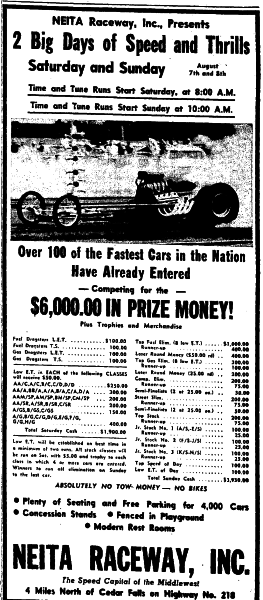 Did you race here? Tell us about it.
CLICK HERE to see location on a map
CLICK HERE to see 8mm video footage of Neita Raceway, 1967-68, 10:02 minutes, no sound/music only
Nevada Airport (Ames)
Years of Operation: 1953-54
The Iowa Timing Association conducted a couple of quarter-mile drag races on the oiled dirt surface at the Nevada Airport. Dale Ross, of Ames, was in charge of the first drag race which was held on July 26, 1953. Newspapers billed it as the first drag race held in the midwest, but research shows earlier drag races were held in Missouri, Illinois, and Kansas, but this was the first in Iowa. The first race attracted over a thousand spectators and more than 90 entries from Iowa, Minnesota, and Illinois. The racers did not race against each other, but were timed individually. With the success of this first race, a second race was held on August 23. Unfortunately it was marred by a fatal freak accident which killed 17-year-old Myrus Gibbs, from Ames. He was helping make preparations for the start of the race, just prior to the closure of the airport to planes. He was hit by a landing plane while driving a motorcycle on the runway. This happened less than a half-hour before the drag races were to begin. News reports aren't specific on whether races were held after the untimely accident, but a couple of drag races were held there in the fall 1954. The general location was about a mile southwest of Nevada and south of Highway 30.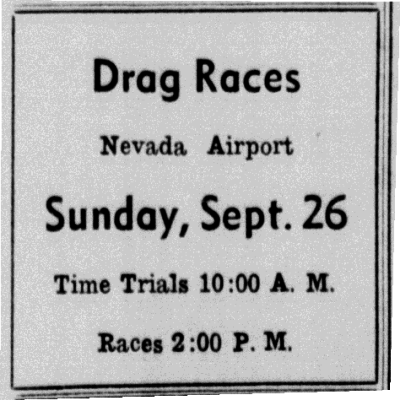 Did you race here? Tell us about it.
CLICK HERE to see location on a map
Sioux City Dragway
Years of Operation: 1953-73
Organized drag races were conducted at the municipal airport, located six miles south of Sioux City, Iowa, in the town of Sergeant Bluff, beginning likely as early as 1953. An ad for a race on October 10, 1954, stated that the race was put on by the Sioux City Strollers car club. Built in 1942, the airport was a part of an old Army Air Base. It is now called Sioux Gateway Airport. An NHRA regional championship was held there on July 7-8, 1956. Over 100 racers entered, some from as far away as California and Texas. Melvin Heath, from Oklahoma, turned 137 MPH in his dragster. The racing season generally opened in May, under supervision of the Sioux City police. Drag races were also held on a runway at the airport on August 7, 1960. One
old timer
remembered attending races in the early 1960s:  "The Sioux City drag strip was a runway at the Sioux City airport/airbase. Nothing fancy, although it did have a timing tower as well as some bleacher seating on one side of the track." On August 15, 1965, an NHRA West Central Division points meet was held at Sioux City. Bob Coney was the manager of the strip in the 1960s. Races at the airport were discontinued in 1973 due to tightened federal regulations for airports. The Strollers car club was involved in getting the racing going in the beginning (see Paul Hutchins'
Memories
).
Did you race here? Tell us about it.
CLICK HERE to see location on a map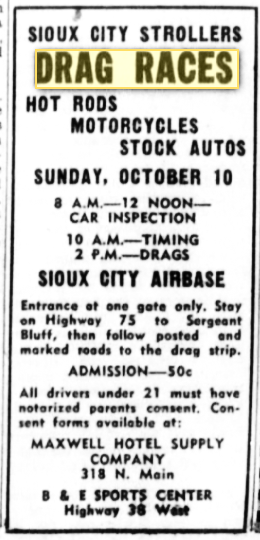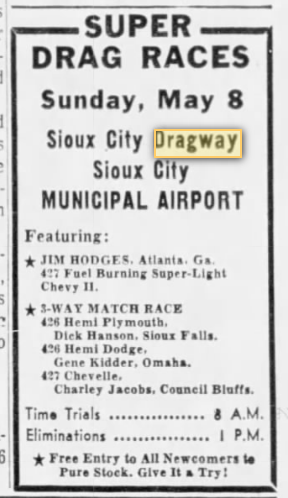 Bob Schrievers (left) and Zelbert DePriest (right) on the starting line at Sioux City Airbase, 1955. Photo published in Sioux Falls Argus-Leader, Aug. 18, 1955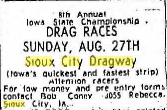 CLICK HERE to see 8mm video footage of Sioux City Dragway, late 1960s, pan to 3:15 mark to see Sioux City
Sportsman's Park Drag Strip ​(Keokuk)
Years of Operation: 1960-61
Drag races were held on a 1,400-foot long drag strip near an adjacent dirt oval semi-modified stock car track (which also had been named Sportsman's Park) every Saturday night. Although news articles didn't specify, the short distance of this strip probably meant that it was an 1/8th-mile drag strip.  They began at least as early as June 1960. That early date must have been on a dirt-surfaced track as they didn't begin readying the track for its 35-foot concrete starting pad and paving until May 1, 1961. The principal owner/builders were L. R. Jones, Joe Hickey, and Marie Hamilton, the latter two from Keokuk. They hoped to have the strip ready to open on May 14 and to hold races every other weekend. More than fifty entries were expected to compete on July 15, 1961, for $150 in prize money and trophies. One of the racers who competed was Gale Frakes of Galesburg, Illinois, in his dragster. He had been unbeatable at the strip. Research was unable to find any information on racing at this strip after 1961. In 1969, Lee County Dragway (see above entry) opened on the former site of Sportsman's Park.
CLICK HERE to see location on a map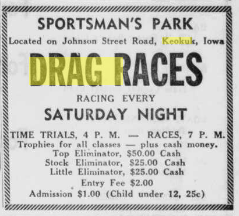 Did you race here? Tell us about it.