Remembering . . .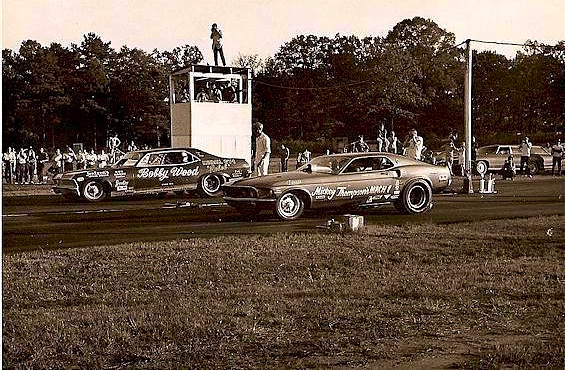 Bobby Wood vs. Mickey Thompson's Mach 1, Atlanta Speed Shop Dragway, 1969. Toby Denham, photographer
Bainbridge
Bainbridge Dragway, 1960s

I was raised up there and my dad built a hotrod and raced it on this strip. The hotrod was named Poboy. Dad said they named it that because it was built by a bunch of poboys!! It had a Volkswagon front end, a '35 Chevy body, and a Ford 4.11 rear end. Banbrige, Georgia--back in the mid-60's.


Russell E. Hancock, Jr.
Blue Ridge

I raced at Double H when I was young. After it was closed, it was rented by a friend and we would have drag races there instead of the street.

Richard Walden
Covington
Atlanta Speed Shop Dragway
Anything dealing with drag racing in Georgia back then should include something about Atlanta Speed Shop - abbreviated A.S.S. They could get away with it as long as they included the periods: A.S.S.  Everybody bought their parts at Atlanta Speed Shop.
Ed Bernd, Jr.
Atlanta Speed Shop Dragway, 1978-1990s
 I first visited the Atlanta Speedshop Dragway in the fall of 1978, I had just re-located to the area from my native SoCal and was anxious to see where I would be racing once my hot rod arrived here. The track was very unique. There were no bleachers, no lights for night racing and the only permanent building was the small timing tower. The concession stand looked like an open-air tent and there were a few porta-pottys near the staging lanes. The pits were all dirt and grass. In 1979 they installed a 60 foot concrete starting line which was the normal length back then and it was a few inches higher than the rest of the track surface but tapered on each end . I heard that they were going to re-pave the entire track, but it never did happen. The racing program was held on Sunday and it was strictly a bracket format for cars and motorcycles. It was the only quarter-mile track in the Atlanta area that ran on a regular basis. They went to an 1/8 mile in 1989 until it closed in the early '90s. They did upgrade the timing system in the mid-'80s . There are several videos on YouTube that were shot at the track in the late '80s that are worth watching. The racers who raced there back in the day now call Atlanta Dragway their home track, including myself. I frist raced at Atlanta Dragwy in 1980 and it was like running on a pool table to compared to the bumpy Speedshop. It was definitely a bare-bones facility.  Hard to believe they ran top fuel, funny cars, pro-stocks there, but that all ended before the Commerce track opened.  A lot of racers referred to it as the dust bowl as the pits were more dirt than anything else.
"Old Timer"
Atlanta Speed Shop Dragway
I grew up about 3 miles from the dragway. I remember hearing the cars run on Sundays. My parents always called Old Hwy 229 the drag strip road. My dad, Ross Reeves, grew up at the Hub and lived across from the old auction building. I remember riding my bicycle to and down the strip after it closed and before it became a subdivision. I also remember Mr. Hulon Hodges, I would fish in his ponds. He was a good man. Good times.
Jeremy Reeves
Dallas
Southeastern International Dragway, 1974-75
I remember going to what we called Dallas Drag Strip in 1974 and '75 when I was 10 years old. If I'm correct, Drag Strip Road is now East Paulding Drive, It broke my heart when they changed the road name.
Michael Tokos
Fairburn
Ted Edwards Skypark Airport Drag Strip, 1961-63
We might have called it Ted Edwards Drag Strip instead of Dragway, or maybe just Ted Edwards Strip. We had a weekly newspaper in 1961-1963, based in Atlanta, covering races throughout the southeast. It started as Drag Strip News, later expanded to Racing Roundup to also cover other types of racing.  We referred to Drag Strip News as The Stripper. It might have been my mother who came up with that name. Ted Edwards drag strip operated on Thursday nights back then. Everybody took their cars there to check them out and get them ready for the weekend.  The Thursday nights were kind of like a heat race, to get ready for the big races on the weekend. They didn't get a lot of people.  When we added a few more pages and increased the price of Racing Roundup from 10 cents to 25 cents, we took this "Expanded Edition" to Ted Edwards Dragway to see if people would still buy them. Everybody there (maybe 100 or so people) - literally - bought a copy at the higher price. I guess they thought we had improved it. I think they raced on Sundays too, but mostly amateurs. Sundays at Ted's strip were more the local hobbyists. Both Thursday nights and Sundays were a lot like a family picnic - kind of like a celebration in a small town, when everybody comes to the town square for an event.  The big name drivers went to bigger strips throughout the area. That's how I remember it, but that was a long time ago. Ted was almost deaf. He could barely hear. He had some great stories. He told me one about flying. When I learned to fly a 2-seat airplane, they taught me to throttle back and glide once I got into the traffic pattern, just give it a little throttle occasionally so the carburetor wouldn't ice up. When I got my private license, they told me that when I carried passengers, I shouldn't do that. They might think we were going to crash. That happened to Ted. He said he was flying his Piper - maybe a Cub, maybe a Tri-Pacer, and had a couple of kids in the back seat. He was gliding in, gave it a little throttle . . . and nothing happened. No response. It made him nervous. He landed okay and then started checking and saw that the magnetos had been turned off. The switch was above the windows, between the front and back seats. He asked the kids, and they said they turned the mags off because their father - a pilot - had taught them that if you are going to crash, best to turn them off. One of those Thursday nights when everybody was trying out their cars, a guy drove up in a new all white Dodge, with the brand new push-button transmission. I was standing there when he checked in, and we all just smiled and shook our heads at how naive he was. But then he eliminated everybody and won the trophy! As one guy explained, "Every time I'd start to get ahead of him, he'd push another button and the car leaped forward!" Who was the big gun then? Don Nicholson. Driving a Chevy, and earning his living by racing. He worked hard on his car and managed to beat the Dodge in the next round, when they raced for money. The first round was always for the trophy, then they started over and raced for money. One more thing I remember: Ted Edwards had a very pretty, very sexy teenage daughter - and she knew she was sexy. Those were fun times. Good memories, those that I still remember.
Ed Bernd, Jr.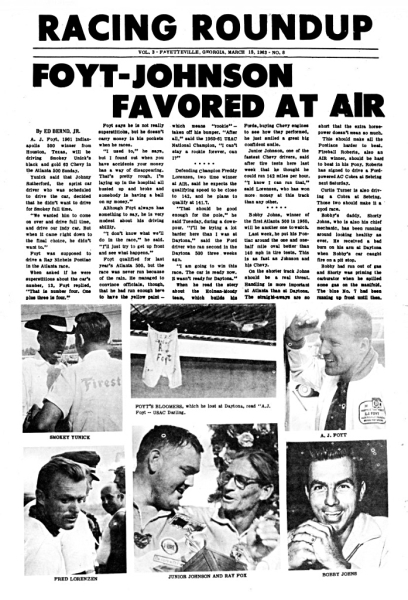 Racing Roundup, March 15, 1963 issue, cover article written by Ed Bernd about forthcoming Atlanta 500. Courtesy of Ed Bernd, Jr.
Red's Drag Strip, 1978-79
When I relocated to the Atlanta area in the fall of 1978, this [Ted Edwards-Houston Bros. Airport Drag Strip] was the first track I visited. It was then called Red's Drag Strip, not to be confused with the original name of Southeastern Dragway. It was located three miles south of Fairburn, Georgia, on US 29 at an airport. It was an eighth-mile track and occasionally a race had to be stopped to let a plane either take off or land. It was a slight up-hill track. It was truly a mom and pop operation, Red did the announcing out of an old step-van and his wife ran the concession stand. Strictly an ET Bracket program which ran on Friday and Saturday night. It was closed in August 1979. I don't know exactly what the reason for closing was. It was very primitive to me as I was actively racing at OCIR and Carlsbad at the time of my job transfer. The airport is still in use, the races ran on the runway parallel to US 29 south to north.
"Old Timer"
Jefferson
This is a photo of Gene Cromer's 1940 Willys A/G coupe that Gene had in his scrapbook racing at Jefco Dragway in Juy 1966.
Frank Taylor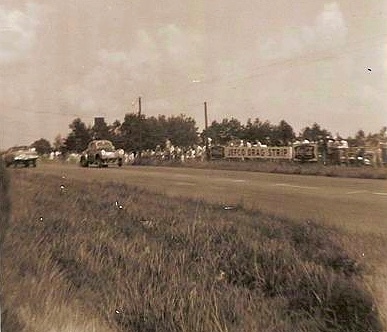 Photo from Gene Cromer's scrapbook. Courtesy of Frank Taylor
Macon
Camp Wheeler Drag Strip, 1960s
I spent many Sunday afternoons at Camp Wheeler Drag Strip. I ran Studebakers for Studebaker Atlanta in their last gasp before STP and other "business" considerations made them also a memory. One of the best memories I have is when a local legend Pop Brown [who built many of the competitive cars around middle Georgia] showed up one Sunday afternoon in a '55 Chevy 4-door sedan towing a '57 Bel Air with slicks and injector tubes through the hood looking like a world beater. They unhooked the beast and ran the '55 sedan and ran it. It beat everything there that day. Then they hooked up the '57 and left without ever starting it.
Ole Dawg
Newton County
Yellow River Drag Strip, 1966-67
In about 1966-67, a group of me and my friends that had cars, decided to go to Yellow River Drag Strip in Covington, Georgia. This was a big event. I purchased my 1966 GTO factory 4-speed stock 389ci with no posi-traction and only a 4 barrel carburetor. I purchased it from Taber Pontiac in Atlanta, Georgia, brand new. This event was for factory-only cars in this class. I beat seven in my class with a 14-second flat time. I think there was four GTO's from other dealershipd and I beat all of them, even Taber Pontiac in Atlanta, Georgia. The ironic thing was I took my GTO to Taber Pontiac to have it tuned up. After it was all over they all came to my pits and threatened to protest my GTO, but they never did. The announcer was telling everyone on the speaker system that I had the fastest automatic that he had ever seen. But it was a 4-speed, I was just fast with shifting. My GTO was vapor-locking so I rerouted the fuel line and used aluminum foil with Ice packed around the fuel line. I also had my pit crew throw Ice on the intake manifold as I was slowly driving around because you could not stop between races. This helped to help keep it cool. I did not know what I was doing at the time. Only a few years ago I realized I was making horsepower by cooling the fuel line and intake manifold.
David Hull
Griffin, Georgia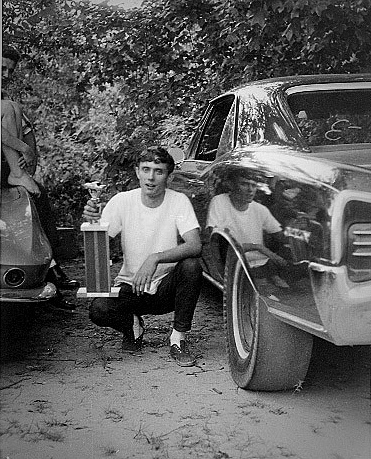 David Hull kneeling next to his GTO with the trophy he won at Yellow River Drag Strip. Courtesy of David Hull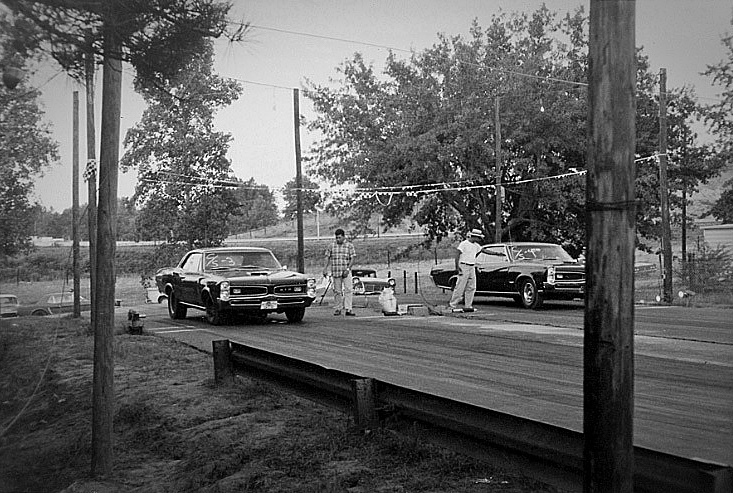 David Hull on the starting line (left) at Yellow River Drag Strip. Courtesy of David Hull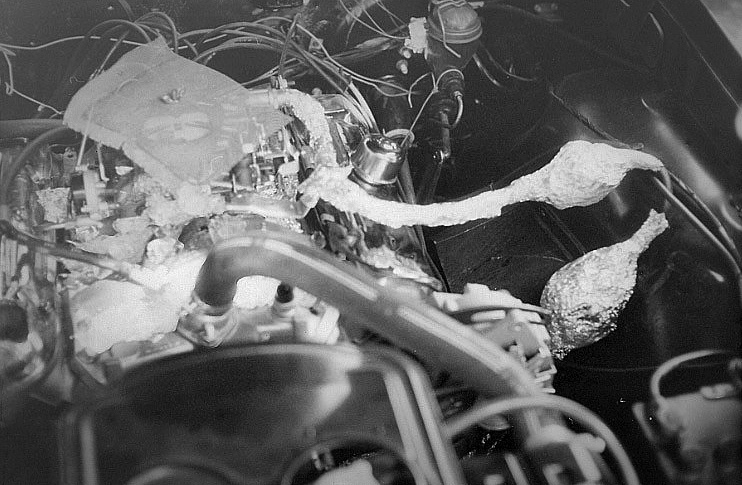 Aluminum foil and ice did the trick to help David Hull beat seven cars in his class at a race at Yellow River Drag Strip. Courtesy of David Hull

Ringgold
New Brainerd Optimist Drag Strip
I always loved racing at Brainerd Optimist Drag Strip. I always had a great time. I had a 1969 GTO Judge.
Richard Walden
13 Forks
13 Forks Dragstrip, 1960s
We used to race our street cars and mostly observed in the middle to late '60's. We used to get to the drag strip by going through a cotton field on a dirt road. We went back and found the old drag strip in June of 2016. Amazed to see the old block tower was still there and the asphalt track was still visible although Mother Nature had reclaimed much of the track. While attending a car show in Anderson, South Carolina on June 18, 2016, Gene Cromer was there with his Willys drag car. He raced at 13 Forks back in the day. Great memories of this 13 Forks drag strip in Georgia.
Bruce Jones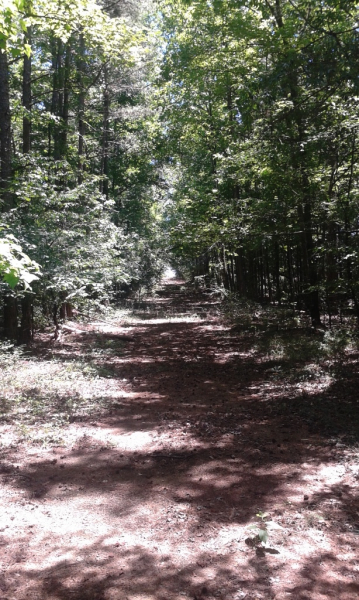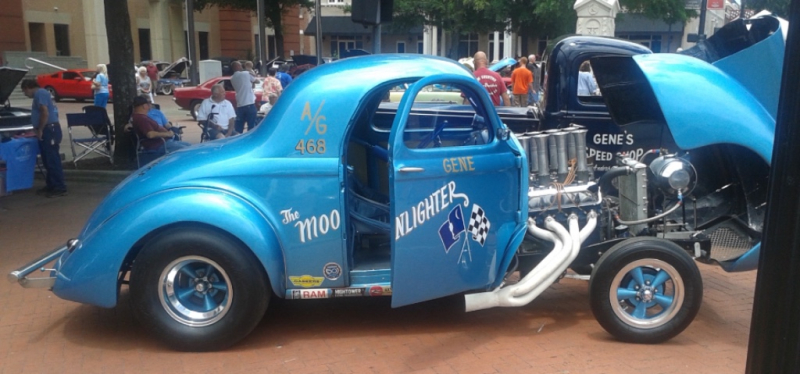 Gene Cromer's Willy's A Gasser. Courtesy of Bruce Jones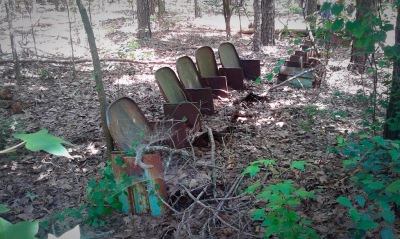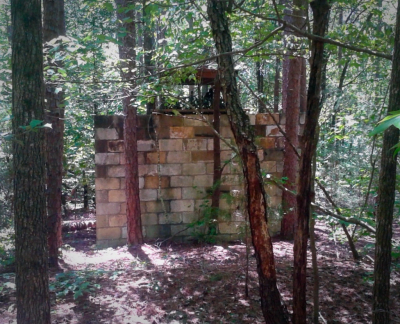 Views of remnants of 13 Forks, 2016. Courtesy of Bruce Jones
 13 Forks Dragstrip timing tower remnants, 2016. Courtesy of Bruce Jones
13 Forks Dragstrip, 1960s
I went to 13 Forks Dragstrip, near Elberton, Georgia, many times in the late 60's. My friend Gene Cromer and Ed Skelton raced there many times. Another friend Lynn Lee, of Elberton ,Georgia, has had a !3 Forks Dragstrip reunion for the past 4 years. A lot of us old farts get together and reminisce about times at the old strip. In February a group went down to the old track. As you can see from aerial photos, the track is grown up. Amazingly, the asphault is in pretty good condition under the leaves and pine needles.
Frank Taylor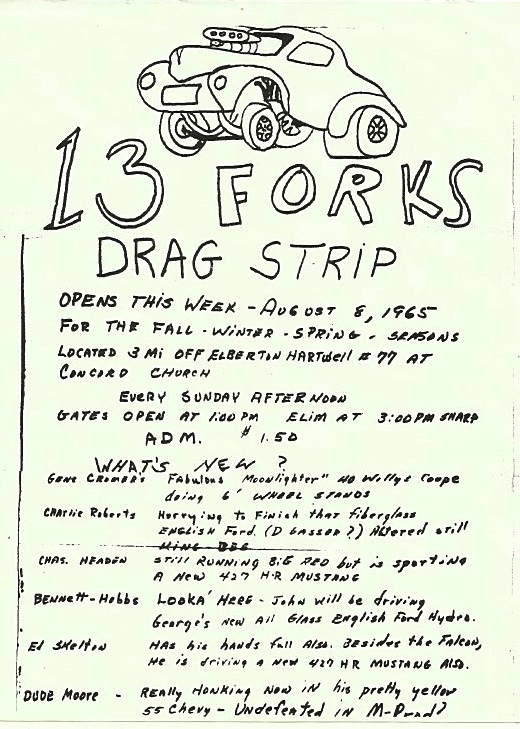 1965 handwitten flyer of 13 Forks Dragstrip, Scan of the original flyer, in possession of Furman Cain, Iva, South Carolina, by Frank Taylor. Courtesy of Frank Taylor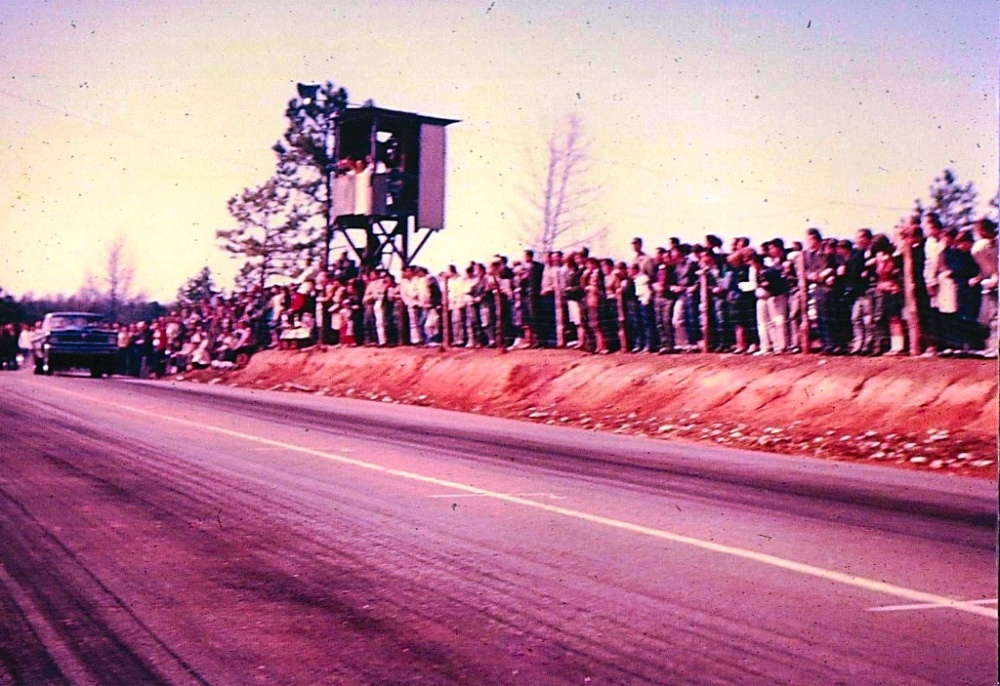 Ed Skelton at 13 Forks Dragstrip in 1964. Courtesy of Frank Taylor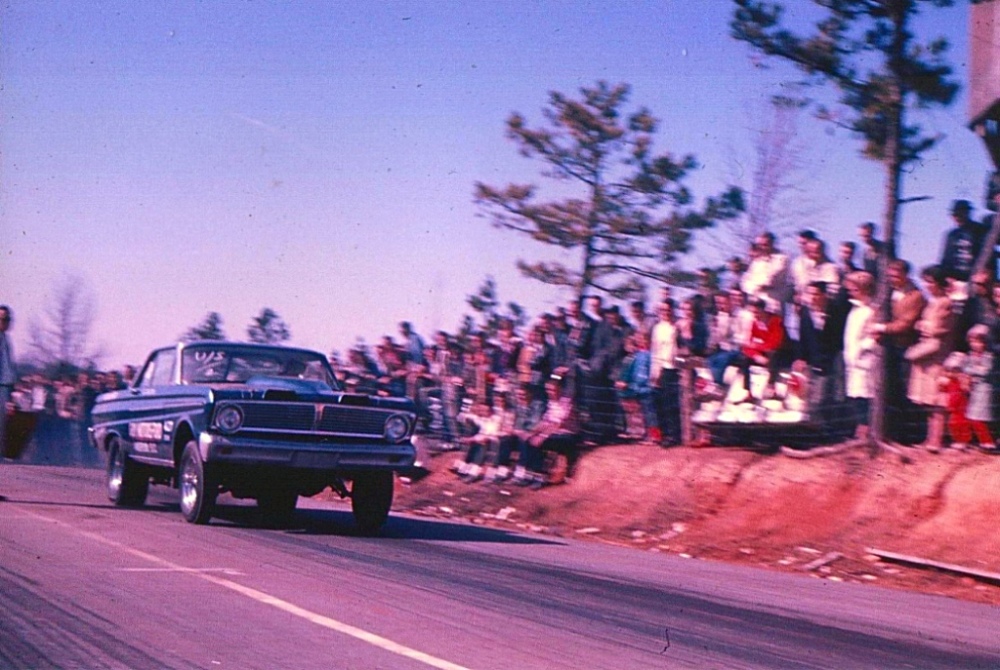 Ed Skelton at 13 Forks Dragstrip in 1964. Courtesy of Frank Taylor
Vidalia
Vidalia Drag Strip, 1964-69
I raced at Vidalia Airport Drag Strip in 1964 -1969 so the info you have of it opening in 1969 is in error. The track was operated by the fellow who owned the Royal Crown Bottling Company in Vidalia as I remember. Many great Sunday afternoons there.
Larry Sams
Warner Robins
Warner Robins Dragway, 1979-1980s
Shirl Greer, a funny car driver, was the track manager in the early days. The track had a grass median between the two lanes the length of the strip. The staging lanes were just wide enough for two cars. I raced there once in March 1979, but attended a few NHRA Winston points races there in the '80s. The pits were all grass but it was a well-kept track. The county bought it in the early '90s. What was once the spectator parking lot is now a high school and the rest of the property is now local government offices. An elementary school now resides at the end of the shut-down area. The burn-out box and starting line area is still visible though. The rest of the strip had been paved over and is now known as Jerry Barker Drive named for the last operator of the track.
"Old Timer"
Warner Robins Dragway, ca. 1970-71
I raced at Warner Robins once; either 1970, or '71. It was during a East Coast fuel funny car circuit event. We ran John Carlton, first round. My car was "The Finagler" Cougar, a small block injected funny car. We stood it straight up, in a giant wheelstand. I didn't lift, but mistakenly shifted from first to high gear. The car gently settled back to earth, but the loss of torque caused us to lose the round. We lowered the wheelie bars, and made another run, "only" carrying the wheels about four feet. Very memorable night. It was the only time in my career, that I wheelstanded that high.
Jeff Foulk