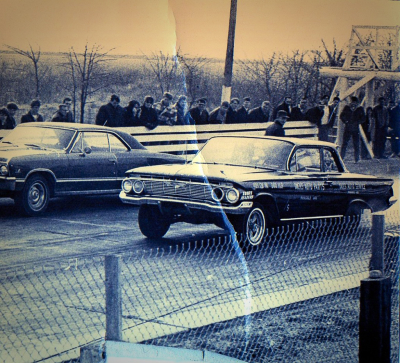 George Fisher's 1961 Chevy 409 A/S, late 1960s, at George Ray's.. Photographer unknown
Carlisle
Carlisle Drag Strip,  1957
I was there watching my husband, Ray Stancil in 1957. His son has a trophy. I remember he raced the Memphis "fuel burner" and he won. I believe his speed was 126. He was riding a Triumph motorcycle against the Memphis car (fuel burner).

Pat Stancil Downing
Fort Smith
Razorback Dragway, 1964-66
I ran my first drag car at Razorback in 1966. A Chevy-powered '41 Ford coupe in D/MP class. My friend's and I could be found there most Sundays from '64 to '66 when I moved to Memphis where I ran at the old Lakeland dragstrip. Awesome memories of Razorback Dragway. Razorback had a high bank at the starting line and at one time extended and cut down further on the starting end. We used to sit on the hill cut down behind the starting line under the trees to cool off.  I know, or knew who ran in the 60's when the strip was most active. Jim Hale, Monroe Moody and others.
Tommy McFarland
Little Rock
Little Rock Drag Strip, 1964-65
I raced at the old Little Rock drag strip in 1964-65. I had a '64 Chevelle Malibu. I was through that area a few months back and it's grown so much, it's hard to tell exactly where it was located. It was high on a hill on the Little Rock side overlooking I-30. It was close and on the opposite side to the old Benton Speed Bowl, a 1/4-3/8 mile dirt track as I remember. I feel like I could find it if I had the time. There was a restaurant at the exit, or down a little ways, I can best describe as a kind of "Cracker Barrel."  Very similar in decor and menu. The pits were dirt and located down the hill almost level with the Interstate. You came up a pretty good hill in front of the tower and turned left toward the starting. You raced toward Benton. This would be the track where at least one participant was killed when he ran off the end of the track. Mike Heim (Heim's Meat Packing) and O.D. Brasille raced their A/Altered roadsters there regularly. Ray Godman came down pretty often. Eddie Hill and Bobby Langley had several match races with their dragsters there. Charlie (??) in the Cox Brothers Pontiac, from England, Arkansas, was a regular also. All I got right now. I live in Florida now, but I was one of the Camden, Arkansas, boys that made the trip on a regular basis. The hot cars pitted up on the same level as the track and tower.
Ron Crumpler
Paragould
George Ray's Dragstrip, 1961
I worked at George Ray's dragstrip in Paragould, Arkansas, when it opened, along with several friends. I worked in classification and as a finish line judge. We had cars from Memphis, St. Louis, and all around the area.
Bert Mangrum
Prescott
TJ and I raced at Prescott, Arkansas, in 1977.
Don Hurst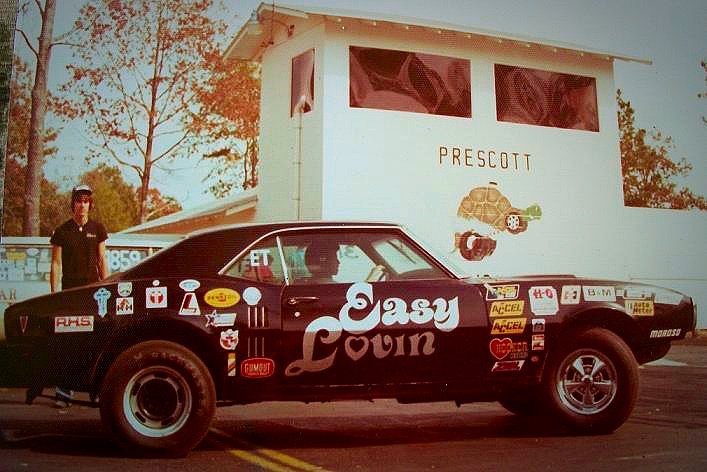 TJ racing her "Easy Lovin" Firebird at Prescott in 1977. Courtesy of Don Hurst