UTAH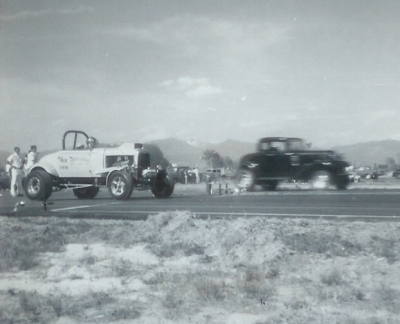 Salt Lake City Airport No. 2 (1952)
Ogden Wall Avenue "Drag Strip" (1955)
St. George "Drag Strip"

(1956)
Ogden Little Mountain Road Drag Strip (1959)
Salt Lake Raceway (1960)
​
Bonneville Drag Strip (Salt Lake City) (1965)
Copper Raceway Park (West Jordan) (1965)
Grand Valley Drag Strip (Moab) (1965)

Bonneville Raceway/Rocky Mountain Raceway

(Magna) (1968)
​
Pleasant Grove "Drag Strip" (1972)
Hanksville "Drag Strip" (1975)
Uintah Basin Drag Strip (Roosevelt) (1976)

Harris-Mason A/SR vs. B/G at Bonneville Drag Strip, June 1965. Photograph by Mel Bashore
Bonneville Drag Strip (Salt Lake City)
Years of Operation: 1965-67

Some background on this strip is helpful as to why it was built. In early March 1964, members of the Salt Lake Valley Quarter Mile Association voted to petition the the Salt Lake County Commission to build a drag strip that would conform to NHRA specifications. Although not specifically mentioned in news reports, there must have been dissatisfaction with the Salt Lake Raceway in order to bring about these events. They also asked permission for a temporary track to be used until a new track could be built.  The next news of a new drag strip in the Salt Lake Valley was the announcement in February that a group of Salt Lake men had begun building a drag strip on the south side of 2100 South at 3300 West, at the site of old Utah Central Airport.  The men included Ralph Reese, Dick Godfrey, Jeff Knapp, Jim Campbell, and Gordon Jensen. It was called Bonneville Drag Strip and was sanctioned by NHRA. The track was 3,900 feet long with racing every Sunday during the season. Bonneville had its opening race on May 2, 1965. It was in direct competition with old Salt Lake Raceway, which buckled under and closed. At the May 30, 1965 race, Harris-Mason's 1930 Ford A/SR took street eliminator with an ET of 11.51 at 119.99 MPH. Other winners include Royce Virgin, Rex Crane, and Dennis Madsen. The first night race was held on Saturday, June 26, 1965. On July 24, 1965, Rex and Brent Crane barely missed the national A/G record mark of 134.45 MPH with their run of 134.31 MPH. At the 2-day NHRA regional points meet on July 31 and August 1, 1965, Danny Ongais took top fuel eliminator with a 7.94 ET at 191.45 MPH. On Saturday night, June 4, 1966, Dan Noorda defeated Mike Sorokin in the "Surfers" AA/FD on the first run a best-of-three match race. He recorded the fastest time in Utah history to that date with a clocking of 195.60 MPH in 7.57 seconds. However he unfortunately blew his engine in the second match. Three thousand people attended the race. On Sunday, May 7, 1967,  4,200 people saw Don Garlits beat Dan Noorda in a match race. Garlits ran 209 MPH in 7.70 seconds. Harry Allen driving the Allen-Aiello-Coombes "Want Bird" took top fuel eliminator with a 7.73 ET at 195 MPH.  On August 19-20, 1967, an NHRA divisional points race was held. Dick Godfrey had hoped to have the new Bonneville Raceway finished in time to hold the race there, but weather problems delayed the work.
Did you race here? Tell us about it.
CLICK HERE to see location on a map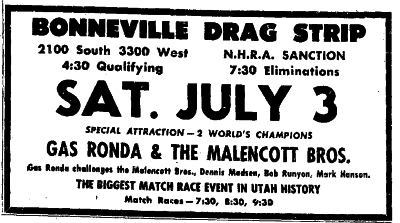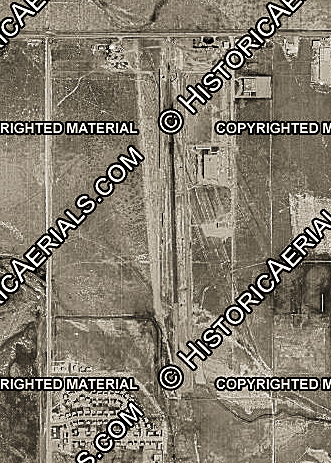 This 1965
aerial photo
shows Bonneville Drag Strip in its first year of operation
Bonneville Raceway/Rocky Mountain Raceway (Magna)
Years of Operation: 1968-present

Dick Godfrey, manager of Bonneville Raceway, was a major stockholder in a group (including Bob Gee, Jim Campbell, and Howard Haynes family, the majority stockholder) that purchased a 60-acre site northeast of Magna in 1966.  They began building a motorcycle race track in June 1966. They hoped to have the drag strip ready by spring 1967, when they would move drag racing from the Bonneville Drag Strip a few miles further west at 6600 West 2100 South. $250,000 was expended on the race track, which included a half-mile stock car oval and 1.8 mile motorcycle/sports car road course. Weather and financial problems delayed the track opening. The first drag race was held on Tuesday and Wednesday nights, July 23-24, 1968. The NHRA-sanctioned strip was paved for almost 3,000 feet. Bob Gee was the track manager. 5,000 spectators saw Harry Allen in the KCPX "Want Bird" took top eliminator over Dan and Dave Johnson. On Saturday, July 27, 1968, another 5,000 fans saw Bob Riggles make exhibition runs in his "Hemi-Under-Glass" wheelstander. On August 17-18, 1968, the track hosted its first NHRA divisional race.  Rain plagued the event, which had to postpone the finals to Monday night. 5,000 people saw Tommy Larkin beat Harry Allen to take top fuel. Late Saturday, August 31, 1968, Larry Rees, age 30, was killed while racing his "Intergrater" AA/FD. Some of the local top fuel racers in the 1970s and 1980s included Al Pehrson, Rex Pearmain, Jack Harris, Paul Schoenfeld, Mike Reynolds, and Dan Richins. On May 1, 1971, Don Prudhomme set the track funny car record with a 7.21 ET at 204 MPH. Don Garlits made his first appearance in Utah on June 5, 1974, getting beaten in a best-of-three match race by Dan Richins's "Iron Horse."
CLICK HERE to see Super 8mm video footage of Bonneville Raceway in late 1970s, 10:27 minutes, no sound
Did you race here? Tell us about it.
CLICK HERE to see location on a map
CLICK HERE to see video footage of Bonneville Raceway in 1991, 2:28 minutes
CLICK HERE to see video footage of Bonneville Raceway, June 20, 1987, 15:12 minutes
Copper Raceway Park (West Jordan)
Years of Operation:  1965-66
In May 1964, newspapers announced that an NHRA-sanctioned quarter-mile drag strip would be built in West Jordan, called International Raceway and Dragstrip. Paul Darrough and Ray Richards (business manager of Ramona Raceway in San Diego) told reporters that 160 acres would be leased along Highway 48 to build a 2.5 mile road course, 2.2 mile stock car track, and a drag strip. The drag strip was scheduled to be built first. Ron Winegar was appointed as track director. Engineers were working at the site and groundbreaking was scheduled to begin in a short while. The next reported news announced that the first race at the strip would be held June 19, 1965. Ground for the raceway had been broken on March 8, 1965, following a year of planning and engineering. The 160-acre site was located three miles west of West Jordan on 7800 South. When it opened, it was sanctioned by AHRA, not NHRA. The latter organization had sanctioned the new Bonneville Drag Strip. Copper Raceway was scheduled to host the AHRA Summer Nationals in its first year of operation. The previous announced plans for other racing venues had also changed. The new plans tentatively called for a 3/8th-mile oval, a sports car course, and a one-mile oval. These other venues were never built. In June 1966, the track switched from Saturday to Friday night drag racing.
Did you race here? Tell us about it.
CLICK HERE to see location on a map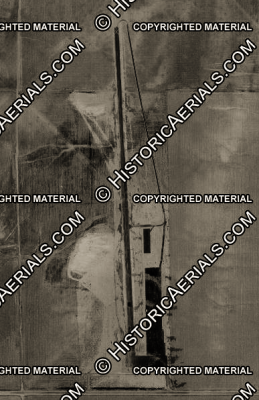 Grand Valley Drag Strip ​(Moab)
Years of Operation: 1965-after 1978
Teen drag races sponsored by the Jaycees had originally been scheduled to run on May 23, 1964, but when the possibility of gaining NHRA sanction for racing in Moab, those teen races were cancelled. The first NHRA-sanctioned drag race was held on the runway of the old abandoned Moab (Grand County/Spanish Valley) airport on October 10, 1965. The airport, located eight miles south of Moab, had a single paved 5,200-foot northwest/southeast runway. There were 42 entries at the inaugural race from Utah, Colorado, and New Mexico. Five hundred spectators watched the race. The Grand Valley Racing Association conducted the race. The top eliminator was the Stephens & Grimsley A/D from Grand Junction with a time of 10.88. The second race was held on Sunday, November 14, 1965. General admission fees were 75 cents with entry fees of $3. Sky diving exhibitions were conducted between the time trials and eliminations. In 1966, races were held on the second Sunday of each month from May through October. The final race of 1967 drew a large crowd to see such racers as Jack Keller in his C/fuel dragster, that ran 10:15 at 123.28 MPH. One of the big races in 1968 was held on June 9. Mike and Bob Stanford's Cougar funny car, from Salt Lake, were to compete in a match race against the Doak Brothers funny car from California, but the latter car developed engine troubles and couldn't race. Dean Hofhdinf's "Tijuana Taxi" funny car ran 174 MPH. On Saturday, June 7, 1969, the first night drag races were held at the strip. The airport strip was improved for the 1976 season with a new track surface.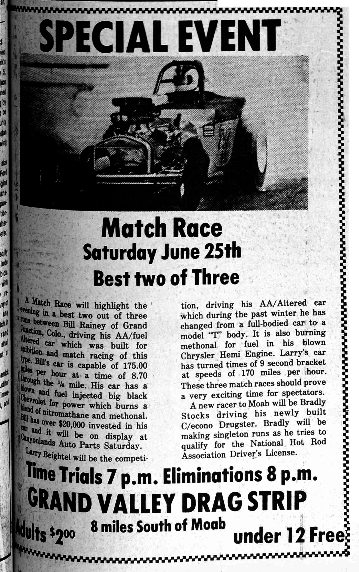 Did you race here? Tell us about it.
CLICK HERE to see location on a map
Hanksville "Drag Strip"

On Labor Day, September 1, 1975, drag races were held in conjunction with the town's bicentennial celebration. They were conducted on the old abandoned road between the Fremont and Muddy River bridges. The races were conducted by a youth group in the local Mormon church.
Did you race here? Tell us about it.
Ogden Little Mountain Road Drag Strip
Years of Operation: 1959-60

On June 21, 1959, the Ogden Timing Association held a drag at Little Mountain. They charged 50 cents for admission and an additional 50 cents for a pit pass. All the proceeds were intended to be used to pay for hard-surfacing and improving a drag strip on land that had been donated to them by Perry Land and Livestock Company. They held another money-raising race at Little Mountain on July 12, 1959. Little Mountain was located about fifteen miles west of Ogden, in the area of 750 North and 10500 West. In 1963, the Coachman's Rod and Custom Car Club asked if they could use a portion of a county road in West Warren near Little Mountain for a Sunday afternoon drag race. The Weber County Commission denied their request.
Did you race here? Tell us about it.
CLICK HERE to see location on a map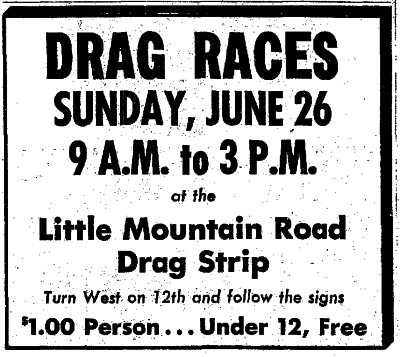 Ogden Wall Avenue "Drag Strip"

Approval was given to the Salt Kings Rod & Custom Club to hold a drag race on Wall Avenue in Ogden on May 1, 1955. The road was blocked off between 33rd Street and Riverdale Road, bordering Affleck Park. The one-day race had the support of the Ogden Recreation Department, Ogden police, and Weber County Sheriff's Office. NHRA sanctioned the race, proceeds from which were used to move a surplus Army building to Ogden Municipal Airport for the Salt Kings to use as a club house. The event permitted rolling starts and side-by-side racing, with cars expected to reach speeds up to 90 MPH through the measured distance.
Did you race here? Tell us about it.
CLICK HERE to see location on a map
Pleasant Grove "Drag Strip"
Years of Operation: 1972-77

John Frampton, an officer in the Pleasant Grove Police Department, organized drag races on a trial basis to give youth a place to race under controlled, supervised conditions. Races were held on a closed-off road near the county dump south of town. Geneva Steel Company let spectators park in a field that they owned nearby. The first race was held on Sunday, July 30, 1972. Thirty cars participated in that first race. Mike Shannon was the overall winner. In the second week of racing, crowds mushroomed to 1,500 people with 58 cars racing. After two more weeks of racing, the popularity was evident. Frampton approached the Orem City Council to ask their support to help in establishing a county-wide drag strip. Races were again held on Saturday afternoons in 1973, organized by Chris Carter. Racing was conducted in six different classes using a handicap system. Trophies were awarded to class winners. On Saturday, September 8, 1973, racers from Salt Lake County were paired against racers from Utah County in a grudge affair. Allen Strasburg was one of the racers from Utah County. In a quest to find a more permanent racing venue, the owners of the gravel airport in Cedar Valley said they would allow racing if the runway were blacktopped by the users. John Frampton visited cities to see if they would be willing to help pay for a strip. The county said they would match any monies contributed by the cities. Races started up again in 1974. They were affectionately called the "Dump Yard Nationasls" and the track was called Roundabout Raceway. In July 1974, disgruntled residents of Manila complained about the races to the Pleasant Grove city council. That seemed to be the death knell of the drag races. However off-road drag racing continued at the same location, but on dirt (or mud) every Saturday during the winter months at least through 1978. Those races were sponsored by the Pleasant Grove City Recreation Department.
Did you race here? Tell us about it.
CLICK HERE to see location on a map
St. George "Drag Strip"
Years of Operation:  1955-56, 1963-present

Research uncovered what may be the first drag race held at the old airport on the mesa west of the city. This old airport was built in the 1930s and by the 1950s had a single, 5,100-foot paved runway. In September 1955, a two-city drag meet was held between racers from St. George and members of Cedar City's "Knights of the Road" car club. On Sunday, February 12, 1956, the "Knights of the Road" car club from Cedar City conducted a drag race on the airport runway. Spectators were charged 25 cents for admission. A drag race was held on Labor Day, September 2, 1963. Trophies were awarded to all class winners and money prizes in two eliminator categories. Beginning at least by 1969, drag races were held on Memorial Day. In 1972, races began being conducted by the Southern Utah Drag Race Association. That year, it was being called the West Central Drag Strip. The SUDRA was trying to become sanctioned by the AHRA. On March 31, 1977, members of the St. George Drag Racing Association requested help from the city council in making improvements on the old airport. Although newspapers didn't report the specific improvements, it may have been the purchase and installation of chain link fencing. Racing took place in the 1970s and 1980s under the name West Central Drag Strip, Dixie Raceway, and High Country Raceway. In 2001, newspapers reported that illegal racing at night was becoming a problem on the airport strip. The High Country Race Club, that sponsored approved racing on scheduled dates was concerned that they might lose their race track if the illegal racing couldn't be curtailed. With the construction of a new municipal airport in 2011, it discontinued to function as an airport. Drag racing resumed on a limited basis in 2013, sponsored by BlackRock Motorsports and the Lions Club. More research is needed on racing in the 1970s and 1980s.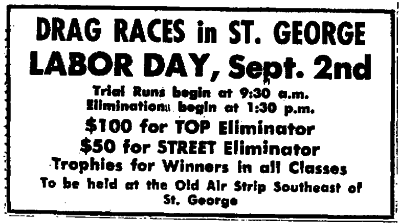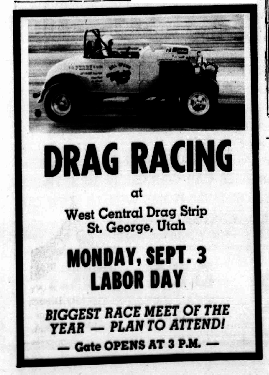 Did you race here? Tell us about it.
CLICK HERE to see location on a map
CLICK HERE to see video footage of Lions Club-sponsored drag race at old airport in 2015, 1 minute
Salt Lake City Airport No. 2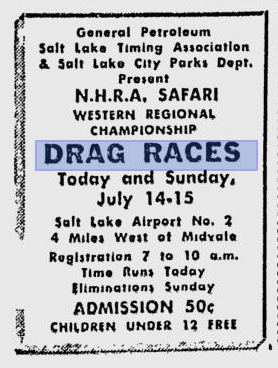 Years of Operation: 1952-62

Salt Lake City commissioners approved a drag race to be held on July 20, 1952, at Salt Lake City Municipal Airport No. 2, located west of Midvale.  It was to be supervised by Salt Lake City police. Norman Hayes of Murray was put in charge of the event.  Cars and motorcycles were to be electrically timed. On August 29, 1954, the Salt Lake City Motorcycle Club held a drag race at the airport. See photos of these early races in Hot Rod Magazine, (Dec. 1954): 38-39. The Salt Lake Timing Association staged quarter-mile drag races at the airport at intervals in June thru late September 1955. The track top speed record of 115.38 MPH in 1955 was jointly held by the dragsters of Lynn Garrison and Charles Sugden. According to newspaper reports, 1957 was the fourth year of operation for the drag strip at the airport, but this may only be counting years when it was conducted by the Salt Lake Timing Association. The airport was reportedly abandoned. They ran a bi-weekly Sunday-racing schedule in 1957, and again in 1958. The races generally drew 100 competitors, with the largest field being 180 racers in June 1956. The strip was one of 90 NHRA-sanctioned tracks in the country in 1957. The Intermountain Championship Drag Races, an annual event, was held on September 7-8, 1957. Entries came from at least four states, with trophies awarded to thirty class winners and savings bonds for the top winners. Duane Wignall held the track record of 130 MPH in his blown Olds-powered Wignall-Noorda dragster prior to this meet. Dan Noorda broke that mark with a run of 134.54 MPH, running on nitro in the Wignall-Noorda Special. The Salt Lake City Commission granted the use of the airport for drag racing on thirteen different dates in 1958. The Timing Association agreed to pay a rental fee of $100 a day. 1500 spectators watched 122 entries on the first race of the 1958 season on April 13. Top eliminator was won by the Sugden-Wignall-Burgess dragster clocking 128 MPH. On May 11, Chuck Sugden set a new track record in his fuel dragster with 143.08 MPH run. When Salt Lake Raceway opened in 1960, drag racing action concentrated at that location.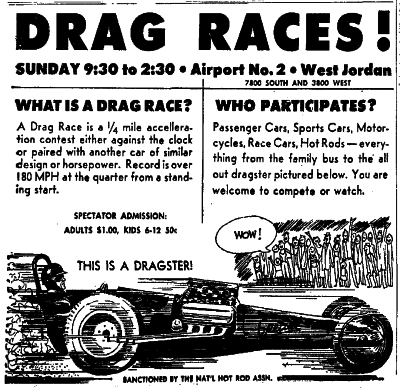 Did you race here? Tell us about it.
CLICK HERE to see location on a map
Salt Lake Raceway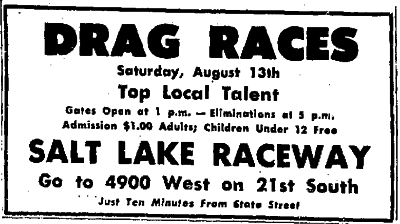 Years of Operation: 1960-65
In early 1960, drag racer Gary Nielsen and some businessmen started construction on a quarter-mile drag strip on the north side of 2100 South at 4900 West. Bleachers were built to seat 3,000 spectators. They were shooting to start racing on May 29, with regular racing every Sunday. After it opened, drag racing moved to this location in Salt Lake Valley, from its beginnings at Airport Number 2 in West Jordan. The first published reports of a drag race at this track was for a race held on June 12, 1960. Fred Anderson of Logan established the track record with a run of 168 MPH at 8.98 seconds. On June 19, he bumped the record up to 169 MPH. Sonny Schoenfeld got top gas eliminator and the C dragster trophy at that race. On June 26, Dan Noorda got top eliminator in his Cobra Special dragster with a 156 MPH clocking. On August 13, Dan and Art Noorda got top eliminator honors, but Gary Nielsen got top speed of the meet with a 153.75 MPH run. That was the second of that season's twilight meets. On August 20, 1960, Ernie Hashim in the Hashim-Hylton-Crossley dragster from California, set a new track record of 175 MPH. Nine hundred spectators saw Hashim beat Fred Anderson, who clocked a respectable, but losing 171 MPH. Walt Arfons's "Green Monster" jet dragster turned 140 MPH, but mechanical problems vexed him. In the track's first year, they hosted an NHRA regional meet on September 11, 1960. The 1961 season opened with a few improvements including an improved shut-off area and graveled pit and spectator areas. On July 16, 1961, the track record for gas dragsters was broken by the Cusic-Balhoff-Bynum Chevy dragster from Long Beach that ran 149.01 MPH. In June 1962, after installing lighting,  the strip inaugurated Saturday night racing. On May 17, 1964, Bill Leon was killed during qualifying as he lost control of his dragster near the finish going an estimated 125 MPH. The track held a benefit meet in June for his surviving family. One week after their season-opener on April 25, 1965, the raceway went in direct competition with the newly-opened Bonneville Drag Strip, two miles to the east. They had built a new return road for that season, probably to appease unhappy racers. All the spectators and most of the racers transferred their interest and attendance to the new strip on May 2. Old Salt Lake Raceway tried vainly to compete that summer, running races on Friday nights, as they couldn't go head to head against the new Bonneville track on Sundays or Saturday nights. They booked Gary Cagle and his national record holding '23 T fuel roadster on Friday, July 16.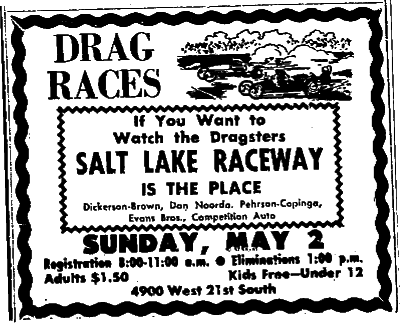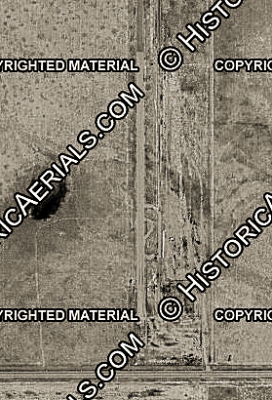 Did you race here? Tell us about it.
CLICK HERE to see location on a map
This 1965
aerial photo
shows the layout of Salt Lake Raceway
Uintah Basin Drag Strip (Roosevelt)
Years of Operation: 1976-79

Racing began on a runway at the old airport, northeast of town, on July 10, 1976.  The races, held every Saturday, were sponsored by Quick's Muffler Shop and On and Off Road Unlimited. The track record of 15.09 was set by Phil Washburn in his '63 Ford 289 at the opening meet. In 1977, the Uintah Basin Drag Racing Association conducted races every other Saturday. On August 6, 1977, the strip drew racers from throughout Utah including Norman Neil, Keith Lynch, Dan Brown, Bill Spens, and others. Red Hale set a track record with a run of 8.98 in his econo dragster. Ed "The Outlaw" Jones made exhibition runs in his "Stagecoach" wheelstander.
CLICK HERE to see location on a map
Did you race here? Tell us about it.
CLICK HERE to see video footage of Wendover Raceway, 2009, 4:15 minutes