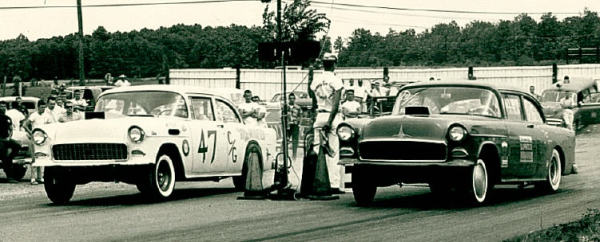 75-80 Dragway, 1962. Photographer unknown
Allentown
Allentown Fairgrounds Speedway, 1961-62
​I started racing my 1961 Corvette at Allentown in 1961. I won my class, B/SP several times and still have the trophies to prove it. Two from 1961 two from 1962 and two or three year unmarked. I bought a old pair of Mickey Thompson slicks and used a tread cutting iron to cut grooves for better traction on the dirt surface.

Neal W. Hinkle
​In the early 1960's drag racing was a fun and loose time. Neal Hinkle ran his 1961 "Red Baron" Corvette at the Allentown Fairgrounds in 1961 and 1962. Cars ran on the front straight of the ½ mile dirt oval. The 1/8th mile set up many interesting moments. Like todays fuel cars you would run as fast as you could and jump on the brakes before you would reach the first turn. Allentown ran the cars from west to east in front of the grandstand. Neal described it as hair-raising. There was no "tech inspection" and helmets and seatbelts were not required. Neal stopped racing at Allentown after 1962.

Don Hinkle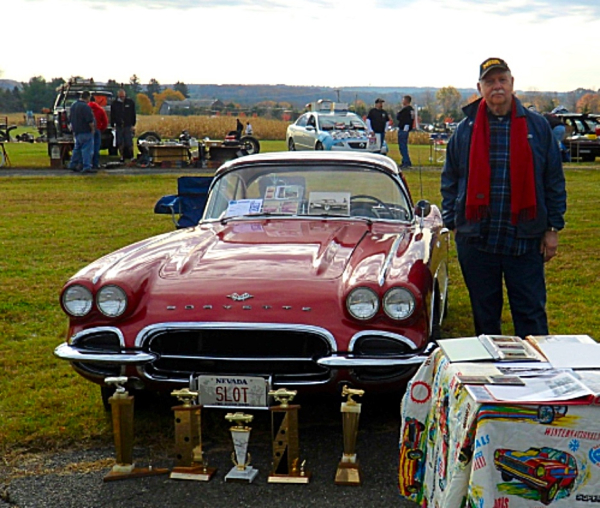 Neal Hinkle with his 1961 Corvette at Vargo Reunion, 2013. Trophies #2, 4, and 5, from left to right, are trophies he won at Allentown. Courtesy of Don Hinkle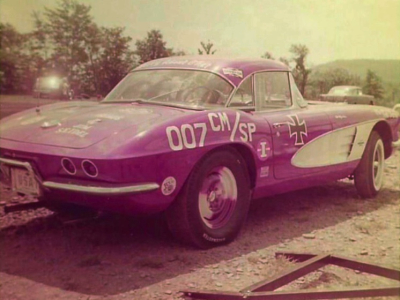 1961 Corvette. Courtesy of Don Hinkle

Bear Creek
Pocono Drag Lodge, 1968-72
Pocono Drag Lodge was another track Neal raced at from 1968 to 1972 with his 1958 Corvette. This track hosted many racing stars of the day. Jungle Jim, Joe Amato, Wally Bell and Clare Sanders were just a few who raced there. The track did not have a guardrail, just a chain link fence at the starting line area. The shutdown area was bumpy and went uphill the last hundred feet. At the top of the hill the track ended into an open field. The return road was next to the strip and on the other side of the road was a steep drop off into a small valley. The pit area was mainly dirt and very rocky.  Neal remembers that there was a small junkyard-like area at Pocono Drag Lodge. The cars there were for racers to pick parts off of to replace broken pieces. Neal thinks he retrieved a Dana 40 that was installed in the '58 Vette. The Dana made the "Red Baron" a stronger and more dependable race car.    

Don Hinkle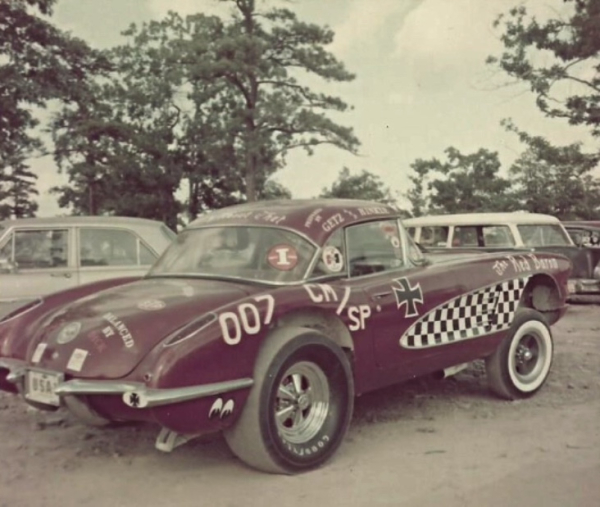 Neal Hinkle's 1958 Corvette, in the pits at Pocono Drag Lodge, 1968. Photograph by Hinkle family, courtesy of Don Hinkle
Catawissa
Numidia Dragway, aka Dragways Inc., was another track that my father, Neal Hinkle, raced at with his 1958 Corvette and the 1969 Nova. He ran there on Sundays's when Maple Grove started running on Saturday nights during the summer. The track was promoted by Bob Eveland who also was the track promoter of Maple Grove at the same time. Neal won at Numidia several times and was runner-up in the King of the Hill races two times in August of 1972. At the end of the 1971 season, Neal exploded the small block engine real good. The crankshaft broke and you could look straight through the block from one side to the other. That is when he switched to the 427 big block and had his best season with the '58 Vette in 1972. The track was nice and well-maintained. Due to the track being located at a higher elevation, tuning your car was a challenge. Neal's race cars seemed to run a tenth or two slower because of the thin air of higher elevation. Neal said, "I remember one time we raced at Maple Grove on a Saturday night and the Corvette broke a clutch. The next day, Numidia was having a big meet that I did not want to miss. So we left the Grove and headed home." Neal and a couple of guys from the drag team pulled the transmission and replaced the clutch right on the trailer. They finished up the repair around 2 AM. "So we went to bed and slept fast because we needed to leave for Numidia at 7 AM," said Neal.
Don Hinkle
Cuddy
Pittsburgh International Dragway
I loved racing at Pittsburgh International Dragway. I raced there just about every weekend. I had a 1968 Chevelle 396 cu. 350 hp. The class record at the time was 12.70 and I was running 12.80. I was in D Stock. It was called "The Headhunter." It was a beast. I just wanted to tell you about my car and all the fun and memories I had there. I will never ever forget those days.
 Jack Cionni,

"The Headhunter"
Long Pond
Pocono International Raceway, 1969
​My father, Neal Hinkle, raced his 1958 Corvette at the two NHRA-sanctioned races held in 1969 at Pocono. Neal remembers that after finishing the race in the shutdown area, the banked turn one forced him hard left. The return road was not totally complete and a little rough. Timing cards show that he was runner-up in competition eliminator on May 11, 1969.
Don Hinkle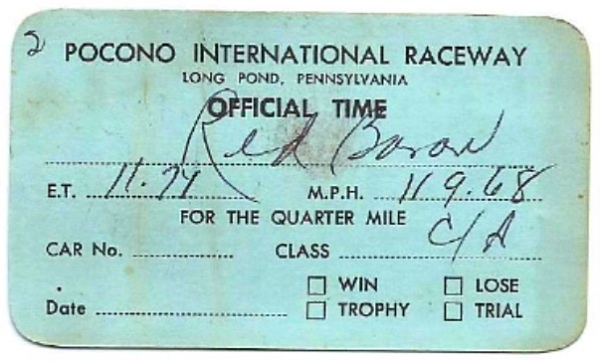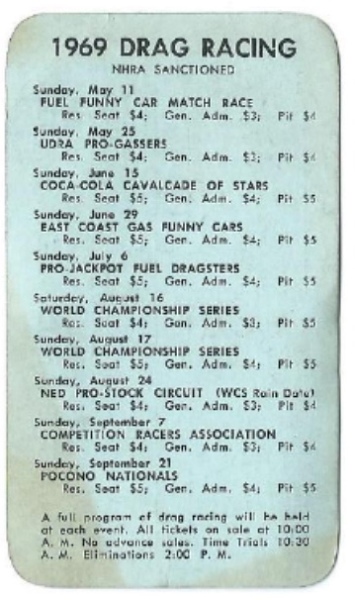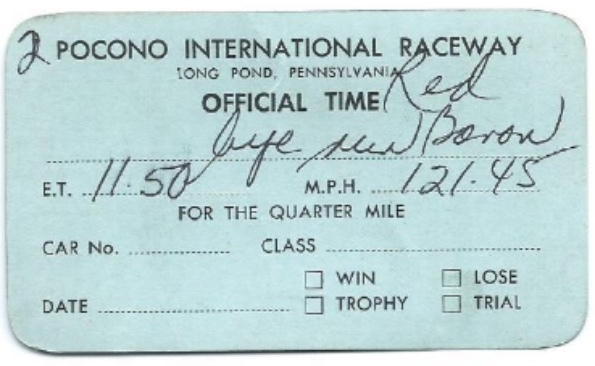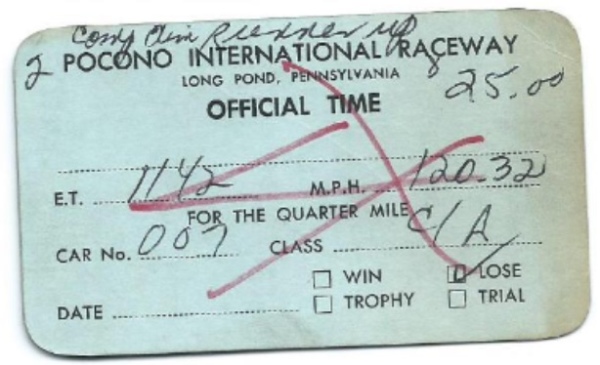 Time slips of Neal Hinkle's 1958 Crovette C/A at Pocono International Raceway, 1969. Courtesy of Don Hinkle
Mohnton
Maple Grove Drag-A-Way, 1968-80
In 1968, my father, Neal Hinkle, wanted to go faster but did not want to chop up the '61 Vette. He purchased a 1958 Corvette that also ran at Vargo under the name of "Lil Caesar." He built the car to run in the modified sportsman class. Unfortunately, the NHRA changed the rules and eliminated the class. So the easiest thing to do was to strip down the car and run it as a C/ Altered in competition eliminator. Neal joined the NHRA and 
began racing at Maple Grove Raceway at that time. The Red Baron 007 C/A ran in the mid 9.90 second range at 138 mph and was a weekly contender at the Grove. He led the Money Trail points and won many races against many local favorites. The other tracks that he ran at with the '58 Vette were Numidia Dragway, Pocono Drag Lodge, Kel Reca Drag Strip, Island Dragway, and the front straight of the newly built Pocono International Raceway.
Throughout the years, Neal made changes to the car, starting with a 327ci small block Chevy with Hilborn fuel injection to a 427ci big block Chevy with Hilborn fuel injection and a 4-speed rock crusher transmission to a B&M clutch turbo 400. The rear gear ratio was 4.88 Dana. The front straight axle was replaced with a dropped tube axle with coil over Koni shocks to lower the front end of the car. M&H drag slicks were used to connect the car to the ground.  A strong crosswind on April 29, 1973 at Maple Grove ended the racing life of the '58 Vette when at the finish line the car crossed over the center line. Neal was right behind a dragster as the dragster's parachute was released. He tried to go between the guardrail and the dragster but he went into the guardrail.
Neal purchased a former "Jungle Jim " 1969 Chevy II Nova funny car in mid-1973. He used the drivetrain from his crashed Corvette and "The Red Baron" was flying high again as a B/Altered. The Nova ran 8.70's at 151mph, won regularly and also led the Money Trail points race at Maple Grove Raceway. The Nova went through drive train changes also, from Hilborn to Kinsler fuel injection. The clutch turbo 400 was changed out with a Lenco transmission. The Oldsmobile rear gear was a 4.88 ratio. Goodyear racing slicks mounted on Centerline wheels were used to grip the racing surface. Neal also ran his Nova at Numidia Dragway, Island Dragway, and traveled to National Trail Raceway near Columbus, Ohio for a shot at a national NHRA race, The Spring Nationals in 1975. The Sports Nationals at Beech Bend Raceway in Bowling Green, Kentucky. in 1976 was the next try at a national meet. The 1977 & '78 Summer Nationals at Raceway Park in Englishtown, New Jersey, and a Division 1 points meet at York US 30 Raceway in Pennsylvania in 1977 were the next tracks the Baron raced.  Neal started his own automotive repair shop in 1975, Neal's Performance Center in Allentown, Pennsylvania. Neal ended his racing career in 1980 when the tracks went to a bracket racing format. He felt that his auto repair shop needed his full attention. Neal sold the Nova to a local racer.
Neal considered Maple Grove Raceway his home track. The staff was nice and he always ran well at the Grove. The special shows like match racing, funny cars, jet cars and wheel standers were great. The track always drew many famous names.  We camped out at the park on a couple two-day shows. The pit area and staging lanes were very nice. The track point's award banquets at the end of the year were also great and very entertaining. At one race, Neal installed a new set of M&H Racemaster drag slicks on the '58 Vette. The traction on the track was very good that night. Rosin was being used by the Pro Stock cars. Neal lined up after they ran and popped off a four-wheel wheelie. He saw only dark skies above. Riding on the rear bumper, he left off the gas and down came the "Baron" hard. The straight front axle bent and the car went left and scraped the left rear side. The guardrail and the bumper lined up just right and only scuffed the Hinkle name painted on the side. After that wild ride, a pair of wheelie bars were installed. The bent front axle ws replaced with a chrome drop axle. The "Red Baron" soon became the car to watch when it lined up. Wheels-up drag racing was very exciting for the crowd.
Don Hinkle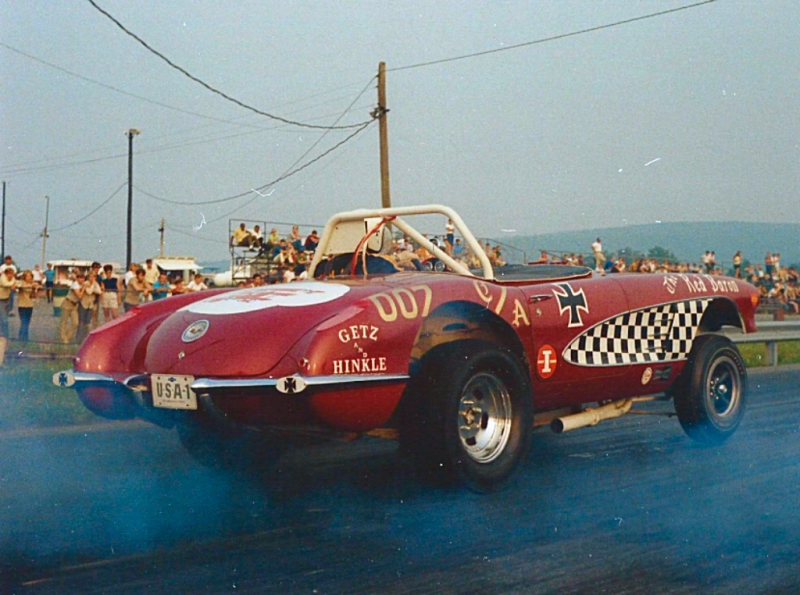 Neal Hinkle with his 1958 Corvette C/A at Maple Grove, 1970. Photograph by Carl Rubrecht, courtesy of Don Hinkle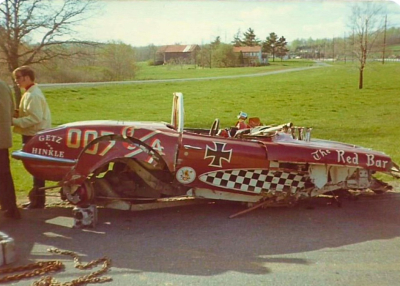 Neal Hinkle's 1958 Corvette, after the crash at Maple Grove, April 29, 1973. Photograph by Hinkle family, courtesy of Don Hinkle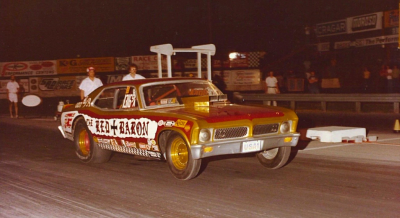 Neal Hinkle's 1969 Nova, 1978. Photograph by James H. Evans, courtesy of Don Hinkle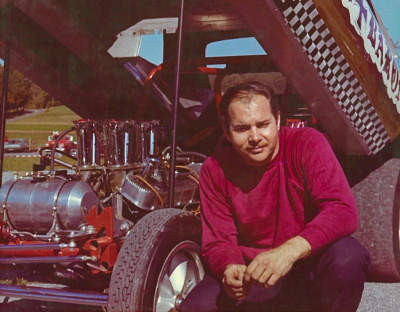 Neal Hinkle, kneeling in front of his 1969 Nova "Red Baron," 1974. Photograph by Don Hinkle

Perkasie
My father, Neal Hinkle, began his racing career in 1961 with his newly purchased 1961 Chevy  Corvette. Neal was employed as an automotive repair mechanic at a local repair garage in Allentown. He started drag racing at Vargo Dragway when a couple of his friends got together and talked about racing their cars at the track. The Corvette ran in the B/ Sportsman class. The basic stock 283ci V-8 power plant with factory fuel injection, 4-speed transmission and 4.11 rear gear ratio ran in the low 13 second range with a best ET of 12.80 at 109 mph. A pair of Mickey Thompson slicks transferred the power to the track. The red with white insert Corvette was dubbed "The Red Baron" after his favorite WW1 German flying ace. The car number he picked was 007 after James Bond. The number proved to be a good pick because he was lethal and won his class and street eliminator many times.  Neal mainly raced at Vargo Dragway from 1961 to 1965. The first race held at Vargo was on April 24th, 1960. The track ran as a 1/8th mile at first because it was not completed. Vargo was a very nice track and they did have basic safety tech inspection for tires, seatbelts, under hood items and helmets for faster drag car drivers. Vargo began using a starting light tree in June 1964. It was a double post light stand that dialed in starting handicaps to slower cars. The trees had a staging light, three double yellow lights, one double green light and one double red light facing the starting line and down track. Some of the first "Christmas Trees" as they were dubbed were made by Chrondek Timers.     

Don Hinkle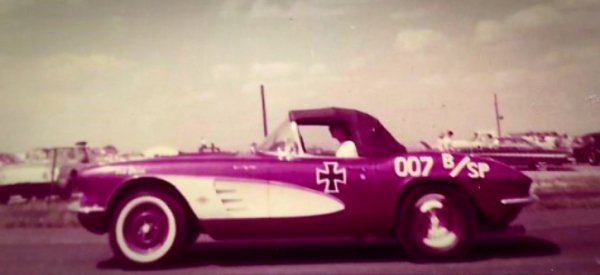 Neal Hinkle with his 1961 Corvette at Vargo Dragway, 1964. Photograph by Hinkle family, courtesy of Don Hinkle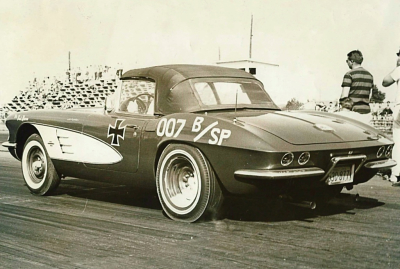 Neal Hinkle's 1961 Corvette, leaving starting line at Vargo Dragway, 1965. Photographer unknown, courtesy of Don Hinkle

Still Creek
Kel-Reca Dragstrip, 1966-68
​​

Neal started racing at Kel Reca Dragstrip in 1966 to 1968. This track was a 1/8th mile built on a sloping field. The starting line to halftrack was slightly uphill and then sloped downhill to the finish line. The shutdown area was downhill and turned to the right and at that point it was a dirt road. The first time Neal raced there he hit the brakes hard and spun the car around on the dirt shutdown area. The pit area was all dirt and very rocky. The weight scale was small so they weighted the front of the car then moved the car to weigh the rear and added them together for the total weight. Money was paid out and trophies were given for top time, top speed and top eliminator. Neal used the money to help pay bills and improve his 1961 Corvette.  Neal did race his 1958 Corvette at Kel Reca two times but he found the car was a little too fast for the track.
Kel Reca was located in Still Creek near Hometown, Pennsylvania, in Schuykill County. The track was owned in part by Raymond J. Poreca and the grand opening was on May 10th, 1964 according to newspaper articles. Ray Poreca was killed in a car accident on October 31, 2014 on Route 309 in Rush Township in Schuykill County.    
Don Hinkle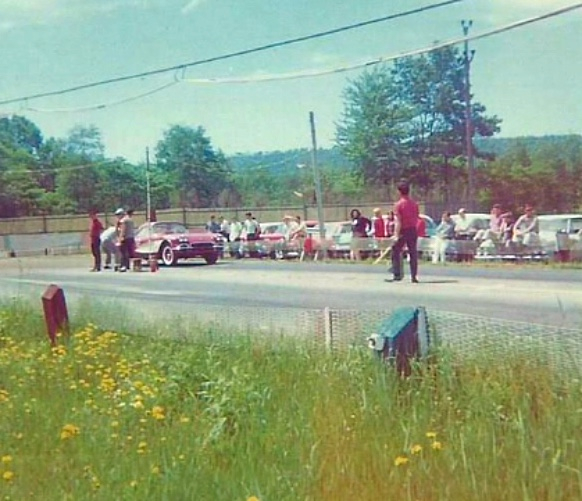 Neal Hinkle in his 1961 Corvette on starting line, Kel-Reca Dragstrip, 1966. Photograph by Hinkle family, courtesy of Don Hinkle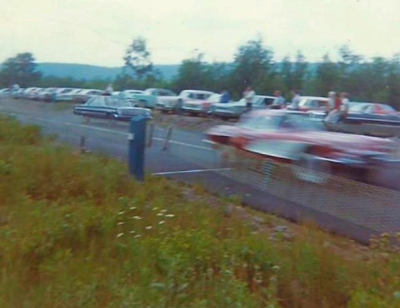 Neal Hinkle's 1961 Corvette, a blur at the finish line at Kel-Reca Dragstrip, 1966. Photograph by Hinkle family, courtesy of Don Hinkle

Thomasville
​My friend, Gene Cromer, went to  York, Pennsylvania once. The said he would have to put a top on his Mustang before he could run.
Frank Taylor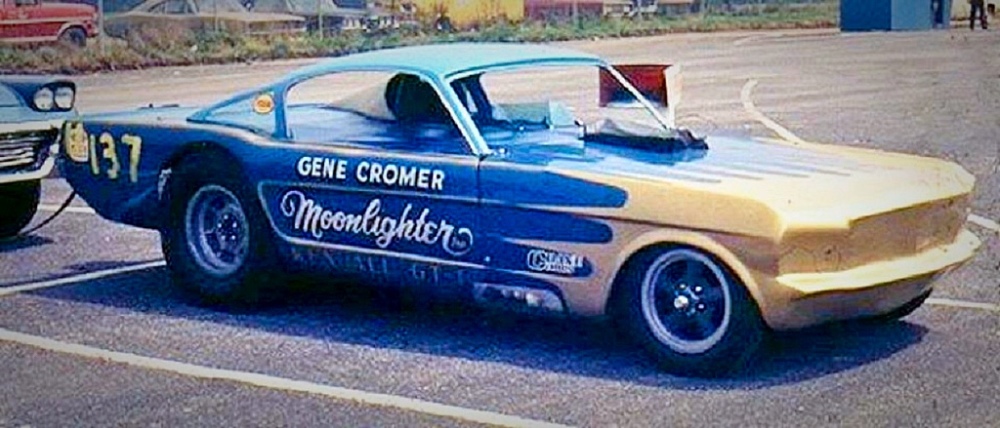 Gene Cromer's injected 1966 Mustang funny car at York--with a top on the car. Courtesy of Frank Taylor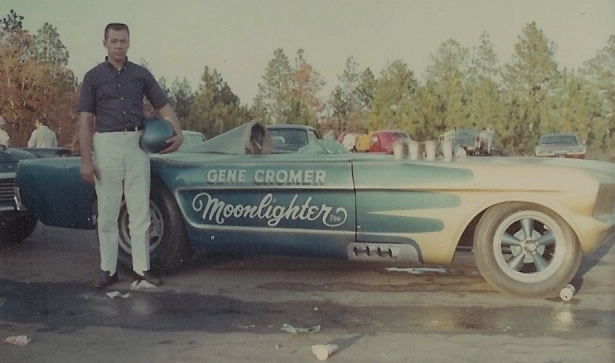 This is how Gene Cromer's "Moonlighter Too" funny car usually ran--with no top. Courtesy of Frank Taylor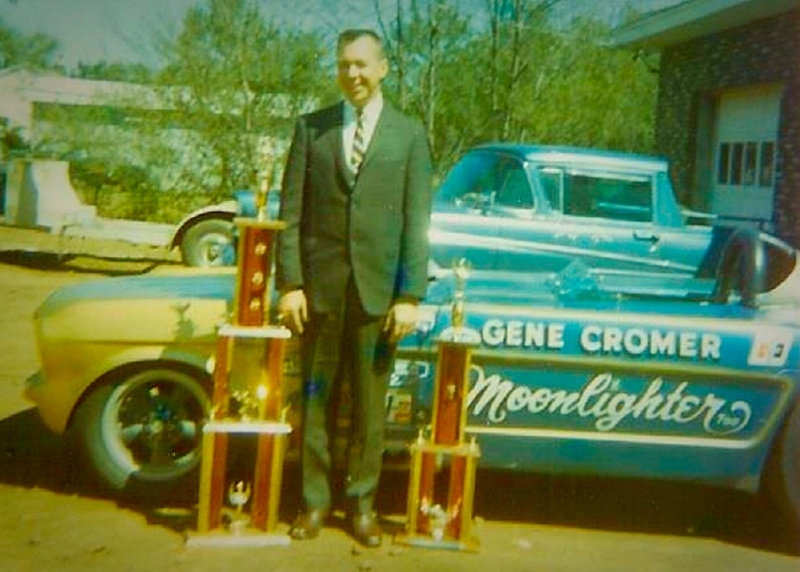 Gene Cromer, flanked by a couple of race trophies in front of his  "Moonlighter Too" injected funny car in 1970. Courtesy of Frank Taylor

Tipton
Peterson Memorial Dragway/Tipton Dragway, 1966
​Tipton Dragway was located off Route 220, north of Altoona, Pennsylvania. We only ran there a few times. It had just opened in 1966. Ran FF/S and won one trophy at Tipton. I don't remember the technical reason for the double F class, as I remember my '65 Mustang fastback wit 289 cu. in. 225 horsepower and convertibles with the same engine were FF/S. A coupe with the same power plant was F/S. Some of the others that fell into FF/S were a '65 Dart 273 V8, '57 Chevy stationwagon 283 FI,  Galaxie convertible 390, and a Sunbeam Tiger 289. I know it was something in the power-to-weight  ratio that gave these cars an advange over the other cars in the original F/S. If you could research old Hot Rod magazines, I believe there was an explanation when they split the class in 1966.
Dave Gregory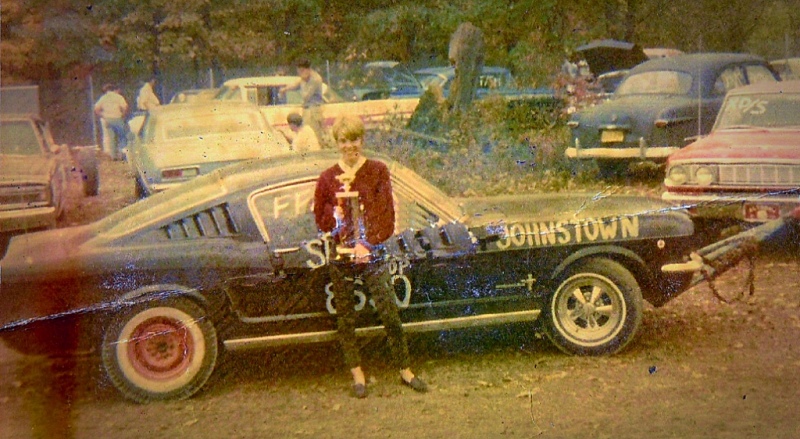 Judy Nischalke holding a class winner's trophy won by Dave Gregory in his FF/S 1965 Mustang. The photo, taken in the pit area at Tipton, shows the effects of water damage, but was saved from a 1989 house fire.  Courtesy of Dave Gregory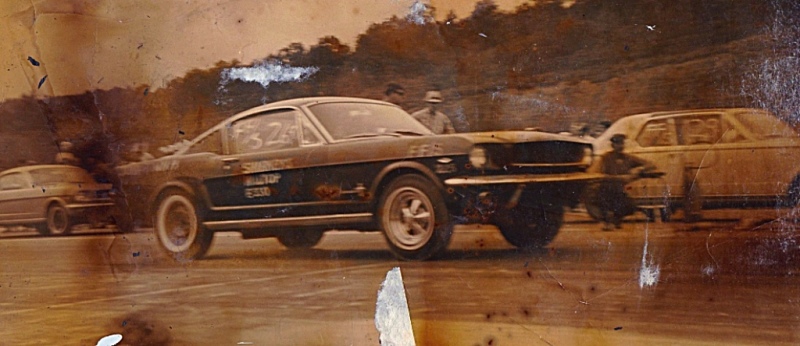 Dave Gregory making a run at Tipton to win a trophy in FF/S class in his 1965 Mustang. Courtesy of Dave Gregory

Warminster
Johnsville Naval Air Station, 1954
​As I remember this race, the major attraction was only one race and it was a 1/2-mile in 1954 and was mostly a grudge match between Ferraris and modified Oldsmobiles which were led by Jack Kulp of Pendel, Pennsylvania. The Oldsmobiles prevailed. I lived close by and don't recall any races after the one in 1954.
The dragstrip was a concrete Naval Station airport runway 8000 feet in length. 
The Navy moved out in 1995.
Ray Frattone
Wattsburg
P.I.T.A. Drag Strip, 1957-65
​I was at PITA ( Presque Isle Timing Association) from 1957 till about 1965. I wrote an article for Drag News for a few years. I have hundreds of pictures I took there. Looking through my records of our club, the Gearers Inc., I found that our club worked at the regional championships at the track, and other meets. Buck Ackerman paid us $50.00 for the weekend. My neighbor was Jerry Maycock, who raced a '58 Pontiac in S/S for a few years. I have very fond memories of all the great cars that raced there. It was the best time to be a kid, complete new cars every year. All the Ohio gasser gang ran there: Ohio George, Fred Hurst, Joe and Tom Hrudka, Gene Schwartz, Dave Koffel, Eddie Schartman, plus Jim Oddy and Jim Zakia from the Buffalo area. Lots of fun, for little money. I have an ad from the 1957 regional meet--race your car for two days for $5.00, admission $1.00, pit pass $1.00. But at that time, gas was four gallons for $1.00 and new cars were $1500.00. Fun times.

Jack Bleil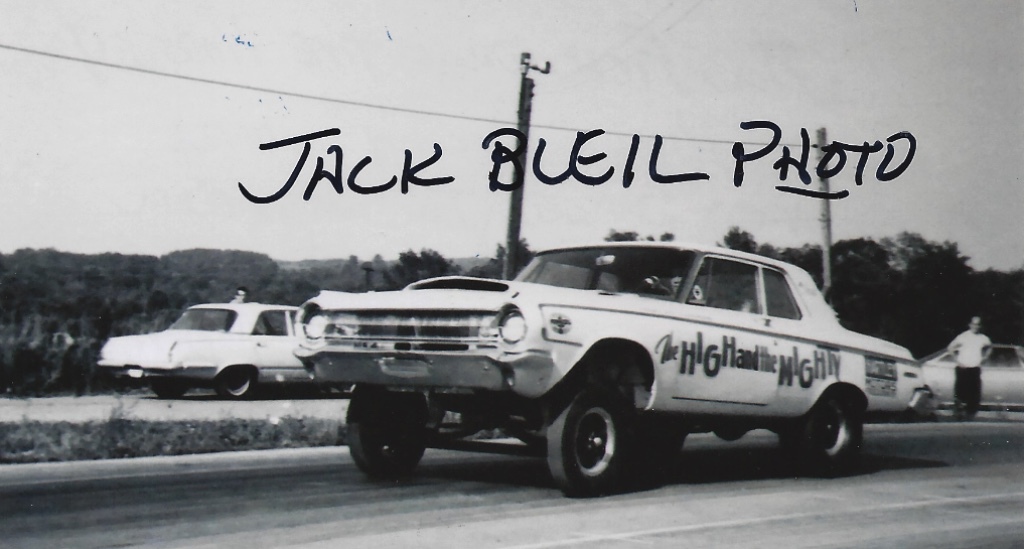 Jim Fisk drove the Hartley Motors "High & Mighty" Hemi-powered Dodge at P.I.T.A. Drag Strip. Jim was from Erie, Pennsylvania, while Hartley Motors was located in Fredonia, New York. Courtesy of Jack Bleil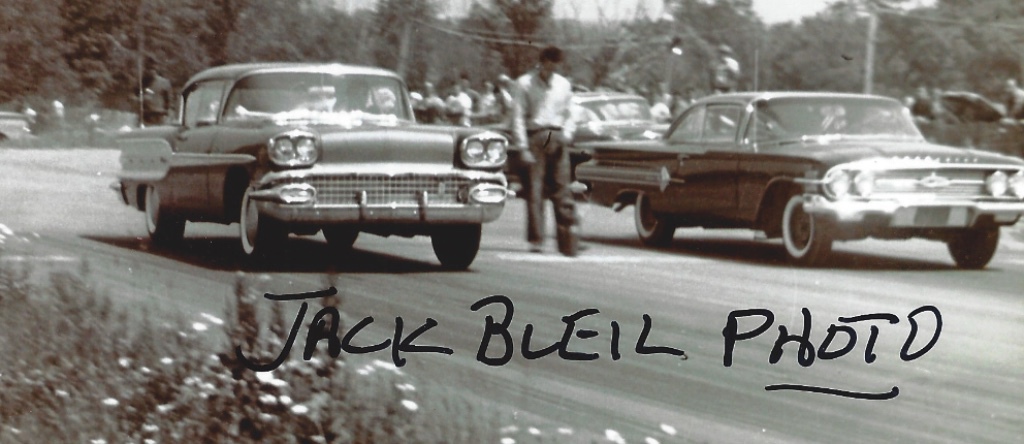 Jerry Maycock's 1958 Poontiac SS racing against a '60 Chevy at P.I.T.A. Drag Strip. Jerry's family were neighbors to the Bleils. Jack said, "I drove the car a couple of times." Courtesy of Jack Bleil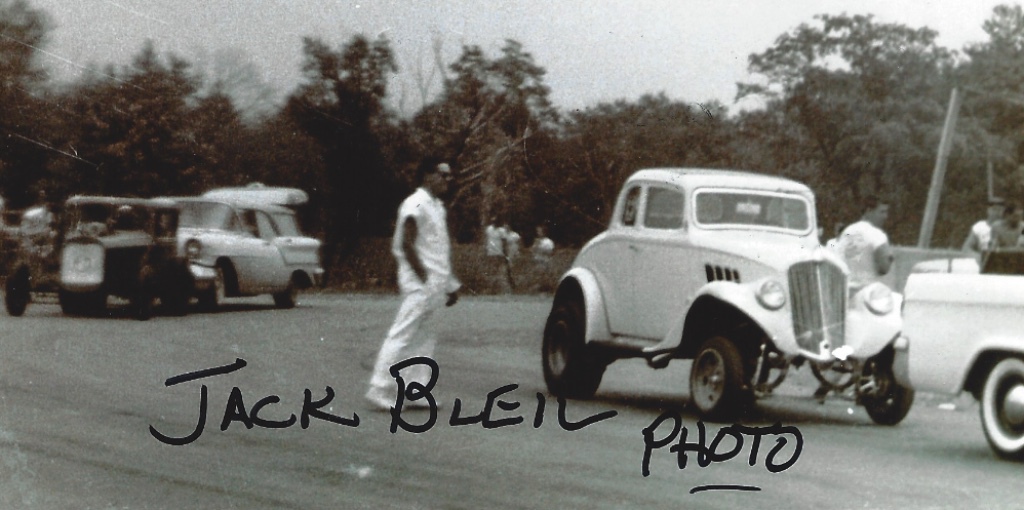 "Ohio" George Montgomery, under Cadillac power, gets ready to run against Gabby Blearers's blown Chrysler coupe at P.I.T.A. Drag Strip.  Courtesy of Jack Bleil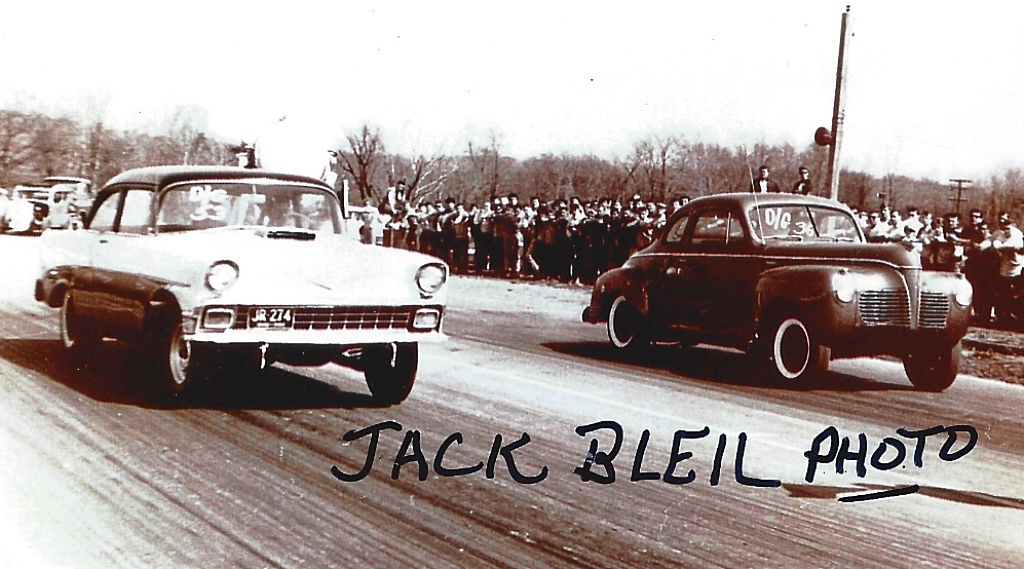 A Plymouth coupe racing a 1956, later to bcome the Rodregus Brothers' car from the Cleveland area, at P.I.T.A. Drag Strip.  Courtesy of Jack Bleil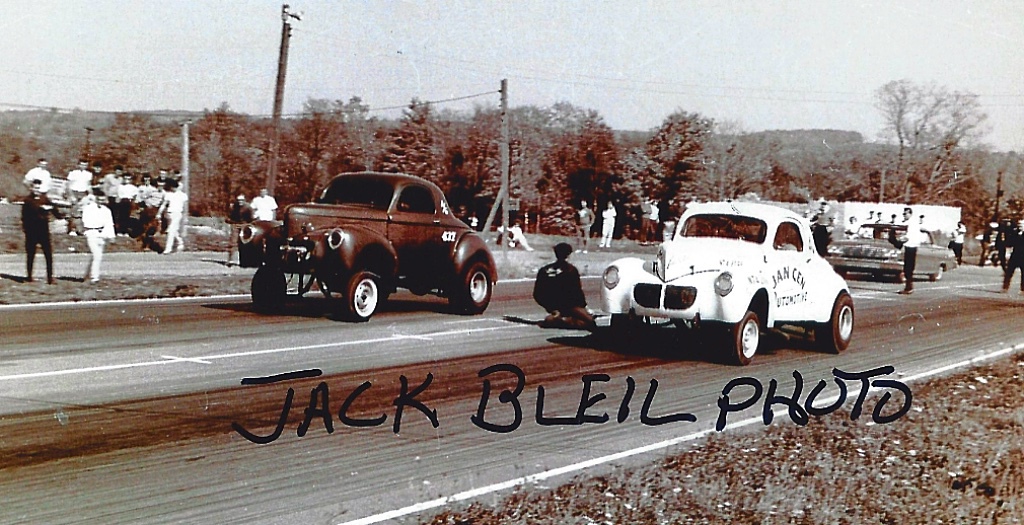 Bill Shorts, from Erie, Pennsylvania, driving his 1941 Willys against the 1940 Willys of Jansen Automotive from Buffalo, New York, at P.I.T.A. Drag Strip.  Courtesy of Jack Bleil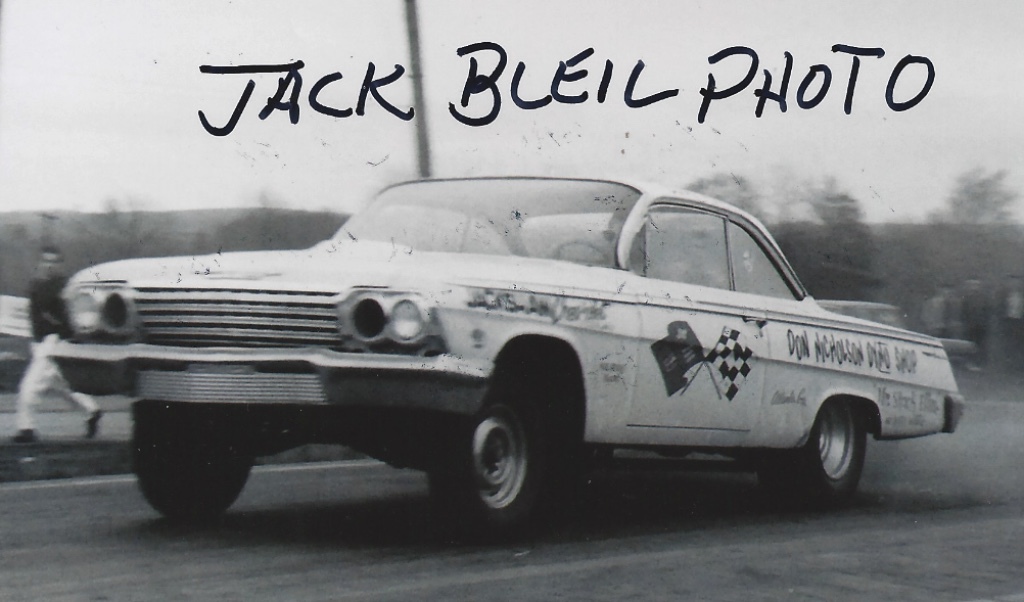 Eddie Schartman is at the wheel of Don Nicholson's '62 Chevy after Nicholson was done with it, at P.I.T.A. Drag Strip. Notice Jackshaw Chevrolet on the front fender. Eddie and Jackshaw were from Cleveland, Ohio. Eddie got Don's '61, '62, and '63 cars before Don switched to Mercury's. Courtesy of Jack Bleil

Wind Gap
Mountain View Drag Strip, early 1960s
​My father, Neal, also raced at Wind Gap aka "The Sticks" a few times. Wind Gap was another 1/8th-mile dragstrip with a short shutdown area. The drag race at the track was started by a flagman with car lengths given to slower cars. The mile per hour was timed at the finish line. The track timer would then use the mph and a chart to get the ET or estimated time from start to finish.        

Don Hinkle
​I ran almost every Sunday at the Windgap Dragstrip. I had a 1967 Charger with a 426 Hemi and two fours. I won a trophy almost every week. It was a great time in my life.      

Michael Kutz