Remembering . . .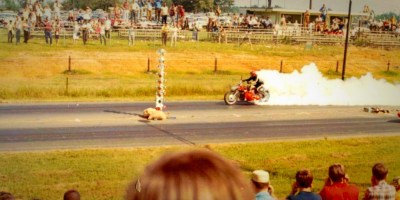 E. J. Potter, Farmington Dragway, circa 1969. Photographer unknown
Burlington
Fairchild Field, ca. 1952-53
My aunt and uncle raced there. My stepdad would take me with him to go see them race. I was 10 or 11 years old at the time. This drag strip was at the old Fairchild Airport. It was beside the Armory across the street from the now abandoned Western Electric plant on Highway 70 North (North Church Street). The old airstrip is now the home of many businesses such as Walmart on Graham Hopedale Road.

Glenn Goss
Concord
Concord Drag Strip, ca. 1950s
I lived in Concord, North Carolina, from 1978 - 2000. I taught Driver Education part time in the Cabarrus County School System. I asked one of my students why her street was so wide and she told me that her street at one time was a drag strip. Her street was once the Concord Drag Strip. I had been there as a teenager, but had completely forgotten about it.

Glenn Goss
Dunn
Easy Street Drag Strip, 1958-59
I did race at Easy Street in '58 or '59. I was in the Air Force then, stationed at Seymour Johnson AFB in Goldsboro. We had a car club at the base called the Golden Rods. I do have pics of a few cars that raced there. I believe it was run by Joe Wit Tart and his brother. I ran a '56 Ford. My club even ran the safety inspection for the track. One of the first dragsters I ever saw there was A-frame with a 430 c.i. Lincoln engine.

Yale Rosen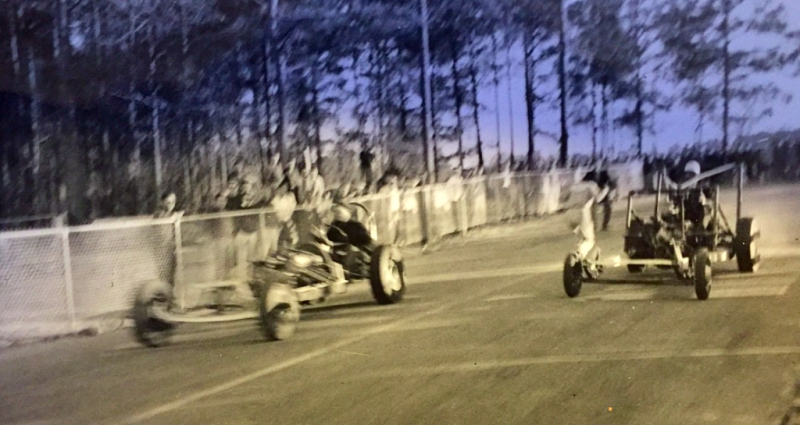 Dallas Parker (left), racing his 430 c.i. Lincoln-engined dragster, Easy Street Drag Strip, 1959. Parker ran 140 MPH on this run. Photo taken by Yale Rosen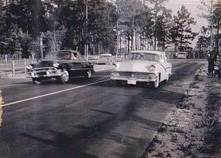 Yale Rosen"s D/S 1956 Ford (right), racing a D/G 1951 Ford with a Corvette engine, Easy Street Drag Strip, 1959. Rosen took the win in this round. Courtesy of Yale Rosen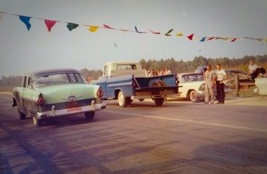 Yale Roisen said, "This photo shows a Ford and and a Dodge pickup.  The pickup was a regular winner at Easy Street. He said it was 'stock'  But we all had our reservations about that because he never lost a round." 
 Easy Street Drag Strip, 1959. Courtesy of Yale Rosen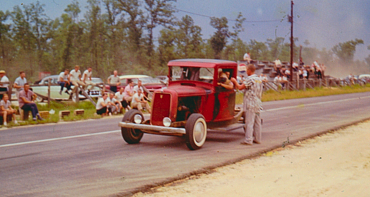 1956 Ford Fairlane B/S at Easy Street Drag Strip, 1959. Photo taken by Yale Rosen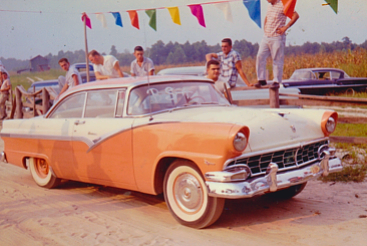 Jerry Day standing beside race car at Easy Street Drag Strip, 1959. Photo taken by Yale Rosen with his Brownie camera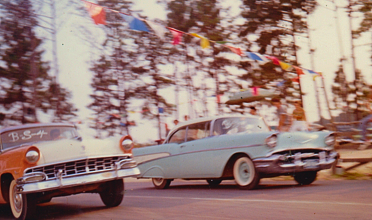 1956 Ford vs. 1957 Chevy at Easy Street Drag Strip, 1959. Photo taken by Yale Rosen

Farmington
Sportsman Park Drag Strip, 1967
These are some posters that I photographed that were in Gene Cromer's scrapbook.

Frank Taylor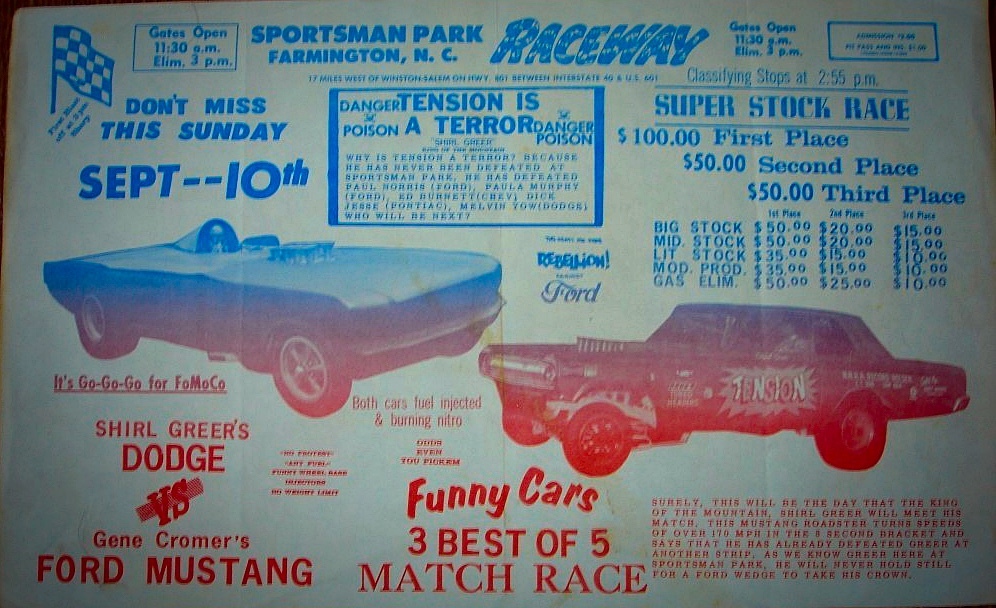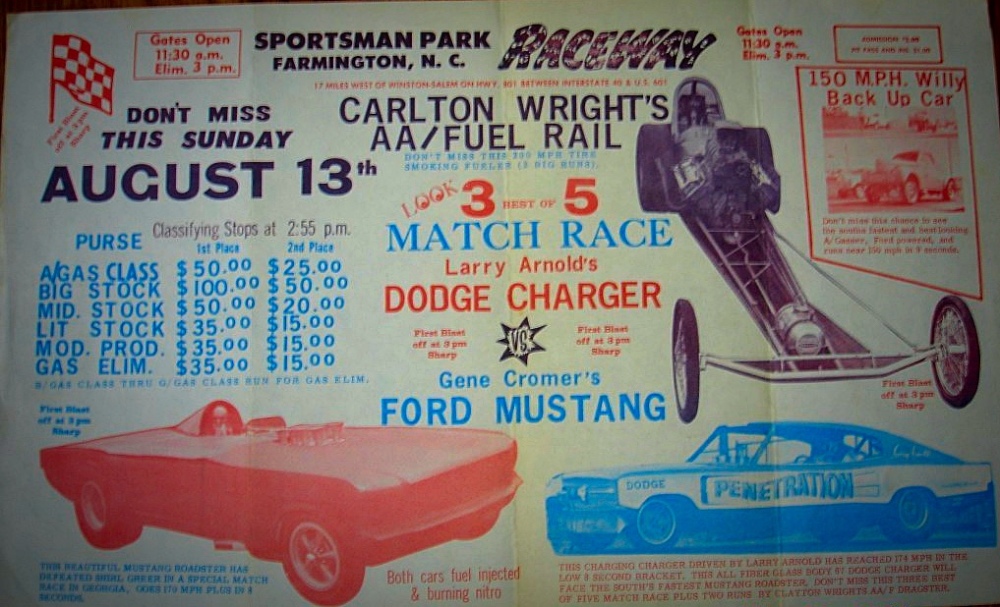 Posters from Gene Cromer's scrapbook. Courtesy of Frank Taylor

Fletcher
Memory of A&H Drag Strip in North Carolina: I came over mountains from East Tennessee. First trip I believe was in 1960 shortly after it opened. Didn't know exactly where the strip was located. Fortunately and to our great excitement, as we were traveling down the highway in North Carolina, a GMC Carryall or Chev. Suburban pulled out in front of us from a motel. On the open trailer behind it was a dragster, partially covered by a tarp. It was Don Garlits. As I recall, he made single exhibition runs only. There was only one other 'rail' there that day. an unblown Chev-powered 'B' dragster. An airplane hanger and the old airport terminal building were still standing at that time. I made many trips there to race/spectate. There were never any barriers. You could park at the edge of strip if you wished. I remember a big event where they tried to control the crowds by slowly driving an old Buick convertible up and down the edge of the strip with a local lawman we called "Deputy Dawg" standing in it. and waving people to move back. Had no effect other than the crowd responding with the stiff arm Nazi salute. Have many other stories of traveling and racing there including a near riot by the Tennessee racers, who felt the North Carolina locals were being unfairly favored in tech and classifications. Threatened to turn over the timing shack.

Henry Doriot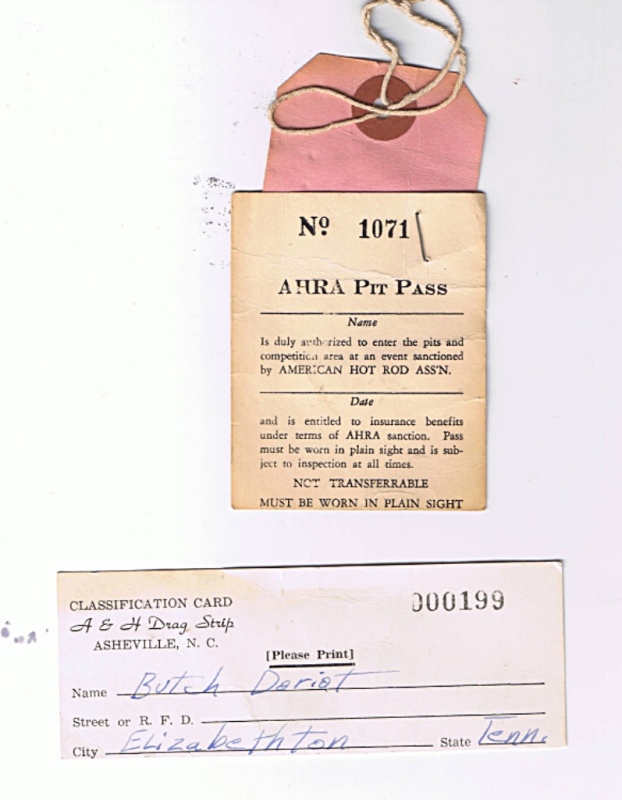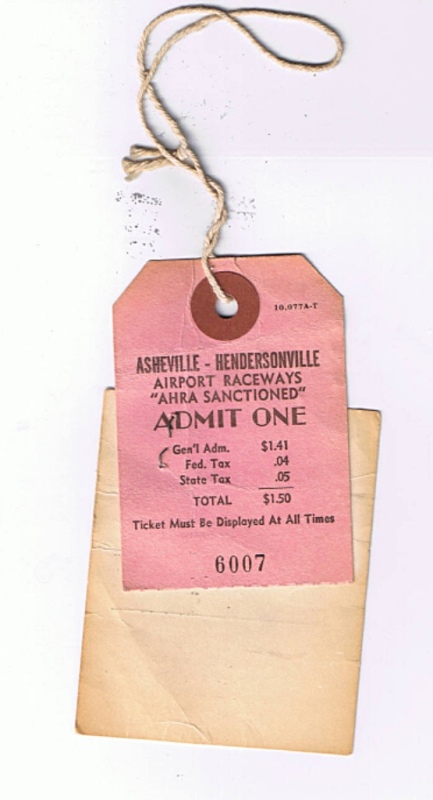 Pit pass and classification card, A & H Drag Strip. Courtesy of Henry Doriot

Hickory
Hickory Drag Strip, 1958-59
At one time there was a drag strip in Hickory, North Carolina. It was close to the Hickory airport. I saw my first drag race there in 1958. I was 13 years old. I am 71 now. But we went past the Hickory airport and the track was probably 2-3 miles on the left. I had two cousins, now gone on to be with the Lord, who raced there. The flagman [starter] raced there also. When the flagman's class raced, someone else flagged [for him]. In '59, my older cousin Bob had a '59 Pontiac that he raced. When he was in the lane opposite him [the head flagman], the alternate flagman would raise the flag when he [the head flagman] left the line. So the flagman would always win at  Hickory. When he raced my cousin at Hudson Dragstrip, the favor would be returned, and Bob would win at Hudson. Great memory of my youth. That hooked me on dragin'. [I remember at that first race a] final was between Tom Farrell and Jose Wilson's red '58 Chevy and a blue '58 Chevy. I don't remember who won, but think it was Tom Farrell in the blue one  . . . . it seems like a guy named Bob Dale ran it when my cousins was racing. Only other tidbit of info I can add is the track was downhill. Made for some exciting stopping.

Steve Julian
Julian
Piedmont Drag Strip, 1960s
I was involved with drag racing as a teenager. I used to hang around my local service station and I was very fortunate to be taken under the wing of a man who worked at this service station who ran a car. His name is Gene "Poodle" Curtis. I was a member of his pit crew. He primarily ran at Piedmont Drag Strip which is in Julian, but we also ran at many other tracks in North Carolina. One of our rivals was Ronnie Sox. Gene has a 1958 Chevrolet that whipped olf Ronnie Sox quite frequently. Ronnie went on to national stardom and Gene, who was also attending Elon College  night school and after graduating became the sales manager at Alamance Motors and never raced again. Alamance Motors is now Dick Shirley Chevrolet.Gene is still living and is probably in his mid 80's. Piedmont Drag Strip had many nationally famous drivers race there. One that sticks out in my mind was a guy EJ Potter, known as the Michigan Mad Man, who rode a bike with a Chevy engine mounted sideways on a HD frame. That was a wild ride and something I will never forget.

Glenn Goss
Kinston
I witnessed Wreckless Rex make his jump of 23 cars at Kinston Dragstrip in 1977. While it was considered a record, I felt it was not valid as he had no control of the bike down the landing ramp. I moved to Texas in 1979 and met Evel Knievel at the Dallas Fairgrounds. We discussed the jump and he told me he appealed the record for the reason that he was not in control of the bike and was upset he lost the appeal. It was neat meeting him and I got several good pictures and autographs of him and his son Robbie, who was about 15 at the time. I have a picture I took of Whitehurst in the air over the 23 cars somewhere in my collection.

Greg Morris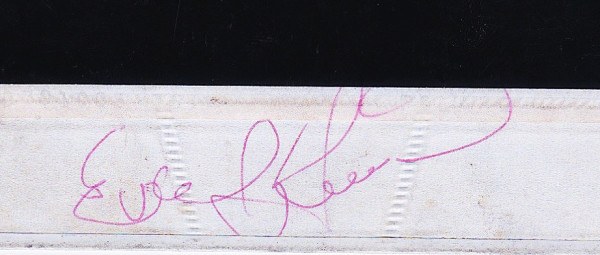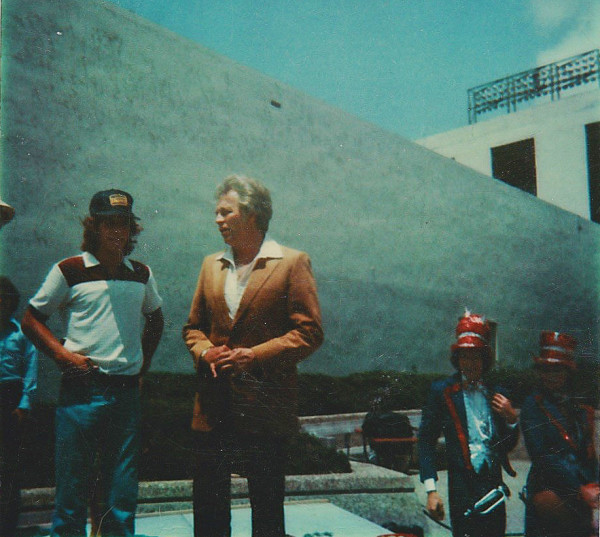 "This is the photo I took of Knievel at the Cotton Bowl/ fairgrounds at Dallas, Texas in 1979. Robbie Knievel is standing beside him. He was 15 years old, I think, if I remember right. On the back of the Polaroid shot is where he autographed it. I don't know why I didn't get Robbie to sign it too. He started his own career not long after that."  Greg Morris

Marston
I found a coin that has Rockingham Dragway, 19--Rockingham, North Carolina--96 on the back. It has MBNA-America Master Card, NHRA limited edition collector series. It looks like it's silver.  Does anyone know anything about it?

George Boes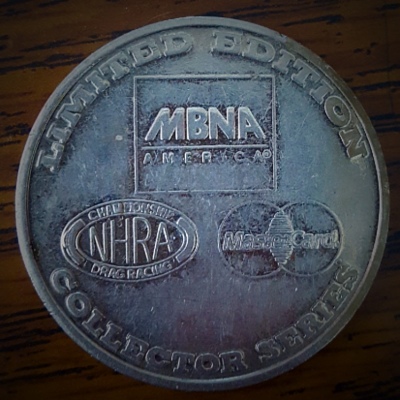 Obverse and reverse side of the Rockingham Dragway coin. Courtesy of George Boes

I got my start in drag racing at this track in 1993, the Friday Night Street Fights and the 5.0 Shootout that Steve Earwood promoted provided us hooligans from Fort Bragg and the other folks in the Eastern NC area a place to race without having to worry about getting busted racing out on the backside of Bragg. Steve deserves a medal for that, if nothing else. Steve  gave me my nickname and after I moved to Pennsylvania I came down for an NMCA race and blew up during qualifying. Steve tossed me the keys to his MK VIII and let me run it in the bracket race so I didn't waste the trip down there. Definitely one of the classiest guys in the business.
Ray Reno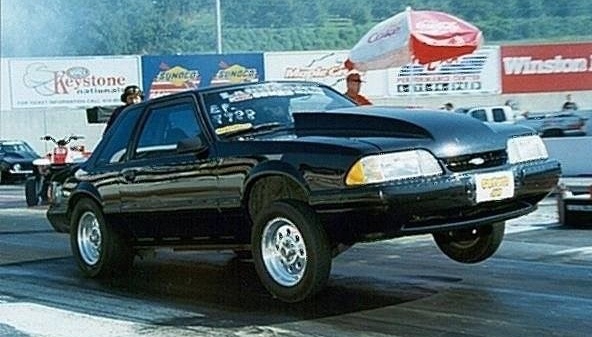 This is one of the cars that Reno raced at Rockingham, although this picture was taken later at Maple Grove. Courtesy of Ray Reno

Shelby
Shelby Drag Strip, 1971-73
I used to go to Shelby drag strip with my father. He had a 1961 Ford Falcon with a 396 Chevy engine and 12-bolt rear. The track was located on Highway 180.

Michael Whitworth
Shelby Drag Strip, 1968-71
I ran at Shelby in 1969, 1970, and 1971. Car was a blue Henry J.

Glenn Nester
Wadesboro
Wadesboro Drag Strip, 1960s
I did not race at Wadesboro, but went there a lot with my dad and friends. I have a ratty photo of my dad racing with our '66 Fairlane GT against a '64 Plymouth. I attended a Big Gasser shoot-out there in the mid- to late-'60s, bunches of well known Willys and Anglias, Liston Kendall with a red Henry J. I would love to find some pictures from there.

Wayne Simpson