Remembering . . .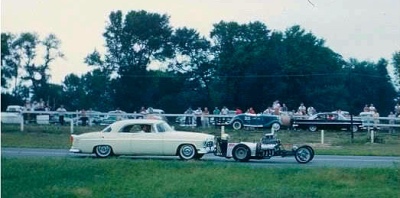 Detroit Dragway, 1959. Photographer unknown
Detroit
I spectated at the '59 NHRA Nationals at Detroit and then in either '69 or '70 ran at an AHRA National event. The '59 one got me seriously hooked.  I think Arfons ran #6 (6 wheels) in '59, unless he was trying 6 wheels on #11 prior to the Nationals in Detroit. I do remember he left rubber for the full 1/4.
Tom Pfeifer
 I was a member of the Millwinders Racing Team and our president was Neil Pappy Ellis.  In 1958 Don Garlits raced at Detroit Dragway on a Friday night, setting a record.  I owned a photography studio and took the pictures on Friday night and put an album together on Saturday for Don's Sunday appearance at Motor City Dragway.
Richard Gargano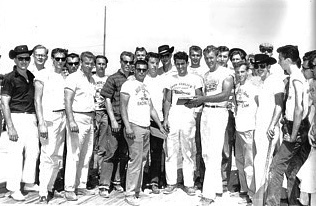 Don Garlits (in center) at Motor City Dragway in 1958. The Millwinders Racing Team presents an album to him recoginizing his record-setting run at Detroit Dragway just two days earlier. Richard Gargano, just to the immediate left of Don, assembled that album to present to Garlits. Courtesy of Richard Gargano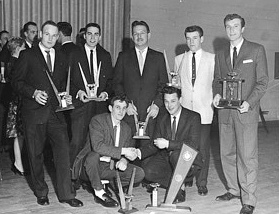 Seven members of the Millwinders Racing Team take trophies at the Michigan Hot Rod Association banquet in 1959. Courtesy of Richard Gargano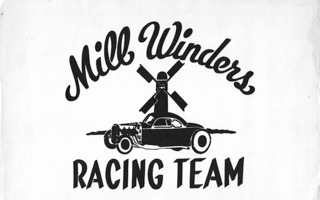 Millwinders Racing Team logo. Courtesy of Richard Gargano

Grattan
Grattan International Speedway, 1975-78
The years were 1975-1977-78. I was running a mildly-built '66 Chevelle 327, 4-speed.  The car was running the high side of 13s.  Then on one run, hitting third gear, the clutch paid me a very NASTY visit through the floor. I had very minor injuries, but it was very loud. I wish someone had a picture of that. I will say that a few of the "gang " went there and had a great time.
Dave Eager
Milan
I raced at Milan, Michigan, as a regular in '67 and '68 and held the track record for my class in '67. The certificate was signed by Cliffton Riley, track manager or owner. One day I was testing there in preparation to make the switch from NHRA to AHRA. Sam Stockwell (record holder in one class lower) was a friendly competitor. I was running about .10 slower than the record in my NHRA class, but AHRA allowed different stuff and I was testing that. Because I all of a sudden ran about .20 under, he wondered what I did. Being coy, I said I was doing timing changes, just to mess with him. He died of a heart attack a couple days later. I was sad, as he was a friend and especially sad that he never knew the truth.
Tom Pfeifer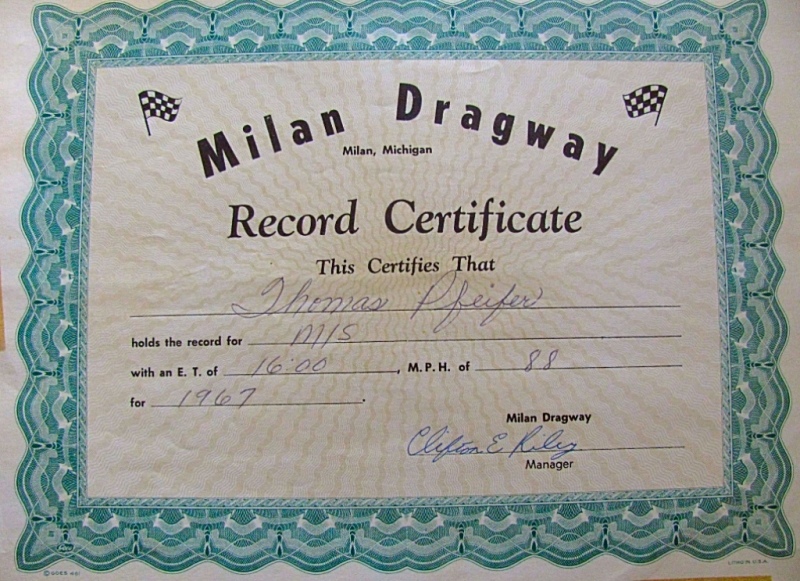 Track record certificate, Milan Dragway, 1967. Courtesy of Tom Pfeifer

New Baltimore
Motor City Dragway, 1957-59
I was a member of the Millwinders Racing Team and raced at Motor City Dragway in New Baltimore, Michigan, in 1957, '58 and '59. I ran a '56 Chevy in C-Gas and a 1959 Corvette.
Richard Gargano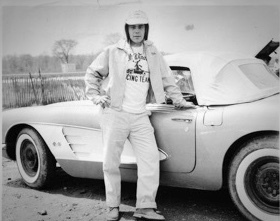 Richard Gargano with his 1959 Corvette at Motor City Dragway.. Courtesy of Richard Gargano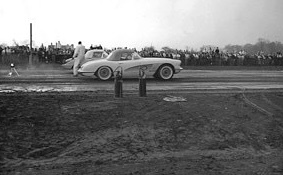 Richard Gargano racing his 1959 Corvette at Motor City Dragway.. He garnered his first trophy with this car in this race. Courtesy of Richard Gargano

Richard Gargano holding the trophy he won for the first time with his 1959 Corvette at Motor City Dragway.. Courtesy of Richard Gargano