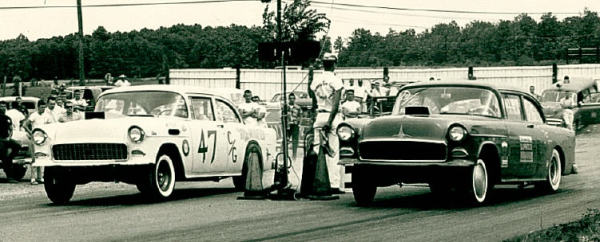 Ronnie Bristow (left) and Dave Hales (right) go head to head in their 1955 Chevy's at 75-80 Dragway, 1962. Photographer unknown
Aquasco
Aquasco Speedway, 1960-67
​Aquasco in Southern Maryland was the first dragstrip in Maryland.  My memories include watching Tom Chastang run a AA/FD off the end of the track at about 180 mph, hitting the tree tops and falling to the ground below. He then climbed up the hill to the end of the track and waved to everybody. This was approximately 1960. A few years later in 1967, after building and racing four street rods, we ran our own AA/FD "Lil' Huncher" at Aquasco. This was our first time trying Nitromethane. As you can see in the above photo of this first run on Nitro, the tires are just starting to slip and the front end is slightly raised. That same day, we met John Burk from New Jersey, who later held the national record for A/FD.  We are still friends after about 50 years and he is now building a Bonneville streamliner. "Lil' Huncher" started out as a gas dragster with a Bob Banning Dodge 426 Wedge and two 4-barrel carbs on a crossflow manifold. This was fun, but everything changed when a friend gave us a used 671 blower from the Greyhound garage where he worked and we found a used Hilborn injector system. After spending our money wisely, on a 671 manifold, pistons, rods, roller cam, head parts, Milodon bearing support, etc., we tried our creation on the University of Maryland parking lot one Sunday morning (with approval of University of Maryland cops). We then calculated jet sizes for alcohol fuel and tested it at another location. Our next step was Aquasco, to begin experiments with Nitromethane, starting at only 5%. We raised the percentages gradually, with appropriate changes to fuel jetting. We also raised the blower overdrive to 135%.  Nitromethane is SO COOL.  Our 'budget dragster' "Lil'Huncher" ran until 1969 . . . local following, match races and one 16-car NHRA meet (lost to "Blue Angels"). Best times were high 7's at almost 200 mph. Aquasco and Capitol [Raceway Park] always paid us to show up and gave us cases of free oil. I can still smell the Nitromethane.

Charlie Horton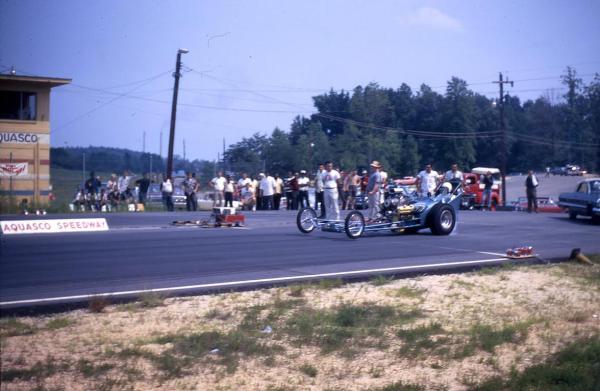 "Lil' Huncher" AA/FD, Aquasco Speedway, 1967. Courtesy of Charlie Horton
Here's my most vivid memory of Aquasco Dragway in Maryland. I ran a B/Gas '32 Ford 3-window at Acquasco a lot back in the '60's. I can only remember losing my class one time. It was against a '34 Ford coupe that supposedly had a 292 cid small-block Chevy. At the time I was running a 301 cid small-block Chevy. Anyway, I put a hole shot on the other car and he pulled past me right in the lights. One of my crew had observed them removing weight from the car before we ran. At the time, I wasn't concerned, but after he beat me, I lodged a protest. Not only was the car over 100 pounds too light for a 292 engine, the tech guys checked the displacement with one of those devices you stick in a spark plug hole and the reading they got was 365 cid. So the car wasn't even remotely close to being legal and I was awarded the win.
Jim Davis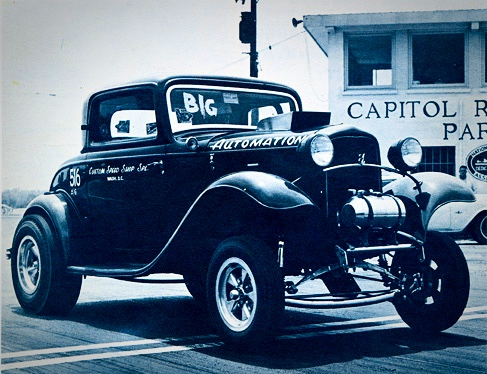 Jim Davis's 1932 Ford B/G at Capitol Raceway Park. Courtesy of Jim Davis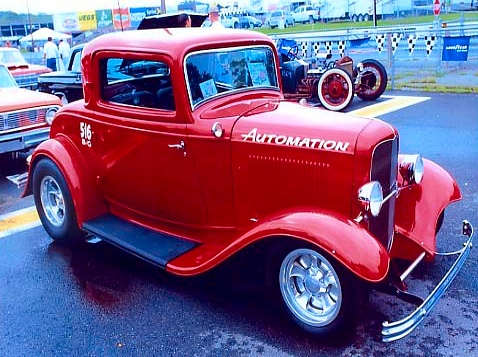 Jim Davis's 1932 Ford restored/owned by another owner into a super nice street rod. The lettering on the car was only temporary, applied for a nostalgia event at Manassas Dragway. The car was originally blue when owned by Davis.  Courtesy of Jim Davis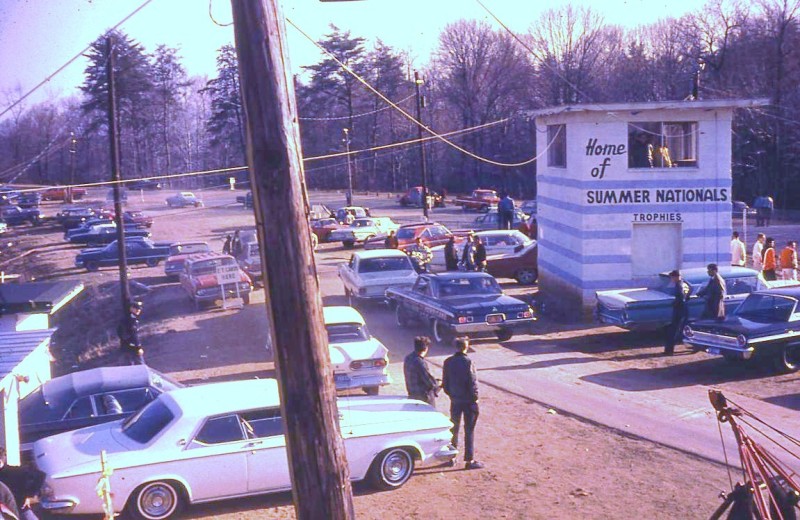 A different view of the tower at Aquasco Speedway in Aquasco, Maryland. The photo is from early 1964 and shows the tower lettering from the AHRA Summernationals that was held there the previous year. Courtesy of Dave Hales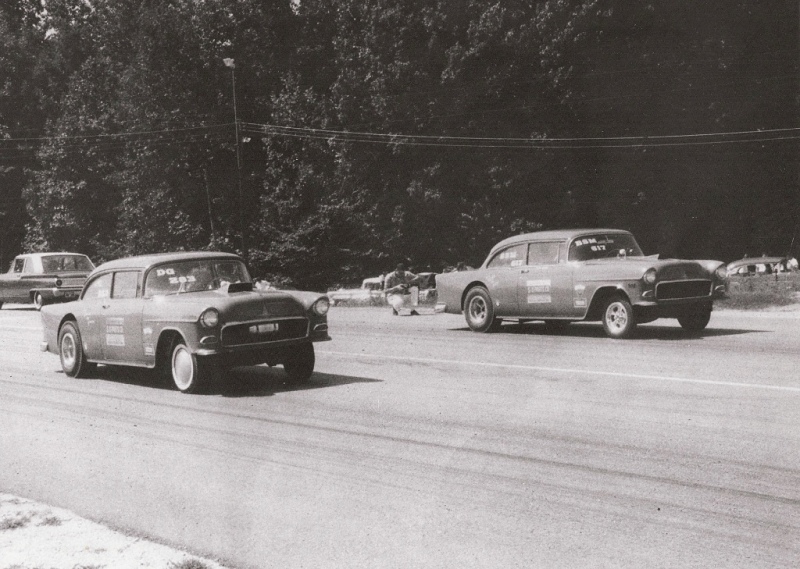 Aquasco Speedway in 1962. In the near lane is Dave Hales'' D/Gas 1955 Chevy, and in the far lane is Fred Bear in his B/Sportsman 1955 Chevy. Both cars were nearly identical and sponsored by S&S Parts Company in Falls Church, Virginia. Courtesy of Dave Hales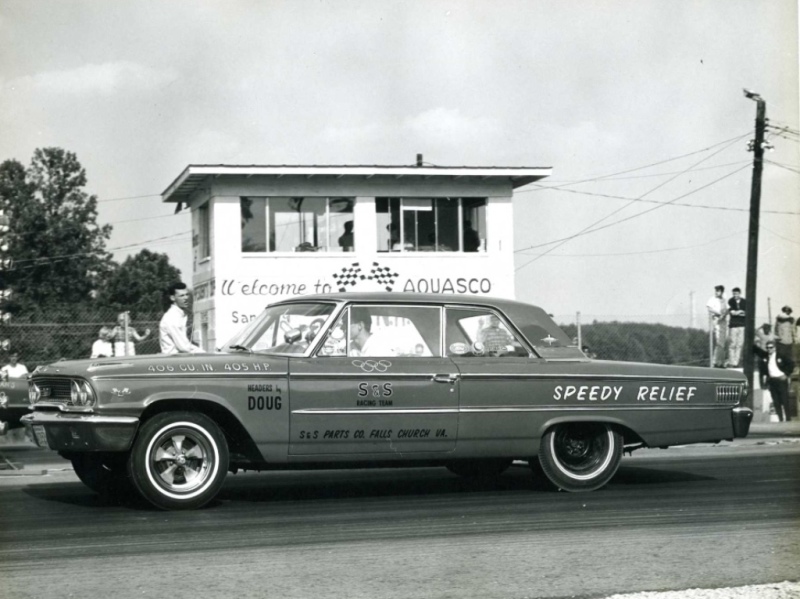 Henry Knauf in his B/Stock Ford at Aquasco. Henry was the AHRA B/Stock National Record Holder, the AHRA Summernationals Class Champion, and AHRA Summernationals Stock Eliminator runner-up in 1963. Courtesy of Dave Hales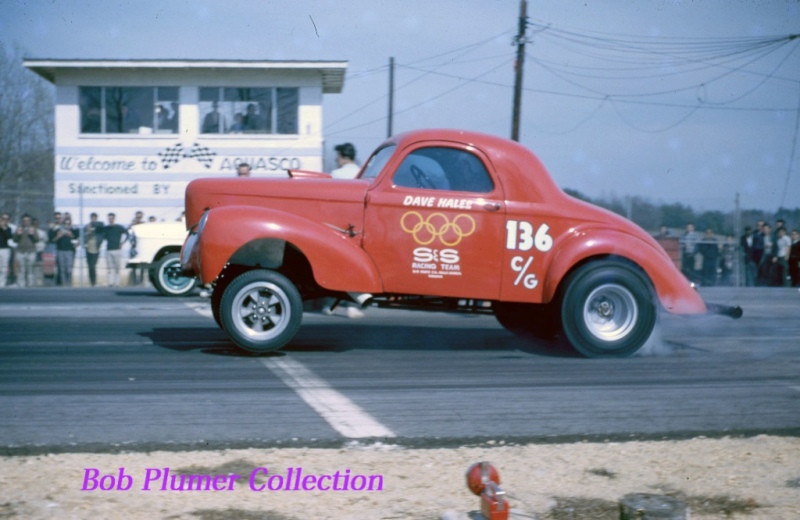 Dave Hales' S&S Willys C/Gas at Aquasco Speedway in 1965. Photo owned by and courtesy of Dave Hales
Hagerstown
Mason-Dixon Dragway, 1965-66
I ran FF/S in '65 & '66 at Hagerstown with my '65 Mustang fastback. The engine was factory stock. It never had the heads, intake or pan off. It had Ford HP headers and the carb was rebuilt to specs by a friend from Ford's performance research division. It had a 3.80 rear gear that let it cross the finish line at 5000 RPMs in 4th gear.  We also ran at Pittsburgh and at Milan, Michigan, each once, but mostly we ran Hagerstown for two summers. We won five trophies at Hagerstown and one at Tipton Dragway in Pennsylvania.  We had a good time till the money ran out. 
Dave Gregory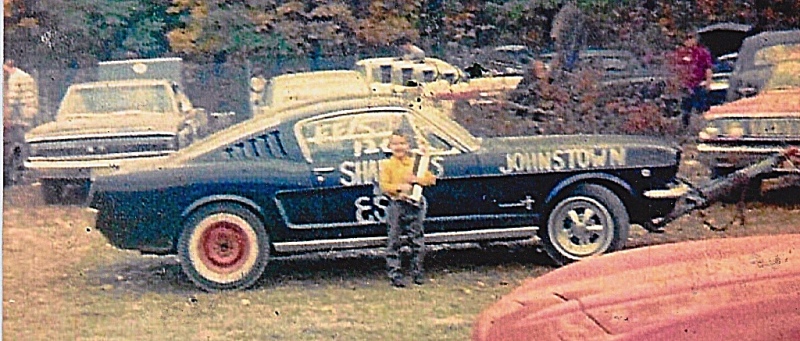 Jeff Nischalke holding a class trophy won by Dave Gregory in his FF/S 1965 Mustang at Tipton Dragway in Pennsylvania. The photo shows the effects of water damage, but was saved from a 1989 house fire. Courtesy of Dave Gregory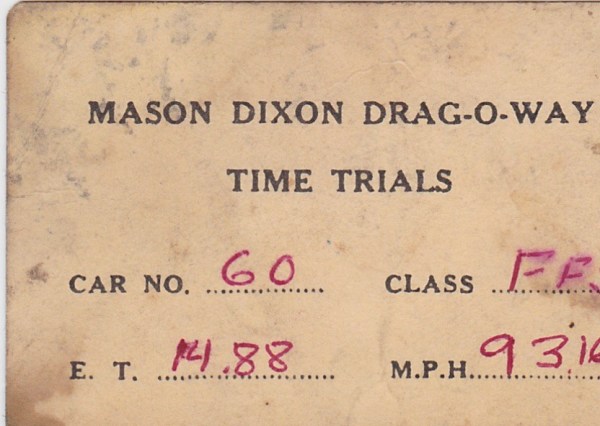 Time slip from Mason-Dixon for Dave Gregory in his FF/S 1965 Mustang. A time below 16 seconds for a 225 horsepower Mustang was considered good and to get into the 14s was great in 1966.. Courtesy of Dave Gregory
Mason-Dixon Dragway, 1962-64
My dad, Charlie Shifflett, raced at Mason-Dixon Dragway in the early '60s in a 1961 Starliner in B stock. This is a picture of one of the trophies that he won.
Charlie Shifflett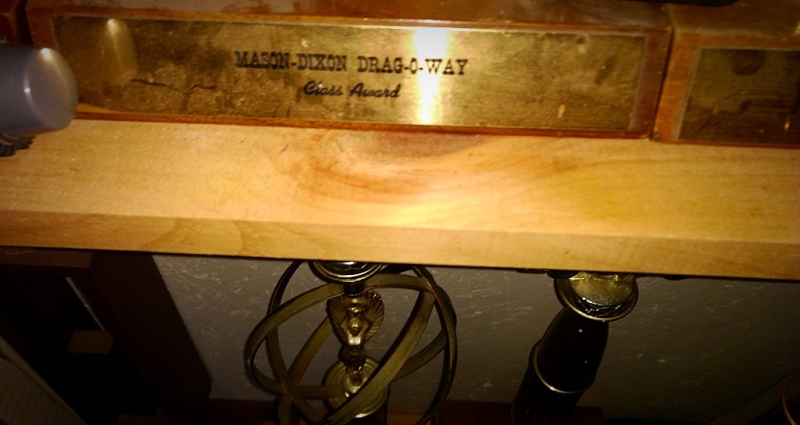 Mason-Dixon Dragway, 1964
​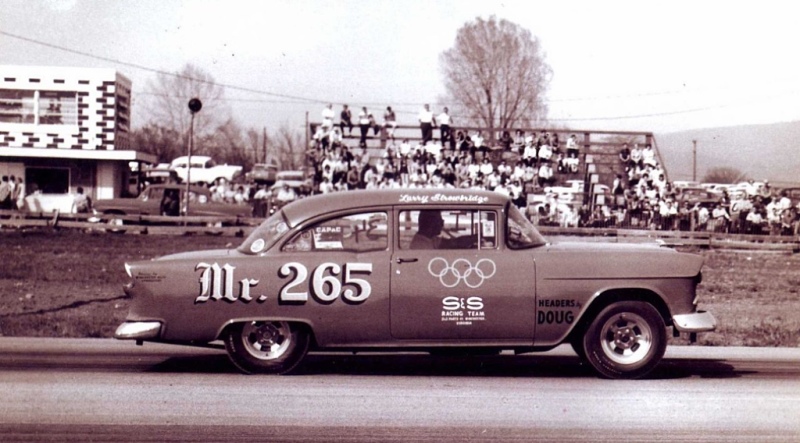 Larry Strowbridge in his I/Stock 1955 Chevrolet at Mason-Dixon Dragway outside Hagerstown, Maryland in 1964.  Larry ran for the S&S Racing Team and operated the S&S Parts Company store in nearby Winchester, Virginia. Courtesy of Dave Hales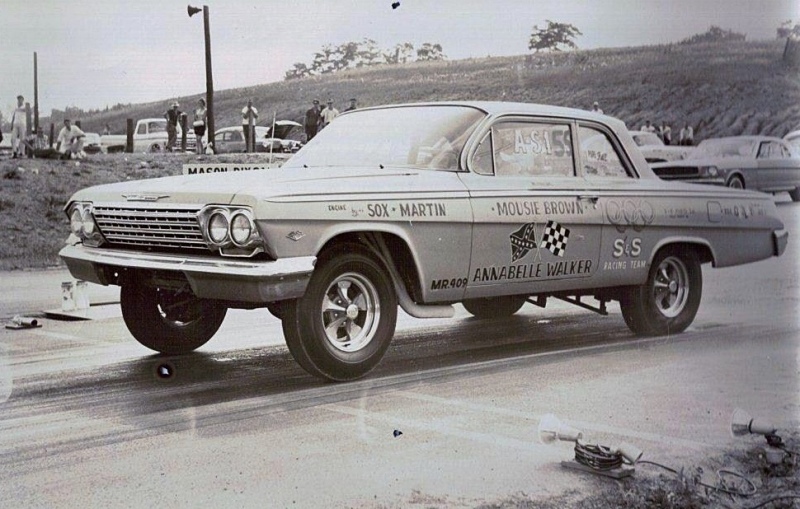 "Mousie" Brown in his A/Stock Chevrolet shown at Mason-Dixon Dragway in Hagerstown, Maryland. Another S&S Racing Team-sponsored car, Brown was a strong runner in the Mid-Atlantic area. Courtesy of Dave Hales
Mechanicsville/Budds Creek
Maryland International Raceway, 1972-1980s
I was Tod Mack's partner at Budd's Creek Maryland (MIR), but worked Colonial Beach which was sold to Richard Clark in 1977. At that time it was a full ¼ mile.
Larry Clayton
Maryland International Raceway, mid-1960s-1970s
I'm looking for photos of my dad's T Bolt. He was Bruce Hecox. I was very young, but I remember my dad racing at Budds Creek, 75/80, Capital, and Manassas, Virginia, in the mid 60's - 70's. In around 1970, it was painted black with "Here Comes The Judge" painted in gold-leaf letters on the side. if you know of anyone that took pics in that time-frame and still may have the older pic, I'm looking.
Mark Hecox
Monrovia
75-80 Drag-A-Way, 1962-64
My dad raced at 75 80 Dragway in Monrovia in the early '60s in a 1961 Starliner in B stock. He won over 30 trophies and other awards.
Charlie Shifflett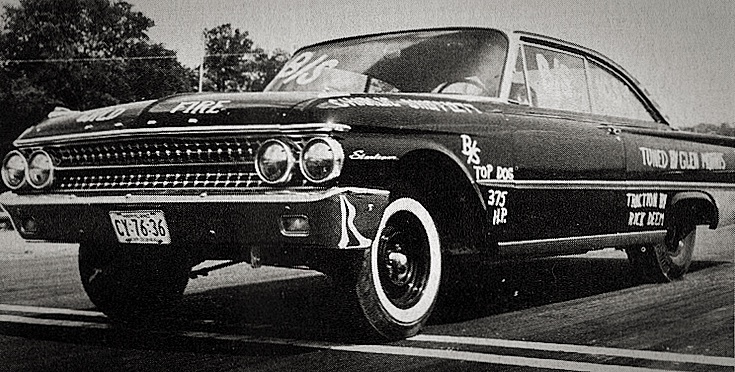 Charlie Shifflett's B/S 1961 Ford Galaxie Starliner called "Wild Fire." Courtesy of Charlie Shifflett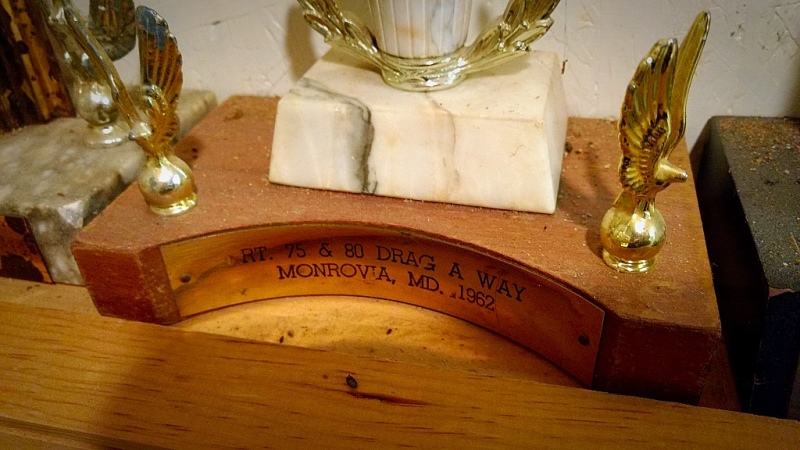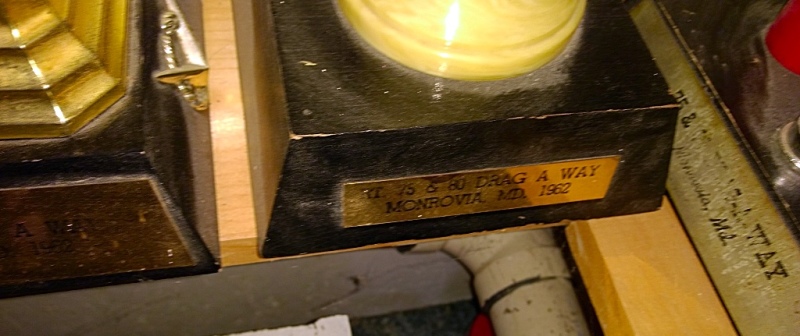 Close-ups of some of the trophies that Charles Shifflett'won at 75-80 Drag-A-Way in his B/S 1961 Ford Galaxie Starliner in 1962. Courtesy of Charlie Shifflett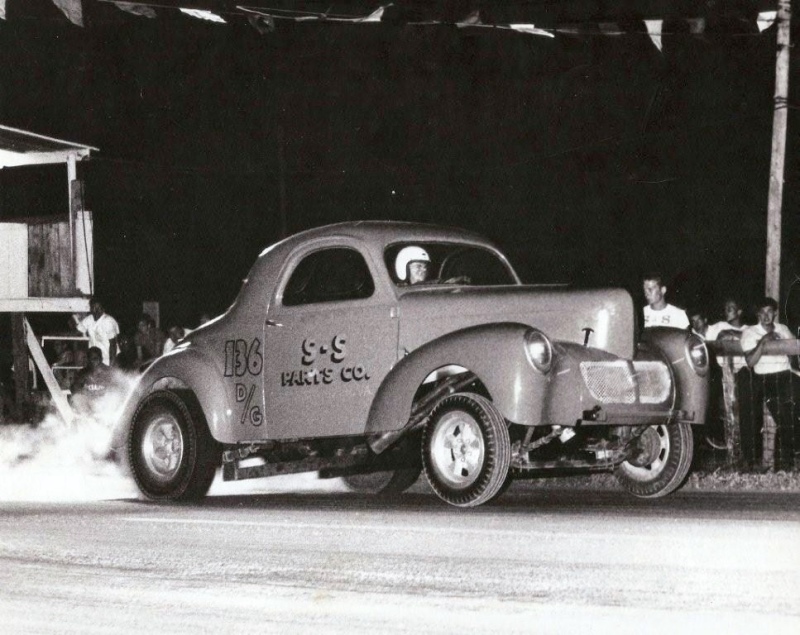 75-80 Dragway, Monrovia, Maryland. Dave Hales' S&S Parts Company-sponsored Willys D/Gasser in 1963. Courtesy of Dave Hales

Rising Sun
Cecil County Dragway, 1964
​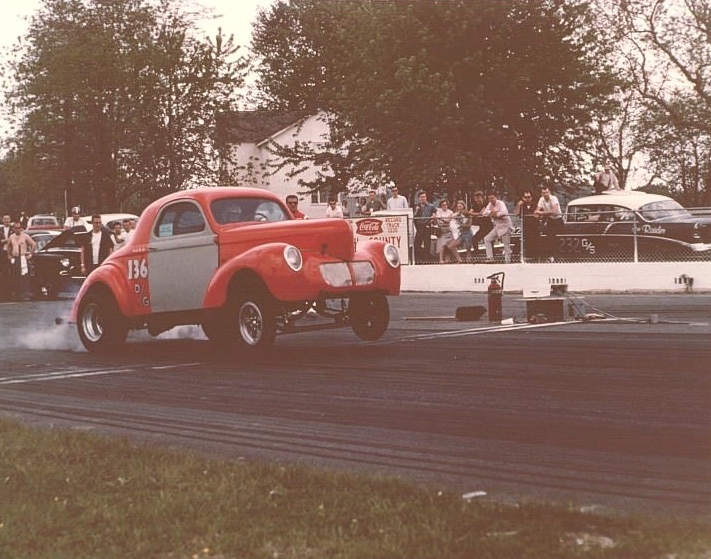 1964 NHRA Regional Record Meet at Cecil County Dragway in Rising Sun, Maryland. Dave Hales'' Willys leaves the line on a record attempt. NHRA Starter Buster Couch looks on in the background. Courtesy of Dave Hales