KANSAS
Topeka "Drag Strip" (1952)
Edna Municipal Airport (1953)
Great Bend Airport/SRCA Drag Strip

 (1953)
Ford County Airport (Dodge City) (1954)
Salina "Drag Strip" (1954)
Smolan "Drag Strip" (1954)
Walker Army Airfield (Victoria) (1955)
Garden City/Gallahads Drag Strip (1956)
Moundridge "Drag Strip" (1956)
Pratt Municipal Airport (1956)
Strother Field/Ark Valley/Mid-America Dragway (Arkansas City) (1956)
Schilling Air Force Base/Smoky Hill Air Force Base (Salina) (1957)
Axle Twisters Drag Strip (Canton) (1958)
Coffeyville "Drag Strip" (1958)
Lawrence Drag Strip (1958)
McConnell Air Force Base (Wichita) (1958)
Pep Airfield (Parsons) (1958)
Kansas State Fairgrounds (Hutchinson) (1959)
Jetmore Municipal Airport (1961)
Kaw Valley Dragway (1961)
Wirt Field (Newton) (1961)
M-N Raceway/Kansas International Dragway

 (Maize) (1963)
Manhattan Raceway Park/Midwest Raceway

(1967)
Pony Express Dragway (Troy) (1967)

Five-State Raceway (Liberal) (1970)

P & S Raceway Park (Emporia) (1971)

Olathe Naval Air Station (1972)
Sundown Dragway (Liberal) (1985)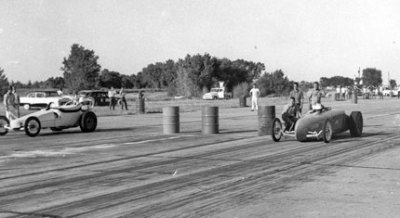 Bobby Joe Ruttledge (far) running against Red Greth (near) at Great Bend, Kansas, in 1957.  Photograph by Don Elliott.
Axle Twisters Drag Strip ​(Canton)

This was the first drag strip constructed specifically for drag racing, in what newspapers called a "purpose-built" strip. In early February 1958, news reports said that grading would start soon on the drag strip at the Canton Fairgrounds. It was to be 60 feet wide and three-quarters of a mile in length. A McPherson company was going to donate asphalt for the surface. Organizations that promised to help included the Kansas Hot Rod Association and car clubs from Salina, Wichita, Clay Center, Manhattan, McPherson, Newton, and Hutchison. As to whether the strip was ever finished for racing, a reader (Brad) wrote, "I talked to a old drag racer from Moundridge that ran [on the old strip] south east of Moundridge for a couple of years, until they got shut down by the sherif,f is what he tells me. He was a member of the Axle Twisters and they had got the ok to build north of town, east of Canton by the fairgrounds. He said they had started building, but then it all fell through and was never completed."
Did you race here? Tell us about it.
CLICK HERE to see location on a map
Coffeyville "Drag Strip"
Years of Operation: 1958-61

The Coffeyville Coffey Grinders Hot Rod Club conducted drag races, probably at the Coffeyville Municipal Airport which was four miles northeast of Coffeyville. A race was held on July 20, 1958. In 1960-61 races were held on the first and third Sunday under NHRA sanction. The drag strip at Edna was only fifteen miles distant. The airport was an army airfield during the war, but turned over to the town of Coffeyville after the war.
Did you race here? Tell us about it.
CLICK HERE to see location on a map
Edna Municipal Airport
Years of Operation: 1953-54, 1957-58
The Kansas City Timing Association began conducting drag races occasionally at this World War II-era auxiliary landing field located north of Edna.  A two-day event was held there on October 3-4, 1953. For photos, see Hot Rod Magazine, (May 1954): 38.  The strip hosted an NHRA regional championship on July 3-4, 1954. Melvin Heath took top eliminator honors with a speed of 125.88 MPH in his '52 Chrysler-powered alcohol dragster. The Ozark Timing Association of Springfield, Missouri, conducted drag races at the airport on the second and fourth Sundays of each month in 1957. They conducted the first race that year on April 14. Seven hundred spectators watched 87 racers. In 1958, they raced on the first and third Sundays. There were three 4,000-foot long by 100 foot wide runways with two connecting taxiways at the air field. The airport closed to air traffic between 1979 and 1982. The runways are still there, but are in bad shape.
Did you race here? Tell us about it.
CLICK HERE to see location on a map
Five-State Raceway (Liberal)
Years of Operation: 1970-78

Sunday drag racing opened in 1970 at this quarter-mile track owned by Lowell M. Bushart. Larry Bell was the first track manager.  It was located on a northwestern taxiway of the Liberal Municipal Airport. An NHRA divisional points meet was held on April 17-18, 1971, with a $22,000 cash purse. Some of the racers who had pre-entered included Norman Gingrass, Ray Motes, and Judy Lilly. The track hosted an NHRA divisional race again in May 1972. Over 300 entries competed at that 2-day event in which fourteen national records were set. Winners in the pro categories were Gary Cheatum (top fuel), John Dekker (funny car), and John Hagen (pro stock). In 1973, George Fabry and Bruce Tawson were the new track managers. Drag racing continued at the airport strip under NHRA sanction at least through 1978.  On September 2-3, 1978, an $8,000 purse was offered to racers at the Mid-America Bracket Nationals. In May 1979, several people complained about the drag strip operation at the airport, saying it was a dangerous operation. This caused the city commission to ask its attorneys to look into terminating the lease. The United Dragracers of Western Kansas expressed interest in taking over operation of the drag racing if the lease was terminated.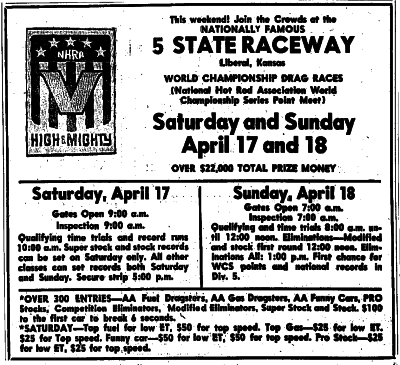 Did you race here? Tell us about it.
CLICK HERE to see location on a map
Ford County Airport (Dodge City)
Years of Operation: 1954-55

Drag races were just one of the events held at the annual National Midwest Motorcycle Rally. Most of the events, including the drag races (held on July 4), were held at the county airport located three miles east of Dodge City. Drag races were held thereafter sporadically including on June 27, 1955. Drag races were again held at the National Motorcycle Rally in 1955.
Did you race here? Tell us about it.
CLICK HERE to see location on a map
Garden City/Gallahads Drag Strip
Years of Operation: 1956-65

The Gallahads car club couldn't get permission to use the Garden City airport. With that location denied, they began holding drag races on a half-mile long abandoned emergency airstrip located six miles northeast of Garden City on U.S. 50. This was the old Garden City Army Air Field No. 3, which had never been used after the war as a civil air field.  It today serves as a feed lot. There are only a few remnants of the runway today.  The Garden City police department was supportive and assisted at the racing. The first race was held on June 17, 1956. Five hundred spectators watched eighty cars compete for trophies in nine classes. The electric timer couldn't record speeds fast enough to clock Don Pruitt's 1948 fuel-buring Mercury on his 12.5 second run. The Gallahads continually tried to make improvements, but their recently-built timing stand was burned by vandals in July. In 1956, at least five races were held from June through September. The Gallahads Drag Strip continued to draw good crowds in 1957, with an estimated 3,500 spectators attending the opening race on April 28 to watch a field of 95 entries. The Rose-Davis Special A/D, driven by Lloyd Davis from Wichita, garnered top eliminator, clocking a 12.40 ET and 116.88 MPH. The Kenz and Leslie 1932 Ford A/roadster powered by a 1954 Lincoln motor from Denver also turned in a good run of 12.16 seconds and 117.84 MPH. On June 26, 1957, the Gallahads obtained permission from Garden City city commission to use an east-west runway on its municipal airport, the old Garden City Army Air Field,  on a one-race trial basis. This is the airport which the Gallahads had wanted to use back in 1956. The city approved the use of its airport for further racing after this trial meet.  The airport was located southeast of Garden City on U.S. 50. It had three asphalt runways with the longest being two 3,000-foot long north-south strips. An AHRA regional race was held at the Gallahad strip on August 18, 1957. 1,000 spectators watched 84 cars from four states (Kansas, Colorado, Oklahoma, and Nebraska) at the event. Chuck Kirgan of Denver posted the top speed of 113.06 MPH in his 1934 Ford fuel coupe. A 1957 newspaper article (Garden City Telegram, Apr. 1, 1957) stated that the Gallahads had been sponsoring drag races for six years, but documentation has not been found to support this. In 1962, the strip was NHRA sanctioned and used a 5,600 foot long concrete runway at the Garden City airport. With the sale of the Ford County Airport in Dodge City, Kansas, the American Motorcycle Association cast about for a new site to hold their traditional annual National Motorcycle rally. They chose the Garden City airport. On Labor Day, September 2, 1963, over 200 racing motorcycles (including about 75 drag bikes) participated in drag races on the airports' Gallahad strip. They also used the airport for other events including a Grand Prix race. It began being called Garden City Dragway in 1964.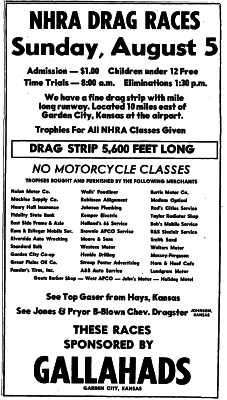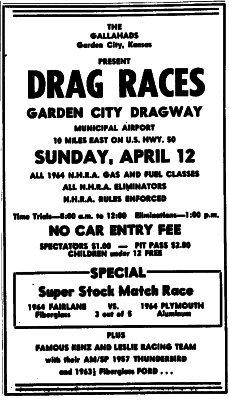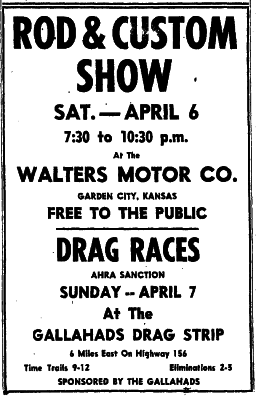 Did you race here? Tell us about it.
CLICK HERE to see 1st airstrip location on a map
CLICK HERE to see 2nd city airport location on a map
Great Bend Airport/SRCA Drag Strip
Years of Operation: 1953-present

The Gasket Blasters Car Club conducted their first drag race on a half-mile portion of the north end of the Great Bend Airport on May 17, 1953. Although the race was marred by rain, 500 people attended. No admission was charged and cars were timed by a new timing device. They allowed rolling starts and awarded seven trophies. They held their second race on June 7, expecting a turnout of 20 cars. In 1954, the Sunflower Rod and Custom Association was formed to conduct the races. They obtained a timer from the Topeka Timers car club that measured E.T.'s to 1/1000th of a second. They planned to hold races every three weeks on the concrete runway strip. The Sunflower club joined the NHRA in April 1955. NHRA held its first national championship drag race at Great Bend. It was a four-day meet on September 29-30 and October 1-2, 1955. Thousands of spectators attended the racing event. Lloyd Scott, from Long Beach, set a new American top speed drag racing record of 151 MPH in his two-engined "Bustle Bomb" dragster at the race. Other fast clockings over 140 MPH were turned in by Mickey Thompson and Art Chrisman. Unfortunately the final day of racing was rained out. NHRA promised they would hold the national championships at Great Bend in 1956 if they surfaced 3,000 feet and 75 foot wide with blacktop on the concrete strip. The runway they were using was 8,000 feet long and 100 feet wide. The Great Bend city council voted to spend $27,000 on the blacktop project, but in late March 1956, Wally Parks informed them that the NHRA had decided to hold the 1956 national championships in a different location. Fortunately they had not begun work on the blacktop project at Great Bend prior to getting this disappointing news. It was undoubtedly this disappointment that caused them to disaffiliate with NHRA and be sanctioned by the American Hot Rod Association in 1956. They held a 4-day AHRA national championship on August 31-September 3, 1956. Although competing directly with NHRA's naional championship event in Kansas City, they drew a few cars who had been to the Kansas City event and thought the race track there was too short and dangerous. The Bean Bandits entry from San Diego was one of the cars that opted to race at Great Bend after seeing what they deemed was unsafe at the Kansas City strip. But overall the Great Bend's AHRA national event only drew about 160 cars compared with the large field of over 300 vehicles at the Kansas City event. They also drew about 10,000 spectators over the course of the meet. The AHRA national championship were again held at the S.R.C.A. Drag Stip in 1957 (August 30-31 and September 1-2). Top Eliminator received a seven-foot tall trophy.  Lyle Fisher of Tucson, Arizona, set a new track record of 152.80 MPH. Misfortune befell the AHRA national championship meet in 1958 when Lanny Wilkins was killed on August 31 when he lost control of his modified roadster in the shutdown area and crashed. Rain washed out the final day of racing so final run-offs were held on September 2. Only about 200 entries participated in AHRA's third national event. Don Garlits took top eliminator in the delayed racing, timed at 157.81 MPH. He had been clocked at 161.28 MPH during qualifying. In late 1958, the Sunflower Rod and Custom Association arranged to have 2,000 feet of blacktop capping laid down on the drag strip. Half the cost ($8,000) was raised by local businesses and the other half was assumed by the SRCA, to be repaid over the course of eight years. In July 1959 the SRCA replaced their old 2-story makeshift wood-framed timing stand with an unused 3-story air conditioned aircraft control tower. Great Bend hosted the 4th annual AHRA national championships at a 4-day race over Labor Day in 1959. Art Malone, driving for Don Garlits, ran an 8.23 e.t. to set a new low time record for AHRA with a speed of 179.64 MPH. Malone was beaten by Chris Karamesines in the runoff for top eliminator. On September 2-5, 1960, the AHRA held their 5th annual national championships. Don Garlits set a new AHRA national record with a run of 182.54 MPH. Bob Sullivan copped top eliminator in his "Pandemonium" A/FD with a run of 164.23 MPH. In the April 1968 issue of Hot Rod, the SRCA Dragway was listed as being under NHRA sanction. Great Bend Drag Strip was designated a Kansas State Historical Site in 1994.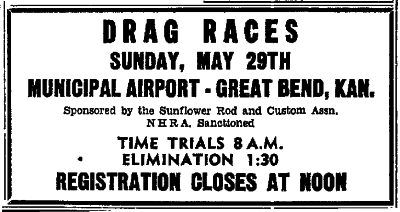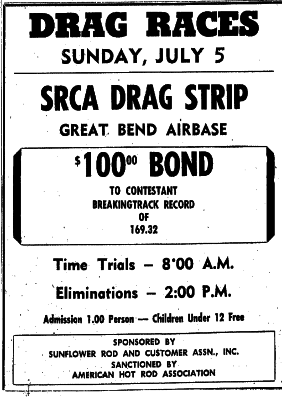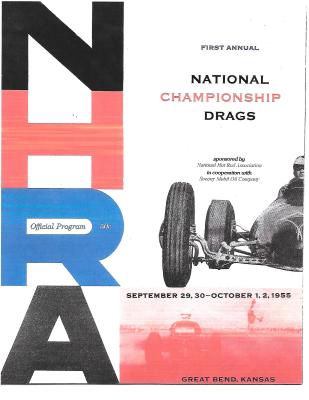 Official Program, 1st NHRA National Championship Drag Races, 1955. Courtesy of Dale Schafer
Did you race here? Tell us about it.
CLICK HERE to see location on a map
CLICK HERE to see 8mm video footage of Great Bend drag race in ca. 1963-64, movies taken by Rex W. Rosenberg, 4 minutes, no sound

Jetmore Municipal Airport
The Hodgeman County Jaycees sponsored drag races at the old airstrip located six miles south of Jetmore. It was part of the Memorial Day festivities on Tuesday, May 30, 1961.
Did you race here? Tell us about it.
CLICK HERE to see location on a map
Kansas State Fairgrounds (Hutchinson)
In 1959, big-time stock car racing capitalized on the popularity of drag racing. They began holding drag races in conjunction with some of the major stock car races around the country. Racing promoter Frank R. Winkley of Minneapolis came up with the idea. Using a portable flood-lighting system, drag races were run on the straight-away of the half-mile oval at the Kansas State Fair in conjunction with the Jayhawk 200. Time trials were to be held on Saturday night with eliminations on Sunday night. Trophies were awarded to the class winners.
Did you race here? Tell us about it.
CLICK HERE to see location on a map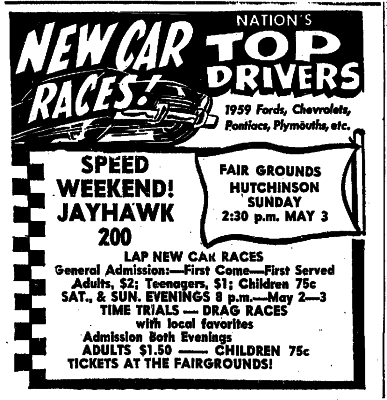 Kaw Valley Dragway (Topeka)
Years of Operation: 1960-68
This 1/8th-mile drag strip on Lower Silver Lake Road in North Topeka held some important short-distance track events in 1961. On July 23, 1961, the Kansas 1/8th-mile drag championships were held at what in 1962 was called the Kaw Valley Dragway. Operated by the Kaw Valley Timing Association, there had been drag races at this strip previous to this July 23 race. The drag strip record of 145.76 MPH had been set in 1960 in a fueler.  Freddy Inyard of Lawrence won top eliminator at the 1961 championship race, setting a new strip and national AHRA record in the process. He ran 122.40 MPH in the Inyard-Baxter-Jones A gas dragster. There were a total of fifteen AHRA class records broken. On May 24, 1962, Inyard took top eliminator honors. There was a dike at the end of the strip, which gave racers an incentive to stop before they went in the drink. The return road was dirt. Cars weighed in at the grain elevators across the road. Freddy Inyard dominated top eliminator again in 1963. On August 11, 1963, Kaw Valley hosted the AHRA Midwestern 1/8th-mile Championships. Freddy Inyard took top eliminator and top speed/time marks with a 130.4 MPH and 6.40 ET. Bob Sullivan's track record of 146.6 MPH in his A/FD stayed intact. On May 23, 1965, Ted Flory of Lawrence ran 142.8 MPH in 5.95 seconds in his D fuel dragster. Research didn't uncover when the strip closed, but the last information about it dated to 1965.  It was listed as one of 325 U.S. drag strips in 1968 published in an
issue of the Swedish magazine Start & Strip
.  More research is needed.
Did you race here? Tell us about it.
CLICK HERE to see location on a map
CLICK HERE to see 8mm video footage of Kaw Valley Dragway in 1960s, movies taken by Rex W. Rosenberg, 11 minutes, no sound

Lawrence Drag Strip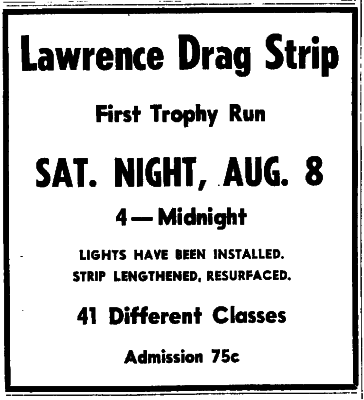 Years of Operation: 1958-86

Bill Prince was the auto mechanics teacher at Lawrence High School. He and his wife, Betty,  let the boys in the Crusaders Car Club hang out at their home. The idea came up to build a drag strip north of his home. The boys started helping clear the ground, but Bill finally brought in a bulldozer to finish the job. Prince served as the strip manager in its early years. On June 8, 1958, 200 people watched 100 cars at a trial run before the formal opening of the strip. The timing clocks were operational. The new drag strip was built by the Crusaders Club at a cost of $10,500. The club hoped to recoup the cost through entry fees of racers and spectators. It was located 2.5 miles west of Lawrence on Highway 40 and 3/4 miles south of the highway. It was 55 feet wide and 1/2 mile long with an asphalt surface. Initially, the track was for quarter-mile racing, but quickly shortened to 1000 feet, then 1/8th-mile racing for safety reasons. On June 22, 1958, 1000 people turned out for Trophy Day, despite threatening weather. They watched 64 entries compete for 36 trophies. On the August 24, 1958 Trophy Day, 750 people watched 88 cars race. Top eliminator was won by Art Sommers, Rolland Hueston, and Don Baxter, three Lawrence men whose roadster turned 108.70 MPH. In 1959, racing was conducted on Saturday nights on a lighted strip that had been lengthened and resurfaced. On August 27-28, 1960, the first annual AHRA 1/8th Mile Drag Championships were held. Bleachers were set up and the dirt oiled to cut down on dust. About 2,000 people watched 150 cars compete in the two-day affair. The Creitz Automotive A/FD from Tulsa was the top eliminator with a time of 6.89 seconds and 120.49 MPH. Jim Meyers of Wichita had the top fuel time in his A/FD of 128.47 MPH. Middle eliminator was taken by Bob Nickelson of Wichita in an aircraft-engined dragster. The strip was completely rebuilt for the 1968 season. Don Garlits raced here, but the rough and short shutdown prompted him to shut down early. Art Arfons "Green Monster" set the fence on fire behind the starting line when he turned on the afterburner. The drag strip closed in fall 1986 after the land was bought by Alvamar.  Today's Wakarusa Drive, which used to be Dragstrip Road,  was given the new name by the city council in the early 1980s.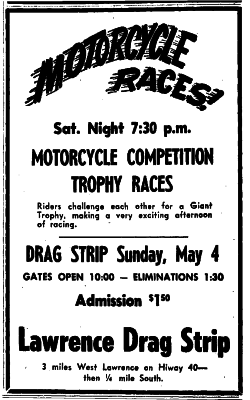 Did you race here? Tell us about it.
CLICK HERE to see location on a map
CLICK HERE to see video historical documentary of Lawrence Dragway, featuring Marty Hastert, 10 minutes

M-N Raceway/Kansas International Dragway (Maize)
Years of Operation: 1963-present
This strip was located 8.5 miles north of Wichita Municipal Airport on Ridge Road. For a brief time, it was called Mid-National Drag Strip. Directions situated it then near Valley Center. It opened with that name on April 21, 1963. Twenty thousand spectators watched that opening race. There was also a race on Sunday, July 21, 1963. A match race between Fritz Crissman and Don Biggers was featured. They also had handicap class racing. Admission was $1.50. On August 18, 1963, Art Arfons' "Green Monster" jet dragster was featured. On October 4, 1964, the raceway hosted the final race of the NHRA Midwest Central Division champonships. The track, then called Wichita Raceway Park, hosted an AHRA Grand American points race on June 1, 1968. The quarter-mile track is today (2015) under NHRA sanction called Kansas International Dragway. It had also previously been known as Wichita International Raceway, probably from about 1970 thru about 2008. Bob Morrison was an owner manager prior to 1970 when it was called Wichita Raceway Park for a few years. It continues to operate as an NHRA quarter-mile track.
Did you race here? Tell us about it.
CLICK HERE to see location on a map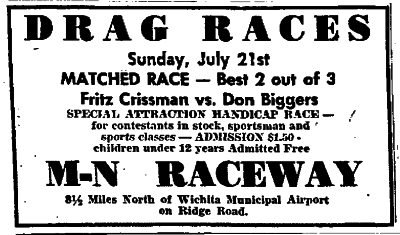 CLICK HERE to see video footage of Wichita International Raceway, 2007, 1:45 minutes

McConnell Air Force Base (Wichita)
The first race was scheduled to be held at a runway on the base, but it was rained out. They had borrowed timing equipment from Great Bend. The Southern Kansas Timing Association in Wichita  set another date for a race on August 24, 1958. They expected 100 racers.  Gate receipts were to benefit the enlisted men's welfare fund.
Did you race here? Tell us about it.
CLICK HERE to see location on a map
Manhattan Raceway Park/Midwest Raceway
Years of Operation: 1967-present
Located just west of Manhattan and one-half mile south of the city airport, this track opened in 1967. In August 1968, the track changed from running on Sunday afternoons to Saturday nights. On May 4-5, 1968, the track staged its first Midwest Classic, which attracted many top-name racers as it was an AHRA Grand American points race in Division 3. This race became an annual affair in early May, but changed its title from the Midwest Classic to the Kansas State Drag Race Championships in 1970.  On May 1-2, 1971, the Kansas State Drag Championships were again held. It was also an AHRA Grand American regional points race. The spectator count for the two day event was 12,710. Some of the  racers who competed included John Wiebe, Dick Harrell, and Bob Sullivan. The AHRA event was held again in 1972 and 1973. On Wednesday, May 17, 1972, the track featured a match race between Don Prudhomme and Tom McEwen. In early August 1978, the raceway was the site of what was called the Sunflower Nationals. The state championships were in its twelfth year of being staged in 1978. The race track began running 1/8th-mile and changed its name to Midwest Raceway at least by 1992, if not earlier. It may have also been called Little Apple Raceway at some time during its history.
CLICK HERE to see 8mm video footage of Manhattan Raceway Park, ca. 1967, beginning of clip through about the 10 minute mark, no sound

Did you race here? Tell us about it.
CLICK HERE to see location on a map
Moundridge "Drag Strip"
The Axle Twisters Hot Rod Club sponsored bi-weekly drag races on the old U.S. 81 highway strip southeast of Moundridge. There were 65 entries and a large crowd at the race held on March 18, 1956. The next race had been scheduled for April 1, but the McPherson County commissioners ordered the races closed. The Kansas Highway Patrol had been concerned that motorists traveling on the new highway, which paralleled the old highway and was only a few feet apart from it, might be distracted by the racing. With this ruling, the Axle Twisters were left without a place to race. They set out to try to find another location and asked the county commissioners for cooperation in the matter. See Axle Twisters Drag Strip (above).
Did you race here? Tell us about it.
CLICK HERE to see location on a map
Olathe Naval Air Station
Eight hundred drag racers competed at the Kansas City Philharmonic's "Speed for Sound" drag race on a runway at Olathe NAS held on August 25-27, 1972. This was the third straight year for the event that benefited the Philharmonic Orchestra. However in 1970-71, the racing event was an SCCA road racing event held at Olathe.  They didn't really make much money because the set-up costs were so great for the road race. So they opted to stage a drag race. They got AHRA to put on a Grand American race. Racers who competed included Don Garlits, John Wiebe, Jim Nicoll, Chris Karamesines, Jeb All, Leroy Goldstein, Gene Snow, Don Prudhomme, Tom McEwen, Bob Lambeck, Don Nigholson, Bill Jenkins, etc. Garlits really liked the set-up:  "The track was just fantastic, about 300 feet wide and two miles long, with fantastic amounts of paved pits."  Thirty-two AHRA records were broken. Garlits set a new mark in top fuel with a speed of 237.46 MPH. McEwen set a new mark in funny car with a 6.52 ET. The pro winners were Don Garlits (top fuel), Tom McEwen (funny car), and Jim Hayter (pro stock). One of the drawbacks of the event was the mountain of trash left behind after the race by more than 30,000 spectators. This did nothing to encourage the military to desire them to return--and they didn't.
Did you race here? Tell us about it.
CLICK HERE to see location on a map
P & S Raceway Park (Emporia)
Years of Operation: 1971-72
This drag strip was located four miles south of Emporia on Highway 99 and one-half mile east of Emporia Airport. The track opened for racing on July 4-5, 1971 under AHRA sanction. Almost 1,500 people turned out to watch the opening racing. Teryl Price and Lyman Selby built and owned the half-mile long asphalt track. The track had a two-story timing tower, concession stands, and restrooms. It may have only operated for two years. In spring 1972, they ran Thursday night grudge racing.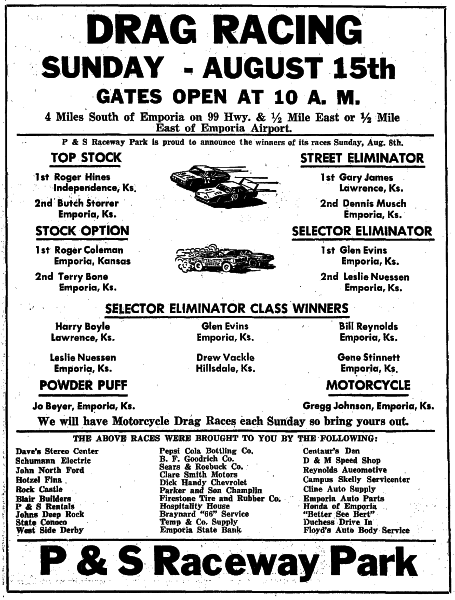 Did you race here? Tell us about it.
CLICK HERE to see location on a map
Pep Airfield (Parsons)
Years of Operation: 1958-60
This privately-owned airfield, located west of Parsons, was owned by a Parsons, Kansas, city official. He donated use of it to the Queen City Pacers car club of Parsons shortly after their club was organized about six months before. When the Pacers joined the Missouri-Oklahoma-Kansas Timing Associaton (MOKTA), they donated the use of the strip to the six MOKTA clubs. An NHRA-sanctioned race was scheduled to be held on July 27, 1958. It is now called Tri-City Airport. The Coffeyville-Parsons Timing Association conducted races on the second and fourth Sundays in 1960.
Did you race here? Tell us about it.
CLICK HERE to see location on a map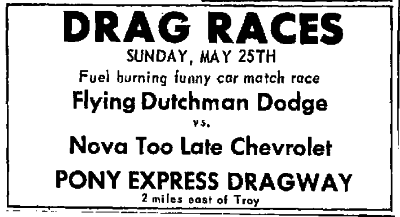 Pratt Municipal Airport

Over 1,500 people watched 82 cars at the first drag race at the airport, held on May 13, 1956. The airport was located four miles north of Pratt. Races were conducted by the Ninnescah Valley Timing Association. Races were also held on June 3 and June 24, the latter race attracting 800 spectators and 74 cars.
Did you race here? Tell us about it.
CLICK HERE to see location on a map
Salina "Drag Strip"

On July 25, 1954, a drag race attracted about 80 racers from throughout Kansas at a racing strip in Salina.  Another race was held on October 10, 1954. It is known that a drag strip did operate at the old municipal airport on East Crawford Street (see below), so that may have been the location of this 1954 drag race.
CLICK HERE to see location on a map
Did you race here? Tell us about it.
Salina Dragway
Years of Operation: 1969-76

Drag races were held on the old concrete Salina Municipal Airport with its single 150-foot wide, 4,800-foot north-south runway. It parallels today's Markley Road on the eastern outskirts of Salina. On Sunday, August 17, 1969, the Salina Journal reported that the dragway was going to hold its "largest drag meet ever."  Don Katz, the track's announcer expected there would be at least 25 cars in the hot rod or street rod classes alone. A $350 cash purse was drawing interest from Kansas and nearby states. Tom Markley, the president of Salina Raceway Corp. said, "It's the first really large meet we've held here." The event was sponsored by the Breakfast Optimist's Club and the Pagoda Car Club. At least two AHRA national record holders were expected to attend. Two weeks later another regular Sunday race was held. On Sunday, September 21, 1969, Al Vander Woude's "Flying Dutchman" Dodge Charger funny car was pitted in a match race against Don Biggers's "Mr. Plymouth" out of Kansas City. A young gal (bunny) from the Kansas City Playboy Club served as the starter for the funny car match. Drag races continued at the old airport at least through the 1971 season.
CLICK HERE to see location on a map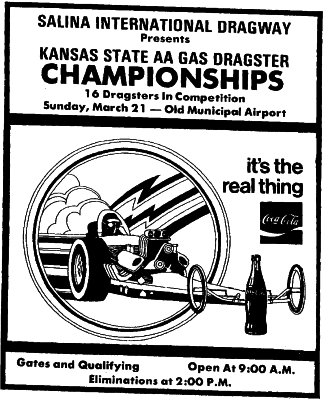 Did you race here? Tell us about it.
Schilling Air Force Base/Smoky Hill Air Force Base (Salina)
Years of Operation: 1957-60

The Road Angels car club, a base hot rod club, sponsored races on a runway at the air force base, which was three miles southwest of Salina. The first race was held on February 17, 1957, attracting 6,000 people. Most of the 225 entries were from Wichita at this first race. Jim Hopper took top eliminator in his dragster with a speed of 128.76 MPH. Rain forced cancellation of the race on March 31. Rain again forced postponement of the race scheduled for June 23, which was most unfortunate as trophies were to have been presented to winners by the Saline County Dairy Princess. They did not charge admission, but donations were accepted to defray expenses. The next race was scheduled for July 28, but the big race of the season was the Kansas State Championship held on September 22, 1957. It was sponsored by the Road Angels and the Kansas Hot Rod Association. 5500 people watched 321 entries from Kansas, Oklahoma, Texas, Nebraska, Colorado, Missouri, and Iowa. Held on runway number 24, Bob Sullivan of Kansas City took top eliminator with a 10.42 ET and 142.79 MPH run. Lloyd Davis of Wichita set the track record on May 25, 1958 with a 169.10 MPH clocking. The Kansas State Championship Drag Races scheduled for September 28, 1958, had to be cancelled because many visiting airplanes filled the runway due to Hurricane Helene. The race was re-scheduled for October 12. Lou Cangelose won top eliminator at that meet clocking 145.16 MPH, but the Martin & Sullivan fuel dragster from Kansas City had the top time with 160.71 MPH. On June 14, 1959, Bob Rodgers set a track record for A gas dragsters with 147.54 MPH run. Although it received little attention in newspapers, the unofficial world drag speed record was set at Schilling in 1959 by Glen Leasher of 185.56 MPH. In 1960 races were conducted by the Schilling Timing Association. On April 10, 1960, 4000 people watched 250 race entries compete. Despite 35 MPH winds, Lou Cangelose clocked a 180 MPH run.
Did you race here? Tell us about it.
CLICK HERE to see location on a map
Smolan "Drag Strip"
Years of Operation: 1954-56

The Sal-Ka Plugs Timing Association held drag races on a black-topped private road in the Camp Phillips area a mile west of Smolan.  The road was donated to them for drag races by the Morrison Grain Company. The first race was held on May 23, 1954. The club intended to hold races there every Sunday after building a timing tower. The Sal-Ka Plugs asked the Salina City Commission for funds to resurface their drag strip road in March 1956. The commission said that the road was too far outside the city to grant funds.  The commission also told them that they couldn't think of any place inside the city limits that the club could use for racing. Without an option, the Sal-Ka Plugs continued holding drag races on the old road.
Did you race here? Tell us about it.
CLICK HERE to see location on a map
Strother Field/Ark Valley Dragway/Cherokee Strip Dragway/Mid-America Dragway (Arkansas City)
Years of Operation: 1956-58, 1961-2011
The Arkansas City Chamber of Commerce sponsored its first drag race at the airfield, located 6.5 miles west of Arkansas City, on July 4, 1956. They obtained permission from the Civil Aeronautics Administration and the local hot rod association paid for the event's insurance. They rented timing equipment from a Tulsa firm. Trophies were awarded to winners in twenty-seven classes. They charged 50 cents for admission. The races and a fireworks show were also held there on July 4, 1957. Drag races were again held on July 4 in 1958. At that time, it was jointly owned by the towns of Winnfield and Arkansas City. It was in the process of being built by both cities in 1942, when it was rushed to completion to provide a field for training cadet pilots during the war. It reverted to civil use in late 1945. Mid-America Dragway's old website claimed that drag racing started at this site in 1961, but that was incorrect. Drag racing at the old Strother Field #2 Airfield began in 1956, as above described. That field was also called Strother Field #5 or South Field. Drag racing under the name Ark Valley Dragway may have started by 1961, although research in newspapers hasn't uncovered that name being used until 1965. The Ark City Jaycees were sponsors of the racing.  There was reportedly a large crowd watching drag races on Sunday, June 21, 1964, at South Landing Field. On October 10, 1965, the strip featured a match race between Dick Harrell and Billy Parker from Amarillo. Dick Harrell faced Chuck Grimsley's Dodge in a match race on April 17, 1966. The strip, under AHRA sanction, was called Cherokee Strip Dragway from 1968-70, when it was managed by Jim Miller, Bill Welton, and Bob Gilmore. In the January 1969 issue of Hot Rod, it was listed as being under NHRA sanction. In 1973 it was called Cowley County Drag Strip. The airfield closed to airplane traffic in circa 1974-75. That may have been about the time the strip's name became Mid-America Dragway. By the early 1990s (or before), the strip was sanctioned by NHRA. On August 20, 1994, Tony Wilson, age 24, from Bentley, was killed on his motorcycle on the drag strip. Apparently Mid-America permitted free use of the strip by anyone after the conclusion of a race, but they were not supposed to race. Wilson was competing in an unauthorized race with a young man from Wichita at the time of his fatal accident. He was traveling at over 100 MPH, and collided with a 10-year-old Oklahoma boy who was not seriously hurt. The drag strip permanently closed after the 2011 season as a farmer who owned the land and the track owner could not come to terms.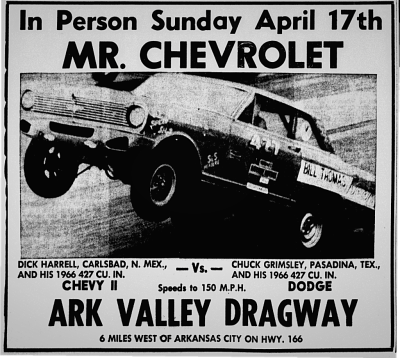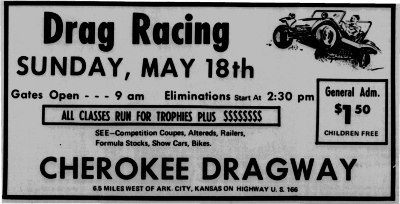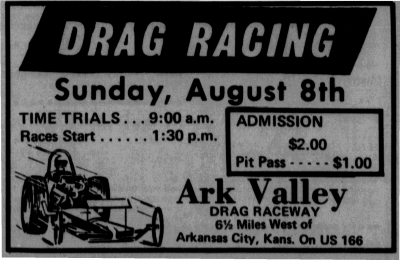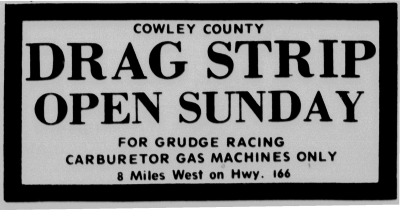 Did you race here? Tell us about it.
CLICK HERE to see location on a map
CLICK HERE to see video footage of Mid-America Dragway, 2007, 1:23 minutes
Sundown Dragway (Liberal)
Years of Operation: 1985-94?
Dan Plett filed incorporation papers for Sundown Dragway on February 7, 1985. Drag races were held on a runway of the Liberal Army Airfield, on the western outskirts of Liberal. The track focused on bracket racing and was sanctioned by NHRA at least in 1992. The last documentation that research found for this strip was in 1994, but it is not known if that was the final year of its operation. This operated on the same location of the closed 5-State Raceway (above).
Did you race here? Tell us about it.
CLICK HERE to see location on a map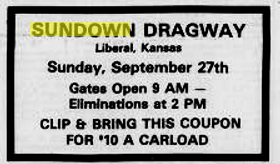 Topeka "Drag Strip"
In the summer of 1952, Topeka Drag-Ons car club began conducting drag races on a 9/10-mile stretch of abandoned highway. Car clubs from Kansas City and Leavenworth participated in the racing. They charged $1 for each competing entry.  At one of the meets, $64 was donated to the national polio foundation after expenses had been met. For early photos, see Hot Rod Magazine, (Feb. 1953): 42-45, 49.
Did you race here? Tell us about it.
CLICK HERE to see location on a map
Walker Army Airfield (Victoria)
Years of Operation: 1955, 1963-64
The Kansas state championship drag races were held on a runway at Walker Air Force Base, near Victoria, Kansas, on October 16, 1955. The NHRA sanctioned the quarter-mile race. Admission was fifty cents. In 1963, the Walker Timing Association was working to ready a runway at the old Walker Air Base in time for their first race on May 5. They were using AHRA rules to conduct the race. The racing strip would be 8,000 feet long and 144 feet wide. Ads in 1963 called it the Walker Timing 
Association Drag Strip. On August 4, 1963, Walt Arfons ran his "Green Monster" jet dragster in three exhibition runs. They raced on the first Sunday of every month. The held twelve races in 1964, and changed from AHRA to NHRA sanction.
Did you race here? Tell us about it.
CLICK HERE to see location on a map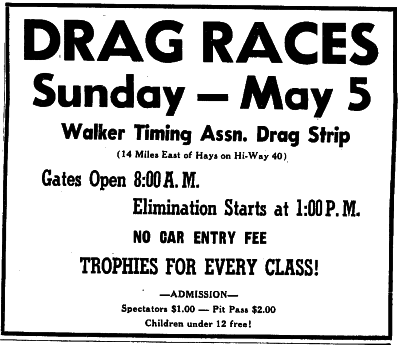 Wirt Field (Newton)
Years of Operation: 1961-63
Three thousand people watched the first drag races at Wirt Field, the municipal airport of Newton, three miles east of Newton on First Street, on August 27, 1961. The races were conducted by the Railrodders Hot Rod Club. There were almost 200 cars entered and the top speed was 152.80 MPH. Electronic timing equipment was installed for the race on April 29, 1962. Over 4,000 spectators watched over 200 cars compete at that race. Seventy cars that wanted to enter had to be turned away. Races were held on the fourth Sunday of each month in 1962. In June 1962, a group of ministers filed a complaint about the Sunday drag races to the Newton city commission. On October 28, 1962, the Newton Jaycees co-sponsored the race with the Railrodders. The races were sanctioned by AHRA and money prizes were awarded to each of the eliminators. In 1963, some of the airplane owners complained about the drag racing on the airport runway, saying it was a hazard. However, the strip opened the 1963 season with a race on April 28.
Did you race here? Tell us about it.
CLICK HERE to see location on a map