INDIANA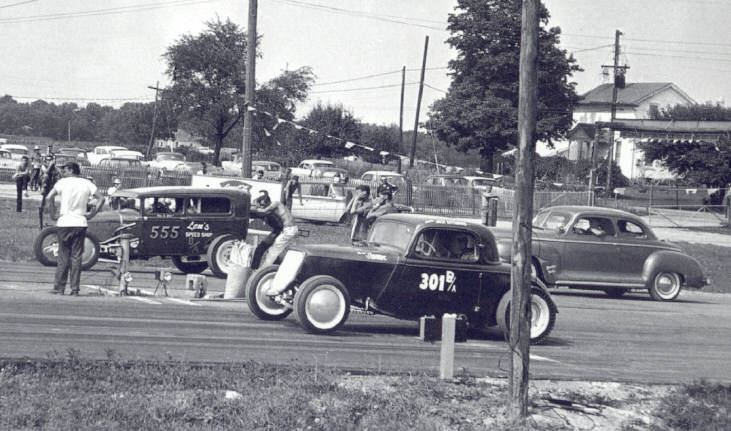 U.S. 30 Dragway in Gary, Indiana, ca. 1962-63. Photo by Norb Locke
Stout Army Air Field (Indianapolis) (1955)
Bunker Hill Drag Strip

(1956)
Kokomo "Drag Strip" (1956)
Osceola Dragway

 (1957)
Terre Haute Drag Strip (1957)
U. S. 30 Dragway (1957)
Indianapolis Raceway Park

(1960)
Brown County Dragway

(Nashville) (1963)
Harrison County Dragway (Elizabeth) (1966)
Greater Evansville Raceway/Chandler Raceway Park

(1960s)
Action Dragway/Crossroads Dragway

 (Terre Haute) (1972)
​Lyons Raceway Park (1996)
Action Dragway/Crossroads Dragway (Terre Haute)
Years of Operation: 1972-present

Mike Hane filed incorporation papers for this 1/8th-mile drag strip on November 9, 1971. The track was built at a cost of $200,000 north of the Action Track, a half-mile dirt oval, in the Vigo County Fairgrounds (today's Wabash Valley Fairgrounds). It was designed by Bob Daniels, then director of NHRA's Division 3. It was sanctioned by NHRA from the time of its opening.  It initially had bleacher seats to accommodate 3,000 people and a 3-story timing tower. The grand opening race was held on Saturday night, July 8, 1972. One of the featured cars at the opener was Norm Paddack's '72 Vega BB/FC from Indianapolis. Newspaper ads in that opening season stated "Hey gals!!! Have your guy take you where the action is!" At a 2-day event in August 1973, Bob Glidden took pro stock with a 5.76 at 122.28 MPH clocking. It operates as an NHRA-sanctioned track today as Crossroads Dragway, as the track was renamed in 2010.

Did you race here? Tell us about it.
CLICK HERE to see location on a map
CLICK HERE to see video footage of Crossroads Dragway, 2010, 1:10 minutes

Avilla Dragway
Years of Operation: 1965-95

This was a 1/8th-mile strip built by Howard Bice next to his oval speedway track. It was on State Road 8, east of Avilla.  In 1977, Bice inaugurated a street nationals event, purportedly the first in the country. The final drag race was held September 15, 1995, eight days before the speedway closed. The drag strip was bulldozed to make way for a McDonald's and a gas station.
Did you race here? Tell us about it.
CLICK HERE to see location on a map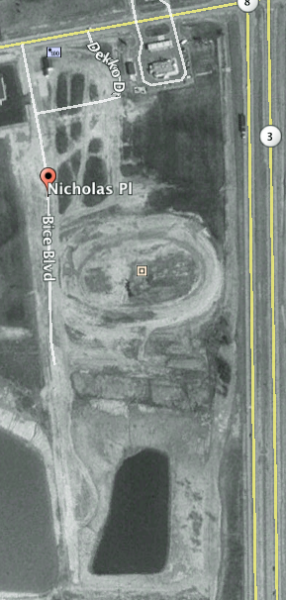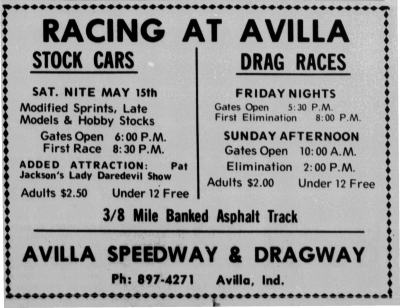 CLICK HERE to see video footage of Avilla Dragway, 1990, filmed by Roger Cole, 5:19 minutes

1998 aerial view of demolished Avilla Speedway and Dragway. From this view, we are unable to determine if the drag strip was on the east or west side of the oval.

Brown County Dragway ​(Nashville)
Years of Operation: 1963-present

According to the track website, this outlaw 1/8th-mile drag strip dates back to a 1963 opening.  Located five miles north of Nashville and one mile east of Bean Blossom, it is on the north side of Gatesville Road in a wooded rural area. Sandy Fields is the current owner and operator, but the strip has been in her family for many years.
Did you race here? Tell us about it.
CLICK HERE to see location on a map
CLICK HERE to see video footage of flag starter drags at Brown County Dragway, 2011, 1:34 minutes

Bunker Hill Drag Strip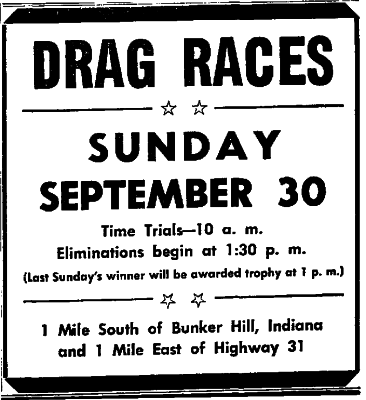 Years of Operation: 1956-present
Built on Lee Beauchamp's farm by Jim Hollinger, this drag strip was one mile south of Bunker Hill, and 1.5 miles east on U.S. Highway 31. Beginning with its first race on September 2-3, 1956, races were conducted by the Central Indiana Timing Association. Races were held weekly on Sundays during the season. On the September 30, 1956 race, Phil Hobbs set a new track record with a run of 107.91 MPH. A month later, Bob Peele, a racer from Kokomo, bested that mark with a run of 112.50 MPH in his dragster.
One old timer
remembered the short shutdown area: "Really short shutoff. They had a guy at the end with a flag  It turns out that a railroad track crossed the shutoff and his job was to hopefully flag down the train if it came with a car in the shutdown area."  On Saturday, July 17, 1965, Ray Thomas drove Walt Arfons's "Green Monster" jet dragster to a track record-setting 213 MPH. Two drag racers were killed in fatal accidents within four months of each other in the 1965 season, one due to a heart attack. Different car clubs conducted the races in 1965, such as the Kokomo Shifters Auto Club or the Idler's of Flora. It was listed in the June 1968 issue of
Hot Rod
as operating under NHRA sanction. Jim Hullinger was the track manager that year. At least by 1972, racing was conducted on just 1,000 feet.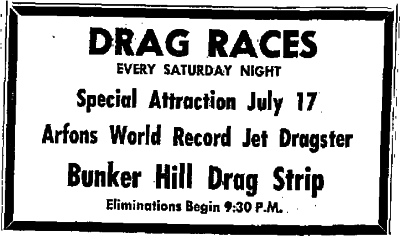 CLICK HERE to see video footage of Super Stock racing in 2014 at Bunker Hill, 4 minutes
Greater Evansville Raceway/Chandler Raceway Park
Years of Operation: 1960s-2014, 2016-present
This 1/8th-mile track opened for racing probaby in 1965 or earlier, called Greater Evansville Raceway. It was located in Chandler, about nineteen miles northeast of Evansville. On July 9-10, 1966, it hosted the AHRA 1/8th-mile world championships. It is adjacent to a 3/8th-mile oval dirt track. Super Stock racing was popular in the 1970s. John Ramsey, known as the Super Stock king of Evansville, was a frequent winner. On April 11, 1971, Ramsey clocked a run only .07 seconds above the national record. On March 19, 1972, 2,500 spectators saw Ken Holthe of St. Louis beat nine other Pro Stock cars in his '71 Camaro.  Harold Baker bought the drag strip and oval track in 1976. He decided to close the drag strip operation in 2015, although the oval track still ran, sub-leased to Kevin Bayer. This was perplexing to many racers. In the 1970s and 1980s, Don Meece ran the drag strip for Baker. Baker also leased the track to Bobby Harper for a few years. Jeff Meece, Don's son, ran the strip from 2000 to 2005.  
Don Meece
witnessed a fight between two famous drag racers during his tenure:  "I saw Shirley Muldowney punch Connie Kalitta in the pits. They went after each other. I had to break it up. It was interesting, to say the least." The strip reopened in June 2016 as Greater Evansville Dragway.
Did you race here? Tell us about it.
CLICK HERE to see location on a map
CLICK HERE to see video footage of drag racing at Chandler Motorsports Park, 2009, 9:29 minutes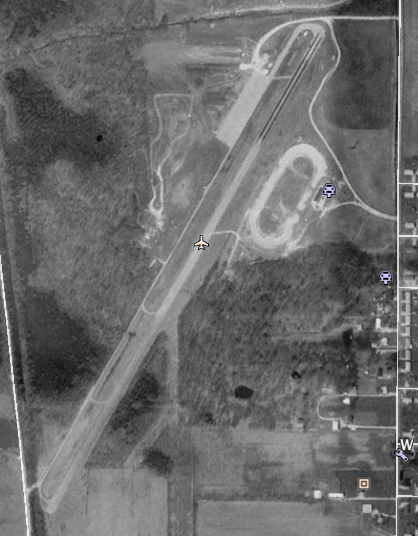 Did you race here? Tell us about it.
CLICK HERE to see location on a map
1992 aerial view of Chandler Raceway Park
Harrison County Dragway (Elizabeth)
Years of Operation: 1966-early 1980s?
Located about three miles east of Dogwood, this was a 1/8th-mile track.
A racer who lived in Elizabeth
recounted the track's roots:  "Jimmy Troutman owned and built the track. I lived at Elizabeth until 1969 and knew Jimmy and helped talk him into building the raceway. He first only had enough money to asphalt two 100-foot lanes, where we did burnouts. He later got the 1/8-mile paved and shutdown was gravel."
Roger Brown
also may have had a hand in getting the track started. According to an
old timer
who raced there in the early 1970s, it had "a barn at the top end, you had to go around the barn to get to the return road."  Incorporation papers were filed on May 15, 1970, but the track had been in operation for several years prior to that. More research is needed to determine exactly when the track closed.

Did you race here? Tell us about it.
CLICK HERE to see location on a map
1998 aerial view of Harrison County Dragway
Indianapolis Raceway Park
Years of Operation: 1960-present
This venerable drag strip has been the home of NHRA's U. S. Nationals since 1961. Located 10.5 miles west of downtown Indianapolis in the town of Clermont, it occupies a 250-acre multi-purpose racing complex. It is located about four miles west of the Indianapolis 500 Speedway.  Initial difficulties with zoning were settled after neighbors were assured that there would be no night racing. The 4,400-foot long drag strip was the first to be completed in the million-dollar complex. On September 8, 1960, Red Dyer, driving Ray Godman's "Tennessee Bo-Weevil" A/MR, tested the track. After speeding over 150 MPH, Dyer said, "There'll be no end to the records set here!"  He was right. A testing "break-in" race was held on September 11, and the grand opening was scheduled for October 1-2, 1960, but research hasn't uncovered documentation about that. In spring 1961, races started being held every Sunday. Mickey Thompson had set the track record prior to June 1961 with a 166.55 MPH clocking. A bonus of $100 had been offered to any gas dragster that could break that record. The races were being conducted each week by the Indianapolis Timing Association. Before the U.S. Nationals, Wally Parks said, "This is the finest drag strip I've seen anywhere in the world." The NHRA U.S. Nationals found a home at Indy in 1961, and have remained there ever since. Conducted on September 1-4, the nitro ban NHRA had instituted was still in effect. "Sneaky Pete" Robinson garnered top gas eliminator with an 8.86, 170.77 MPH effort. He also took top eliminator, besting Dode Martin driving Dean Moon's Mooneyes A/D. But most of the national press focused on 150 thirsty unruly race fans who had to be quelled as they marched on a closed tavern (state liquor laws closed bars and liquor stores on Sunday) shouting, "We want booze. We want beer." Seventy-five policemen and reserves finally broke up the demonstration, arresting sixteen. In 1965, the Nationals was prepared for trouble with added security, but the event ran smoothly for the record 1,222 competitors. There had been a massive traffic jam at the event in 1963 when gasoline was spread across U.S. 136 and set afire. Some fans had thrown empty beer bottles at people in the stands in 1964, leading to a ban on any kind of bottles at the event. And rumors that the Hell Angels might show at the event didn't materialize. At the 1968 Nationals, four people were injured when part of a temporary bleachers seating about 300 people erected near the starting line collapsed.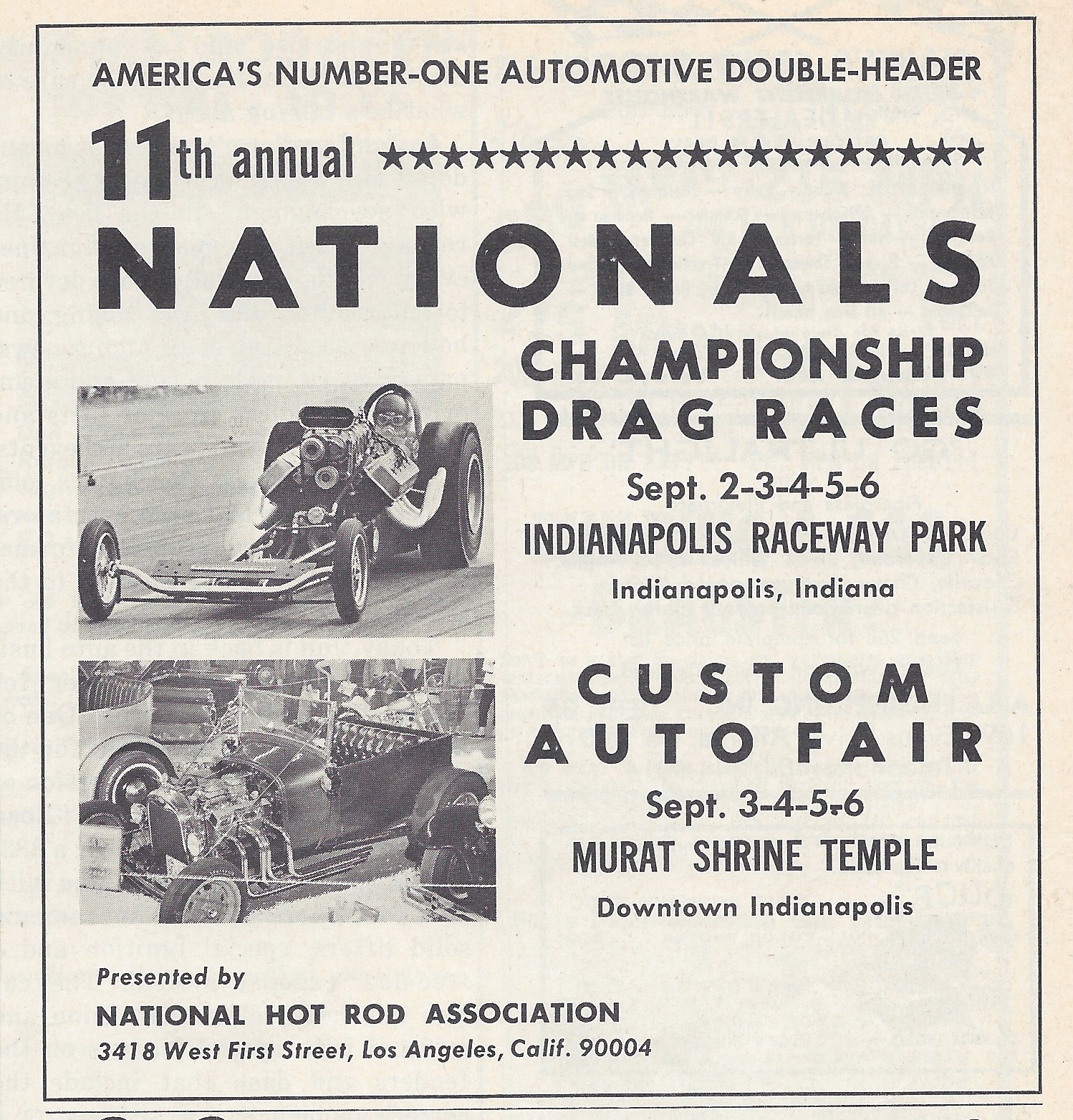 Ad in Drag Racing Magazine, Sep. 1965. Courtesy of Mel Bashore
CLICK HERE to see 8mm video footage taken  at the U. S. Nationals in 1970, 8:21 minutes
Did you race here? Tell us about it.
CLICK HERE to see location on a map
CLICK HERE to listen to old commercial radio spot for Indianapolis Raceway Park, 26 seconds
CLICK HERE to see 8mm video footage taken  at the U. S. Nationals in 1969, 8:41 minutes
CLICK HERE to see 8mm video footage taken by John Camfferman at the U. S. Nationals in the late 1960s, 6 minutes, music
CLICK HERE to see 8mm video footage taken  at the U. S. Nationals in 1967-68, 1:38:34 minutes
Kokomo "Drag Strip"
Years of Operation: 1956
Status:  Exact location unknown

In the summer, the police blocked off old State Road 22 out of Kokomo (probably to the west where it was more rural) to hold drag races. They did this to try to reduce illegal street racing. More research is needed.
Did you race here? Tell us about it.
CLICK HERE to see location on a map
Lyons Raceway Park
Years of Operation: 1996-2016

Located about 80 miles southwest of Indianapolis, this 1/8th-mile NHRA-sanctioned strip was built by Lloyd and Tim Thompson and their families. The track passed through various owners. In recent years, it was owned by Ohio Oil, Inc. and managed by the company CEO, Brent Jones. He abruptly announced that the property was being sold and racing would cease operation on July 1, 2016. Although no official announcement was forthcoming about the fate of the property, it was speculated that the property might be returned to farm land.
Did you race here? Tell us about it.
CLICK HERE to see location on a map
CLICK HERE to see video footage of Lyons Raceway Park, 2013, 2:05 minutes
Muncie Dragway
Years of Operation: 1960-present
Research for this encyclopedia in old newspapers hasn't found documentation prior to 1961, but a
drag racing database
states that the track opened in 1959. It isn't mentioned in the listings of drag strips in the 1959 listings in
Car Craft
, however in the 1961 issues of
Car Craft
it is mentioned as running every Sunday. The August 1960 issue of
Hot Rod 
states it was due to open on July 3, 1960.  It is located six miles northeast of Muncie on Highway 67. Prior to June 1961, Larry Miller held the strip record at 164 MPH. On October 8, 1961, featured racers included Mickey Thompson and Chris Karamesines. Match racers were brought in regularly in the 1960s to draw crowds. In summer 1963, it was running every Saturday night. Beginning at least as early as 1973, it began being called Muncie Mid-America Dragway. On Juy 21-22, 1973, the track hosted the IHRA World Record Championship Drag Races with a $20,000 purse. In 1980 it was being called Muncie International Raceway. Today it is an NHRA-sanctioned track with the quicker cars being timed for 1/8th-mile and sportsman cars running the full quarter-mile.
Did you race here? Tell us about it.
CLICK HERE to see location on a map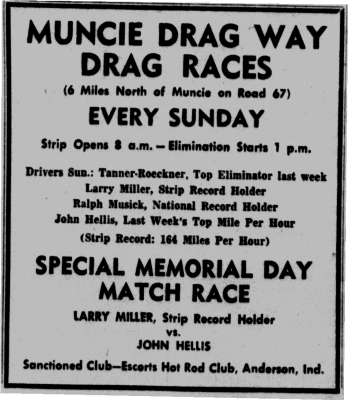 CLICK HERE to listen to commercial radio spot for Muncie Dragway, 36 seconds
CLICK HERE to see video footage of the 1973 IHRA Northern Nationals at Muncie Dragway, 9:56 minutes
CLICK HERE to see brief 8mm video footage of  Muncie Drag Strip, produced by James Amos, pan to 6:39 minute mark thru 6:47 minute mark
Osceola Dragway
Years of Operation: 1957-present

Located at 56328 Ash Road in Osceola, it was founded by Arthur Chizum. When he died in 2000 at age 81, he had been the owner-operator of the drag strip for 43 years. At the time of his death, it was the oldest one-operator drag strip in the country. His widow, Ruth, continued to operate the race track after his death. During the track's history there have been two fatal accidents, one in 1969 and the second in 2008.  At the beginning, the direction of the  track ran towards State Route 219, ending just short of the road. There was a dirt berm at the end of the shutdown area to block cars from going onto the highway. Unfortunately several cars jumped the dirt mound and went across the highway. Because of this, the track decided to reverse the direction of racing and run the other way toward a less dangerous corn field. It is presently an IHRA-sanctioned track, but for a few brief years it was affiliated with NHRA.
Did you race here? Tell us about it.
CLICK HERE to see location on a map
CLICK HERE to see Fred Sibley's White Lightning dragster running at Osceola in the mid-60s, 21 seconds, no sound
Stout Army Air Field (Indianapolis)
Years of Operation: 1955-58

Three thousand people saw the first-ever quarter-mile drag race at Stout Field, near Indianapolis, on July 24, 1955.  It was sanctioned by the NHRA. Lawrence Miller of Dayton, Ohio, got the fastest speed of the meet at 104.89 MPH on his motorcycle. Drag races in 1957 were conducted on a regular basis by the Indianapolis Timing Association. Entries sometimes numbered as much as 400. Races may have continued into 1959, but that hasn't been confirmed. The Cluster Busters car club may also have lent a hand in conducting the races.
Did you race here? Tell us about it.
CLICK HERE to see location on a map
Terre Haute Drag Strip
Years of Operation: 1957-64
Expressly built for drag racing, their newspaper ads touted it as a "custom built drag strip." This is in contrast to many of the early drag strips utilizing airport runways. It had a 3,557 foot-long, 50-foot wide asphalt surface with a reinforced concrete base. It was located five miles north of Terre Haute, east of U. S. Highway 41. The Ramblers car club of Terre Haute conducted the races. The opening event took place on July 4, 1957. Jim Shaw was the promoter.  Sanctioned by NASCAR, the race held on October 20, 1957, drew almost 1,500 spectators. Bert Kesler of Mattoon won top eliminator in his 1923 Model T coupe clocking 115 MPH. Newspaper ads for the drag strip in summer 1958 stated that $50 would be awarded to anyone who could break the track record of 121 MPH.  One newspaper ad in 1958 exclaiimed that the races evoked "Thrills! Chills! Speed!"  It is today (2015) East Phyllbeck Avenue in the Shawville subdivision, just south of and parallel to the  Sky King Airport. In the 1960s, that small airport was called Brown's Flying School.  On May 22, 1960, the Wabash Valley Motorcycle Club sponsored a motorcycle drag event. Earl Powell of Cincinnati set a record with a speed of 129.505 on his Harley. A 1964 article stated that races were timed for 1/5th of a mile.
Did you race here? Tell us about it.
CLICK HERE to see location on a map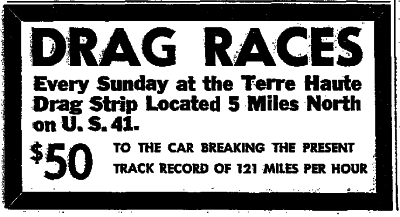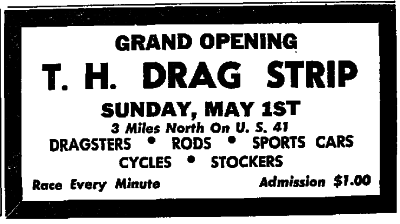 U. S. 30 Dragway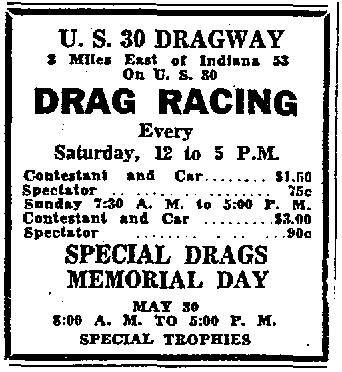 Years of Operation: 1957-84
Newspapers reported that the new U. S. 30 Dragway opened for its first race on September 15, 1957. They reported it was a 400-foot paved strip. It was reportedly sanctioned by the National Timing Association, which was headquartered at the strip. An article a few weeks later stated that Sunday racing began at what an article in the Hammond Times ("Lake deputies participate in Dragway Day," October 2, 1957) called a new drag strip on October 6, 1957. If so, possibly the opening race on September 15 was postponed for some reason. This popular drag strip was located near Merrillville, about three blocks north of the intersection of U. S. Highway 30 and Broadway, north of Crown Point on Goodrich Road. On June 21, 1959, the strip held a drag race to benefit the Thornton, Illinois, volunteer fire department. In operation for almost three decades, little remains of the venerable old drag strip today except two strips of weed-infested pavement just west of Clay Street (at 7920) in Hobart. After two bad accidents occurred at the strip within a month of each other in 1960, a neighboring farmer was threatening to submit a complaint against the track's continuing operation. Another terrible accident occurred on August 4, 1963. A man was killed and ten spectators injured when John Montgerard swerved into the pit area in his dragster. His clutch had exploded, causing his steering and brakes to fail, crashing through the retaining cables lining the strip at about 50 MPH. His car burst into flames and many of the injured were sprayed with burning gasoline. It could have been worse, as his car stopped just short of the bleachers, where 2,000 spectators were sitting. Numerous records were set at the AHRA Summer Nationals on June 12-14, 1964.  The race was tragically marred by a fatal accident. Howard Wysong, driving Lee Pendleton's "Spitfire II" aircraft-engined dragster, was killed when he veered off the track near the finish line. At this race, Jim Thornton, from Royal Oak, Michigan, driving a '64 Ramcharger Dodge, recorded what was thought to be the fastest speed ever run by a Super Stock car: 132.353 MPH. Bobby Vodnik also wiped out Don Garlits's old strip record with a speed of 191.48 MPH. Garlits characterized the dragway as being "extremely narrow."

Did you race here? Tell us about it.
CLICK HERE to see location on a map
CLICK HERE to see live TV footage in the early 1970s, 17 minutes
CLICK HERE to listen to 1967 commercial radio spot for U. S. 30 Dragway, 54 seconds

1998 aerial view of U.S. 30 Dragway