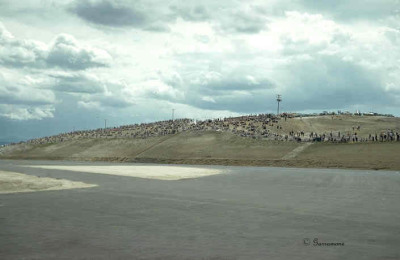 Continental Divide Raceway. Pete Garramone, photographer
Aurora
Denver International Dragway
This drag strip was active for many years. Located on Tower Road, it is now either on or very near Denver International Airport. I raced there with a B/S '65 GTO and a '57 Chev B/MP.  My brother, Mark Williams, raced a AA/FD there--Rice and Williams.
Richard L. Williams
Castle Rock
Continental Divide Raceway, 1960
This is a photo of Ron Seyfer and his Lincoln-powered, Scotty Fenn chassis dragster taken at Continental Divide Raceways in 1960. This was before drag chutes. Ron made a pass and, when he grabbed the brake handle, it broke and he hit the chain link fence at the end of the track. Ron wasn't hurt, but the chassis didn't survive. He put the engine in his little red pickup (also shown) and continued to race.
Pete Garramone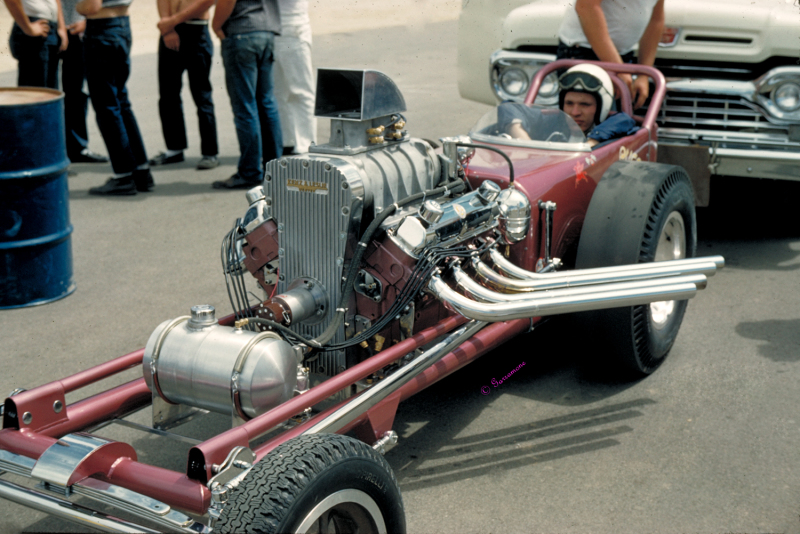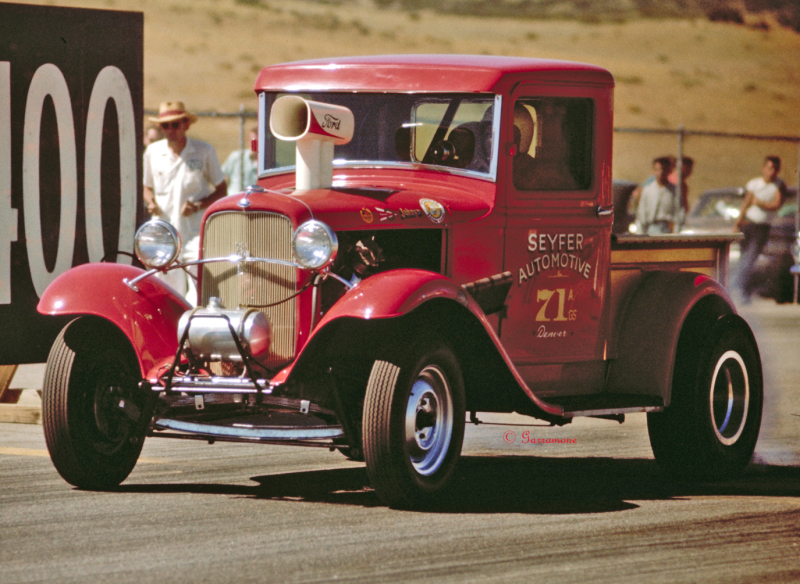 Continental Divide Raceway
Continental Divide Raceway had a wide, sweeping turn where you would go back to the pits. You could coast clear to the pits. In the old days, when you got through with your run, they just had like a piece of wood. You'd pull the clutch and put the wood down by the rearend housing to hold the clutch in so the car would go. Hell, one time, one of the Kaiser brothers was sitting up on the roll cage, letting the car coast down there. That stick come out and it started up. It blew the blower off it. Everybody thought, what's going on over there on the return road? You heard this banging. 

Rex Pearmain, telephone interview
with Mel Bashore, August 14, 201

Erie
Mountain View Dragway, circa 1969-70
I believe the name of Mountain View Dragway was changed to Mile High Raceway Park in the late '60s. Since I was only about 11 or 12 when my dad took me up to Erie, unfortunately I don't remember as much as I'd like.  I personally don't remember the name Mountain View, but it was almost 50 years ago and I may be confusing the name with another from TV commercials for events at another track. It seems the track was actually about 60 degrees to the county road. Your map shows a line at about that angle still visible that may be concrete. I think the starting line was slightly uphill, because I remember two Anglias lined up to race, and one would roll back and pop the clutch to jump back to the starting line. The third time he did it, he blew the clutch, and was out. I think that was 1969 or 1970. There were a few TV commercials for races there that used the song "Fire on High" by ELO in the background. I don't remember when the track closed.   I've found the lack of information about this old drag strip very frustrating; it started with an offhand comment I made in an email to a friend, and somehow ignited a curiosity that I didn't expect.  The curiosity is driving me crazy, but I don't know how much time I can devote to research.  The track, what's left of it, and the property it's on, are up for auction [2016], and Erie is one of the fastest growing areas in Colorado, so I fear it will be gone in another year or two.  I may try the Erie library, if I get up that way.  If I find anything more, I will certainly pass it along to you, and thank you for preserving the history of those exciting times and places.
Colin McDowell
Mountain View Dragway, 1960s
In the mid-'60s, myself and some friends used to get up early on Sunday and go racing at several tracks in the Denver area. One of those tracks was Mountain View. We just called it Erie. I recently came across two time slips from when I ran my '66 Chevelle SuperSport for time only. I turned a 14.6 on both time slips, which wasn't bad for a stock Chevelle up a mile high. One of my friend's family owned Denver Buick and they sponsored a black '67 Buick Gran Sport for my buddy, Steve, who was the owner's son. The car was called "Stevie's Wonder" and I remember that he always was knocking heads with another E Super Stock automatic Buick sponsored by Frank Fisher Buick, from I believe in Commerce City. In the day we also did a lot of street racing out by Tower Road in Aurora, but going to Erie was really a Sunday treat. Great memories.
John Young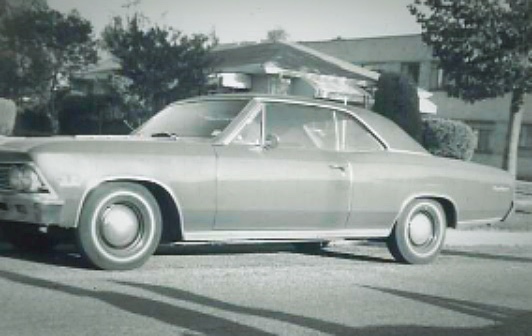 John Young's 1966 Chevelle. It was red with a black vinyl top. Below are two time slips he kept from his racing days at Mountain View Dragway. Courtesy of John Young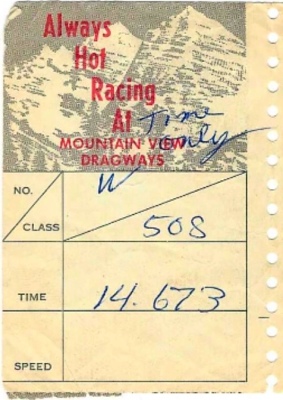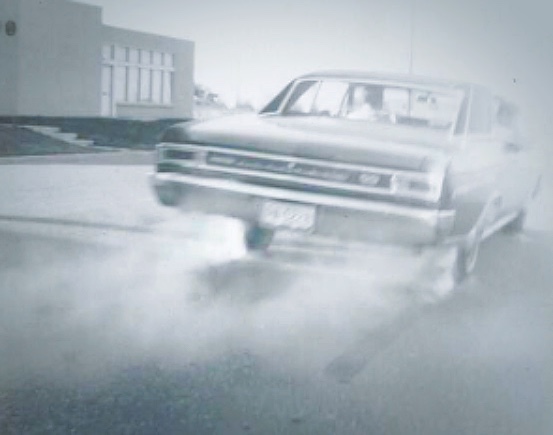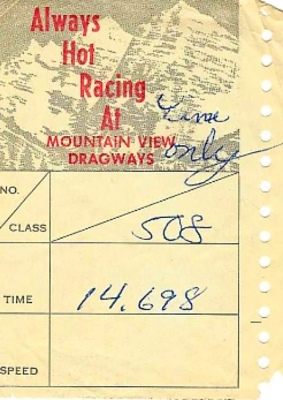 Mountain View Dragway, 1960s
I did not race at the track because I was just a young boy. I did go to a race there right after it was opened. My father was a personal friend of Albert (Al) Broncucie and their family. The Broncucie family had a dump truck business working with my father at Northwestern Engineering, based in Commerce City. This was a road construction business which was how the paved track was built. The actual pavement is still there with the up-hill shutdown. I visit this every time I go to Denver. Erie is very built-up now with new housing. I hope the track survives and someone has photos. The Broncucie family is large and Al had several brothers. They owned other other businesses as well. I'm sure the family would have photos and all the information about this track. It was the first drag race I went to as a child and I will always remember the experience. We got in for free because of my father's friendship with Al and the family.
Robert Leach
I attended several drag races at Erie Drag Strip in either 1971 or 1972. Thank you for your wonderful historical research for this great website.
Steve Schultz
Mountain View Dragway, 1969-70
I raced at Mountain View Dragstrip in '69-70. I ran C-Mod. Production with a '63 red Corvette, then K-Stock with a stick-shift '57 2-door Chev wagon. I remember Judy Lilly out there one Sunday in a new Mopar. I also remember her boy friend, Ron Mowers, got caught cheating with his Chev and got kicked off for a year.
Stan Kopczenski
Grand Junction
Midway Drag Strip, 1959-1960s
My uncle was Whitey Shoffner. He raced at Midway in the beginning days of the strip.

Mark Shoffner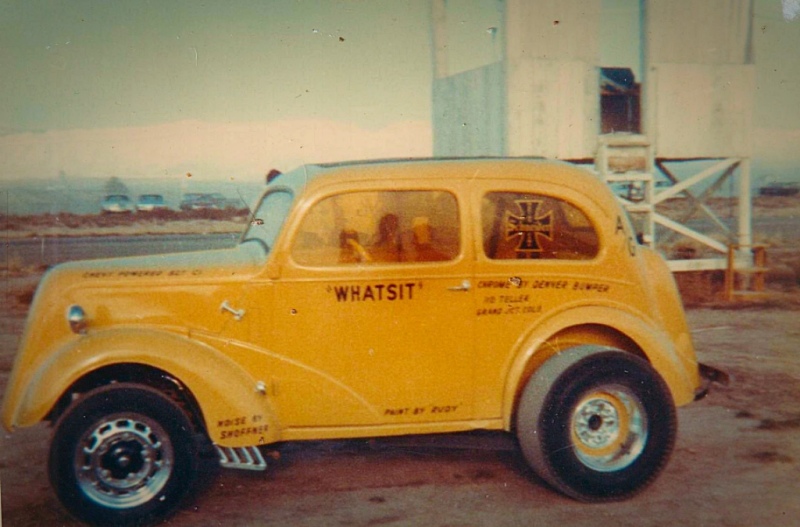 Whitey Shoffner's 1953 Anglia at Midway Drag Strip. Courtesy of Mark Shoffner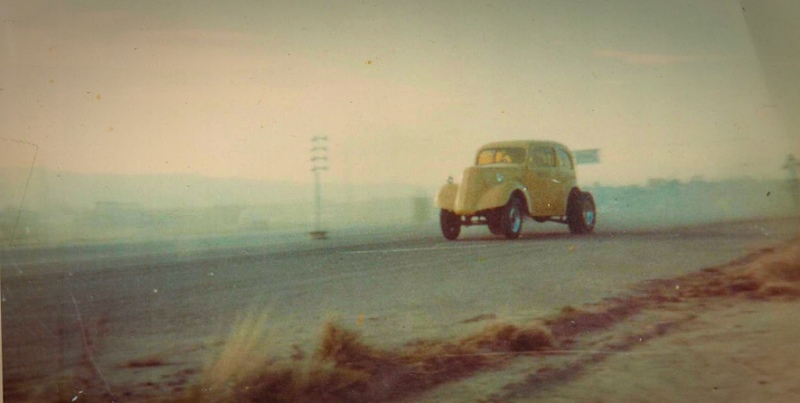 Whitey Shoffner's 1953 Anglia leaving starting line at Midway Drag Strip. Courtesy of Mark Shoffner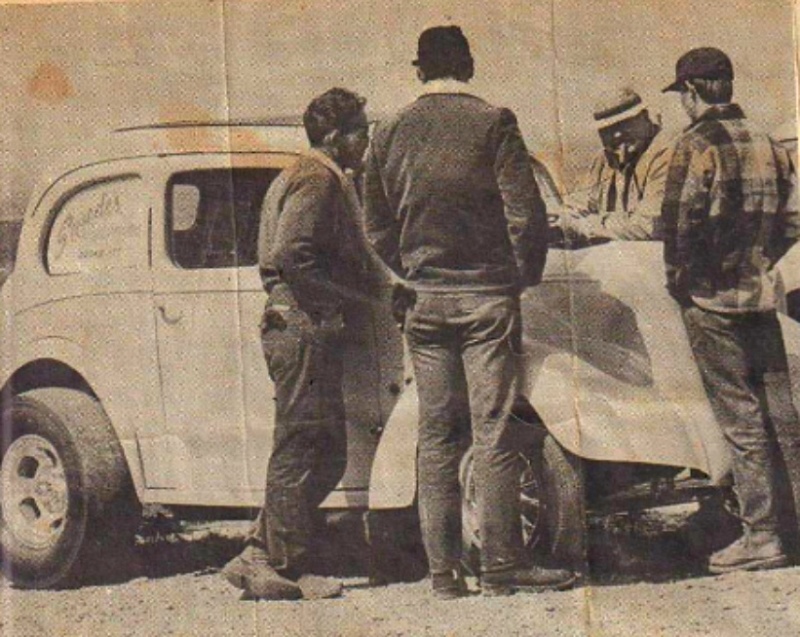 Whitey Shoffner, with his ever-present cigar dangling from his mouth, talking with his pit crew at Midway Drag Strip. Photo appeared in newspaper article in Colorado West, April 16, 1972. Courtesy of Mark Shoffner

Julesburg
Julesburg Drag Strip, 1962-64
I worked with Cris Conrad between 1962-1964 with a C-modified production '53 Ford. I consider Julesburg my home track, I lived in Wray, Colorado until I joined the Navy in late 1964.
Tom Brown
Morrison
Bandimere Speedway, 1960-2013
I started racing here in 1960. There was a bucket in each lane at the starting lane. Each driver tossed a quarter into the bucket per pass. It originally was named SPGA--Safety Proving Grounds of America. It eventually was named Bandimere.  I had a '50 Ford sedan with a 1957 383 Mercury Turnpike Cruiser engine.  At the time, no speed equipment was available for that particular engine.  John Bandimere, Sr. custom ground a camshaft for me and hand-built a 8 Stromberg 97 log manifold for it.  I started drag racing in 1958 on the streets when I was still in high school.  Moved to legal track racing in 1959 and finally retired from racing in 2013. I raced at so many now-forgotten strips across the country.  I went from street stock to super stock to D/Gas to Super Gas to Fuel altered to alcohol funny car.  Raced in all bracket classes and lastly in Top Sportsman and Nostalgia Eliminator. Long gone tracks that I remember most include:  Cheyenne Drag Strip (Cheyenne, Wyoming),  Lowry AFB Drags (Denver), Century 21 Dragway (rural Aurora, Colorado),  Mile High Raceway (Denver),  MountainVu Dragway (Erie, Colorado),  Mid America Raceways (Wentzville, Missouri),  Green Valley Dragstrip (Smithville, Texas),  Lubbock Dragway (Lubbock, Texas),  Pacific Drag Strip  (Pacific, Missouri)  and I am sure many others that I have actually competed at that slips my 73 year old mind! I have very little photos and records left from my racing travels, but still have my memories.  If my health and financial situations would allow, I'd still be doing it.

"Texas Don" Zielinski