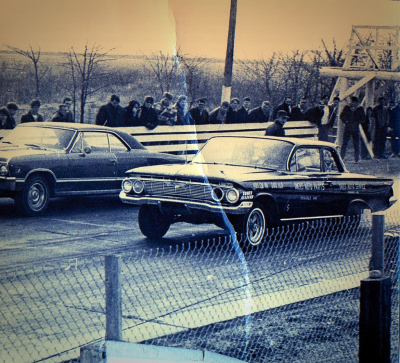 George Fisher's 1961 Chevy 409 A/S, late 1960s, at George Ray's.. Photographer unknown
Carlisle
Carlisle Drag Strip,  1957
I was there watching my husband, Ray Stancil in 1957. His son has a trophy. I remember he raced the Memphis "fuel burner" and he won. I believe his speed was 126. He was riding a Triumph motorcycle against the Memphis car (fuel burner).

Pat Stancil Downing
Fort Smith
Razorback Dragway, 1964-66
I ran my first drag car at Razorback in 1966. A Chevy-powered '41 Ford coupe in D/MP class. My friend's and I could be found there most Sundays from '64 to '66 when I moved to Memphis where I ran at the old Lakeland dragstrip. Awesome memories of Razorback Dragway. Razorback had a high bank at the starting line and at one time extended and cut down further on the starting end. We used to sit on the hill cut down behind the starting line under the trees to cool off.  I know, or knew who ran in the 60's when the strip was most active. Jim Hale, Monroe Moody and others.
Tommy McFarland
Prescott
TJ and I raced at Prescott, Arkansas, in 1977.
Don Hurst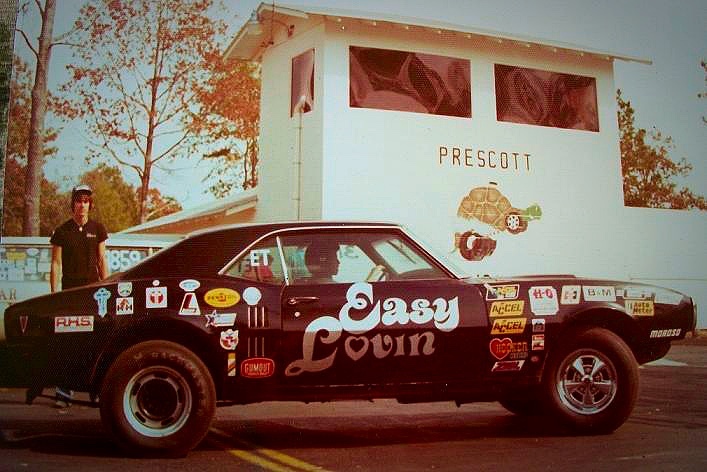 TJ racing her "Easy Lovin" Firebird at Prescott in 1977. Courtesy of Don Hurst