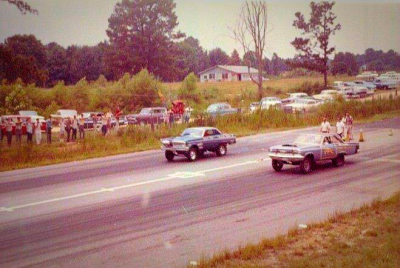 Gary Dyer driving Mr. Norm's 1965 Dodge Coronet S/FX-1 (near lane), Phenix City Dragway. Photographer unknown
Abbeville
The pavement is about where the starting line was. It is now a driveway to a home.

Ken Blalock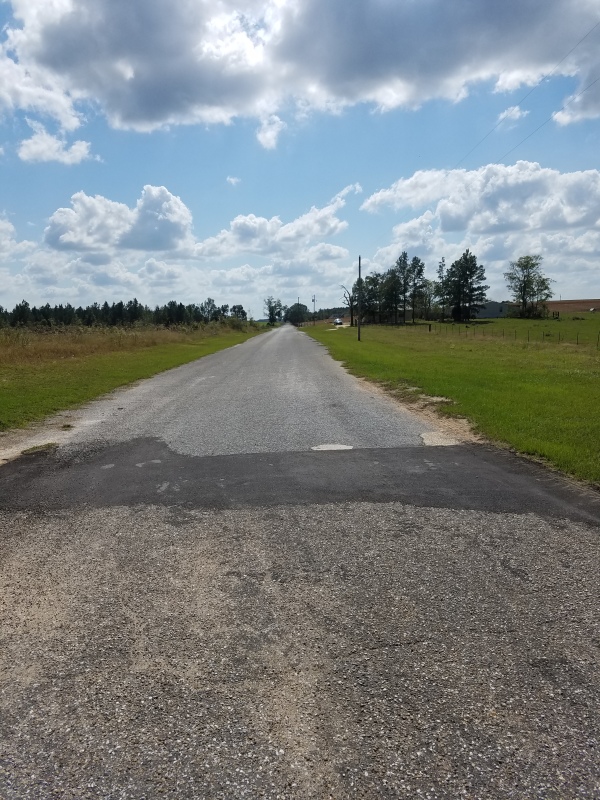 I raced at Big A dragway in the '70's. It's been a long time, but they had no timing equipment at that time. I remember Ellis Milner was there with his Vega. They had floodlights with a toggle switch to start the races. The shutdown area was sand and you had to turn around and drive back down the track to get to the pits if I remember it correctly.

Billy Wiggins
Camden
Miller's Ferry Drag Strip,  1966
My dad raced in our family car--a 1964 yellow Mercury Comet Caliente. Then a  Comet GT (red). As a 12-year-old girl, I beat his time and they let me run at Miller's Ferry near Camden, Alabama. This was in 1966. Needless to say, I was the talk of the strip.  Some guys left when I beat them, but most were nice--bringing me water, etc (in the Southern heat). Wayne Jones was a friend of my dad's. Some people would remember him, too. I'm from Mississippi near Meridian.

Ann Culpepper Barnett
Cordova
Bama Dragway opened in 1991. I raced a motorcycle in 1993. It hosted big end of season races with up to 125 cars in the early 1990's. It is closed now in 2017.

Phillip Reed
Dothan
in 1959 I won the NHRA Southern Regional at Napier Field in the Semi-Modified class, which was a catch-all for anything with an engine swap-modified engine. I ran a 1954 Ford 2-door post body with a 1957 Ford Y-block engine, 3 two's, full cam, etc. In '58-'59, I also won the same class at Odena, Tuskegee, Coalburg, Mtg and Helena, Alabama. I still have the trophies.

Norman Browning
Glencoe
Green Valley Drag Strip,  1974-75
I raced at Green Valley in 1974 and 1975. I ran a 1968 Mercury Cougar with a small block engine. I ran E/MP and G/Gasser classes. I quit racing there when the strip went from NHRA rules and sanctioning.

Jimmy Thomason
Although I am a native Floridian, I have lived in Alabama for 25 years. I race a drag Buick GS at a local track. There is a local old timer, Horace Johnson, who has raced here. He raced at Glencoe at the Green Valley Drag Strip for years in his '67 Fairlane 427. He now owns a factory '67 427 race car that was shipped to Jim Van Cleve Ford in '67. He is a local legend.


Jim Wyckoff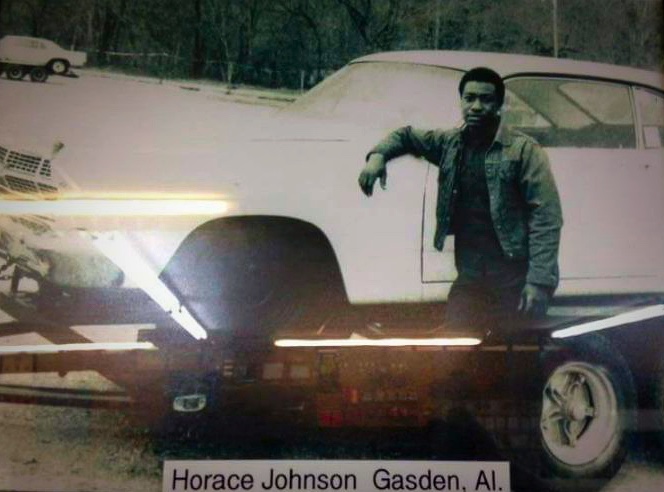 Horace Johnson with his 1967 Ford Fairlane at Green Valley Drag Strip. Courtesy of Jim Wyckoff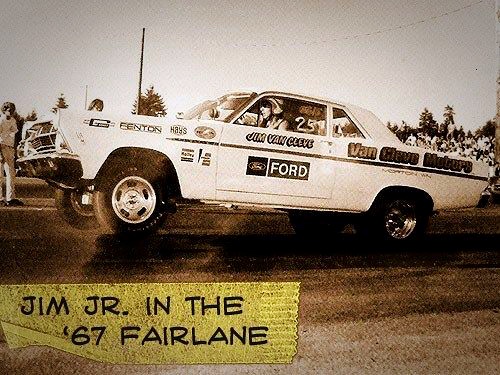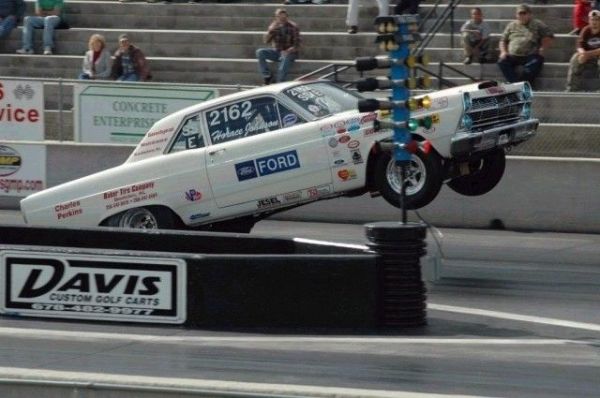 Horace Johnson's son, Stephen, now races the '67 Ford Fairlane in the Super Stock class and won the Nationals a few years back. He raced at Glencoe, Alabama's Green Valley Drag Strip.
. Courtesy of Jim Wyckoff

Harvest
Satellite Dragway,  1971-72
Thought you might be interested in this as it has your dad [Jimmy Sharp] on it. This is in 1971 when I and my partner Larry Berry was calling it Satellite. We changed the name to Madison County Dragway in 1972. As you will notice the flyer lists John Amacher with the Willys. He ran the Willys in 1971 and early 1972 before building the Vega in mid 1972.

Clay Jacks, written to David Sharp,

who forwarded it to Mel Bashore, 6/30/17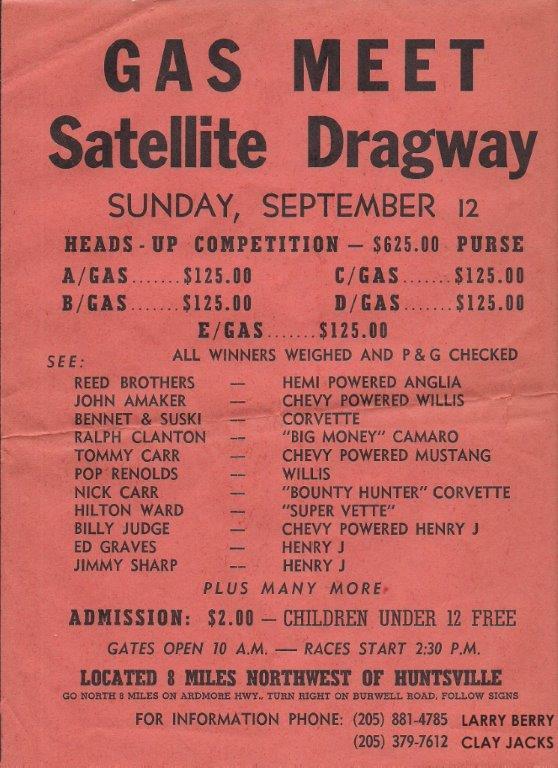 September 12, 1971 gasser meet flyer. Courtesy of Clay Jacks

Manassas Drag Strip, 1962
This Manassas trophy was dropped off at the shop and given to me due to the locals knowing I collect that type of stuff. It was in an estate yard sale.

J. David Sharp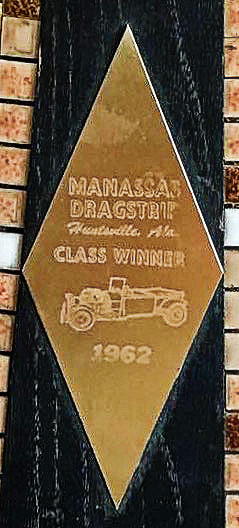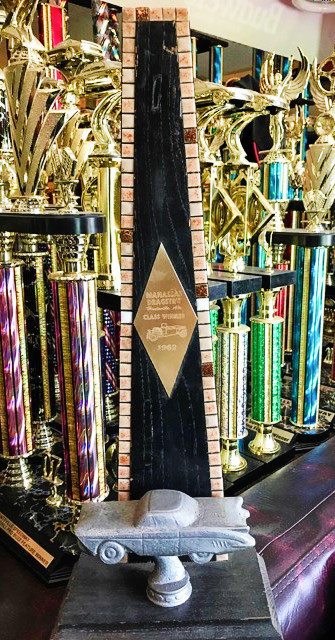 1962 Manassas  Drag Strip trophy and  close-up of plaque. Courtesy of J. David Sharp

New Hope
New Hope Drag Strip, 1966
I went over to my dad's (Jimmy Sharp) and in the shop found this trophy on the shelf from New Hope Alabama Drag Strip. He was a class winner with his 1955 Chevy in 1966.

David Sharp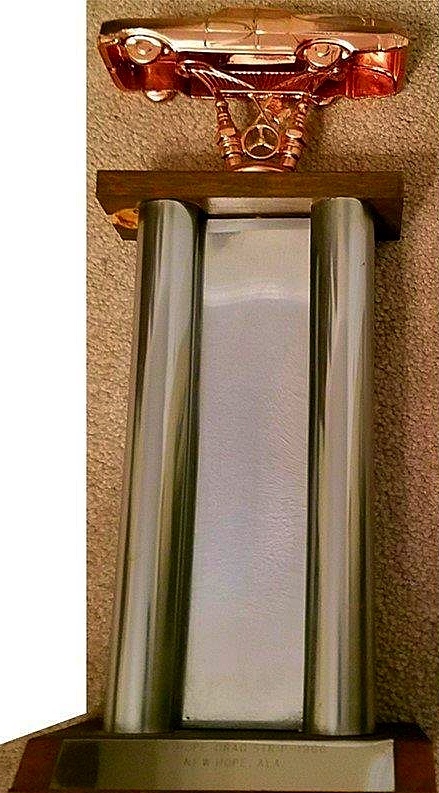 Jimmy Sharp's class winner trophy from New Hope Drag Strip in 1966, including close-up of base plaque. Courtesy of J. David Sharp

Phenix City
Phenix City Dragway,  early 1960s
The only thing I remember about the Phenix City strip was trying to find it. I drove to Columbus, Georgia, and stopped and asked for directions, and the man told me to go down the road and drive across the bridge and I'd be in Phenix City.  I did, then I stopped and asked how to get to the track and the man told me to drive down to the bridge and go across to Phoenix City.  So I did. Then I asked for directions and that man told me the same thing. I was listening to the radio and they were advertising that night's races, and each time they announced that Drag Strip News would be there that night. [He was bringing Drag Strip News to sell at the race.]  I kept hoping they were right.  Somehow I finally got into Phenix City and found the strip. I didn't have any more problems after that, just a normal night. But the only thing I recall was trying to get there. I don't think I'd been drinking. I didn't like to drink before going to the races. Maybe that was the problem. I was too sober to follow directions.

Ed Bernd, Jr.